Engagement photos are extremely popular at the moment, which is understandable. It's a lovely chance to capture a couple together before the stress and mayhem of wedding planning come. But wouldn't it be nice to have someone capture the instant of your actual proposal in a perfect proposal shoot?
Why You Should Book a Proposal Shoot in Budapest
When visiting Budapest, James wanted to propose to his girlfriend, and he chose the Fisherman's Bastion as the place to do it. This beautiful white building is on the Buda side of the Danube River, overlooking Pest. The city of Budapest was actually once two different towns: Buda and Pest, hence its name. Split by the Danube, Budapest is a lively city full of rich history. Some of its buildings still bear bullet holes and shrapnel marks from the Second World War and Uprising of 1956, but this does not deter from the city's beauty. Add to this numerous, restaurants, cafés, and famous thermal baths, and Budapest easily has something for everyone.
Its noteworthy Fisherman's Bastion provided the ideal location for James' proposal. The decorative fountains and fairytale-like lookout towers, not to mention the spectacular views they provide, easily make the Fisherman's Bastion one of the most visited sites in Budapest. With the stage set, all James needed was someone to snap the perfect pictures. For this, he hired Anita, a professional vacation photographer.
Anita captured each and every special moment exactly as it unfolded. James' girlfriend was obviously completely surprised by the proposal. Her astonishment when she was asked that all-important question is very clear! And, of course, Anita made sure to catch the exact moment that she said "yes!"
Since they're often done long after the actual proposal shoot has happened, traditional engagement photo shoots do not catch a couple's first reaction. But with a professional proposal shoot, photographers can take excellent pictures of the precise moment when a couple becomes engaged, making the memory even more special.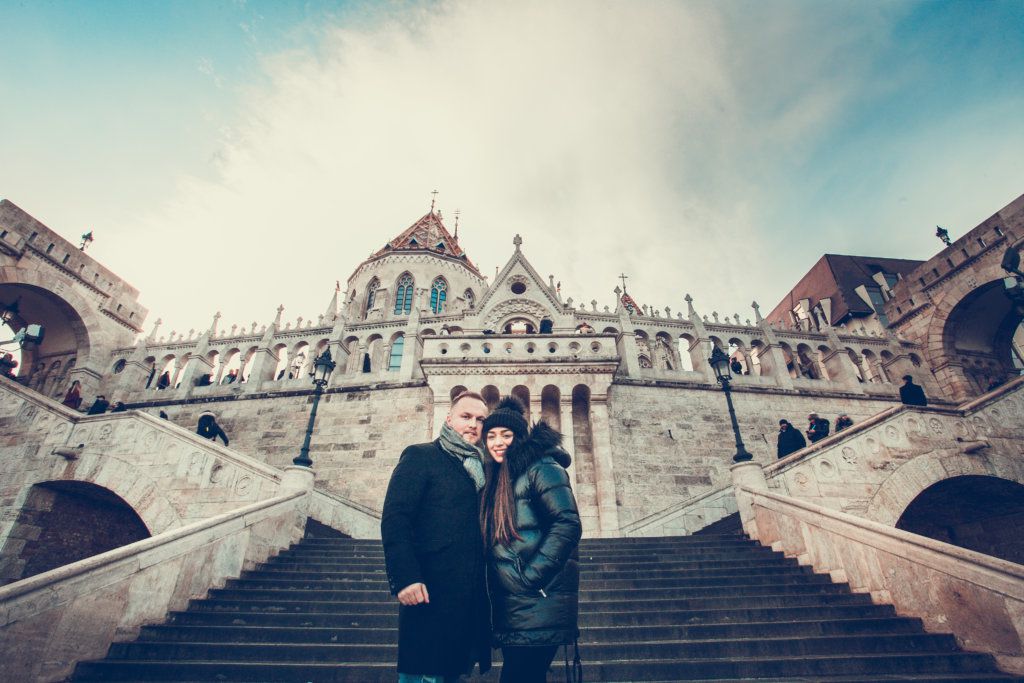 Magical Engagement in Europe
After the initial proposal was over, the couple enjoyed this famous hilltop location while Anita took several more photographs of James and his new fiancé, basking in their affection for each other despite the obviously chilly weather.
The location was just perfect for a romantic proposal shoot with its Disney-like towers and long sweeping staircases. Anita used all of this to her advantage to capture some truly special moments between the lovely couple. She took many images from several vantage points ensuring that James and his new fiancé will have the very best pictures to remind them of their special time together in Budapest.
And because photographers like Anita are so professional, couples can be comfortable sharing their affection in front of them. None of this couple's poses feel forced or unnatural. Instead, they are simply happy to be in the moment – as cold as it was.
Memories to Cherish James and his fiancé can look back on their time in Hungary as they enjoy their professional photos every day. They can also use these images for their upcoming wedding announcements, and easily share these images with family and friends. Professional photographers like Anita are often local experts and know the best and most unique spots for your professional images. They aim to give clients the best possible