Engagement photos are becoming very popular, and it is easy to see why. What a great idea to have images that show this important time in a couple's life together before the hectic wedding planning. Even better, it's wonderful to capture the exact moment a couple becomes engaged!
"I Want to Ask you a Question."
There are many romantic sites around the world, but sometimes all we need is a quiet table with a view to make a moment beautiful. This is exactly what Shannen had in mind when she proposed to her girlfriend in Innsbruck, Austria.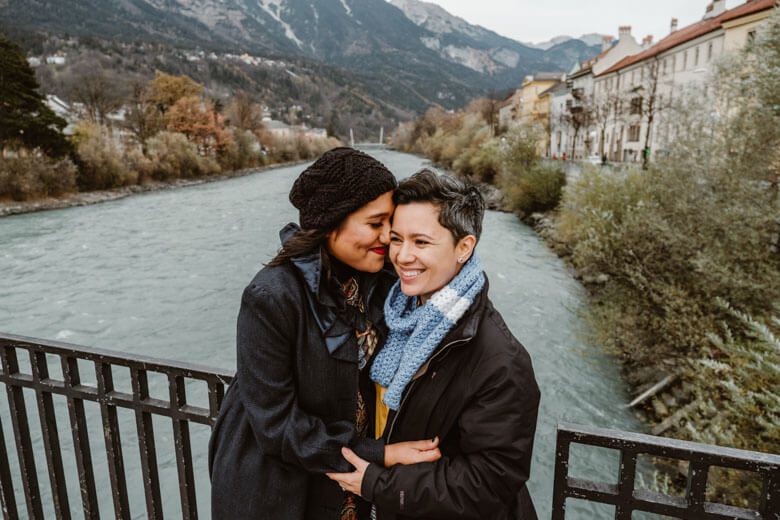 Innsbruck is a typical Austrian town, surrounded by snow-capped mountains and steep green hillsides. The capital of the Tyrol region of Austria, the city is worth visiting no matter what the season, but it is particularly gorgeous as winter starts and holiday decorations come out. It's Altstadt or "old town" is so well preserved it looks like something from Disney World and is overlooked by Olympic caliber ski hills and a gorgeous Hapsburg Palace.
It was here, with a view over the city from the 360o Café, that Shannen proposed to her girlfriend. She had hired Catherine, a professional photographer, to capture this significant event. She was open to suggestions as to where to do it and trusted Catherine's opinion since she was more familiar with Innsbruck than Shannen. It's critical, when taking photographs of such an intimate moment, that everyone is comfortable, and Catherine, being a professional, made the couple feel at ease with their relationship.
Over drinks and with the beautiful view of Innsbruck behind them, Shannen proposed to her girlfriend, who very happily said yes. Catherine shot all of this; from the initial ask to Shannen's girlfriend's obvious surprise and delight. You can almost hear their joy through the photographs.
Looking Towards Happily Ever After
Catherine took many more photos of the happily engaged couple outside of the restaurant, using Innsbruck almost as a character in the shoot. On the bridge over the Inn river, from which the city gets its name, Catherine took several photos of the couple simply appreciating being together, enjoying being engaged. They were living in the moment, and it's obvious that they're very happy together. The images are a beautiful reflection of them as a couple, and it's a wonderful thing.
The images that Catherine took are not overly posed but are simple and natural. They are just enjoying each other's company. They are not trying too hard; they are happy to be in the now.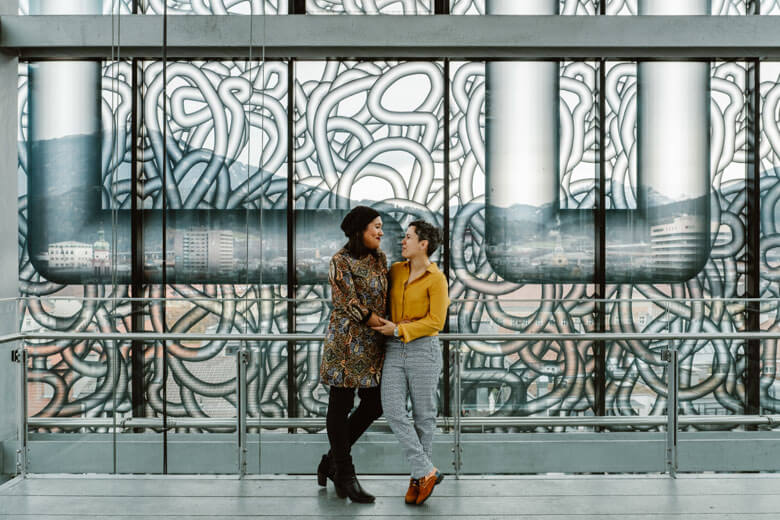 Memories of Austria
Shannen and her new fiancé can remember their special day together in Innsbruck with these terrific photographs. They can share them with friends and the rest of their family, and perhaps even use them for their upcoming wedding announcements and as décor.
What did Shannen say: "Amazing and thoughtful photographer captured our surprise engagement! Localgrapher connected me with our photographer Cat in Innsbruck, Austria. I was worried that I would not be able to find an LGBT+ inclusive photographer, and Cat exceeded expectations. She helped me plan my proposal starting three months out, including receiving supplies for the big day a few weeks in advance all the way from America. She FaceTimed me to ensure that we knew what the day was going to look like, and she also gave me periodic updates once I arrived in Europe about the weather. Two days before the day I was supposed to propose, the weather did not look good. Cat ended up re-planning the engagement at the last minute and offering to take my photos 24 hours earlier than planned. She was truly amazing! Photos were ready in just a few days via an easy-to-open link. After we made our choices, I received our raw images just a few hours after that. Very seamless and easy process! I would highly recommend both Cat and Localgrapher, and will consider using them for future photos!"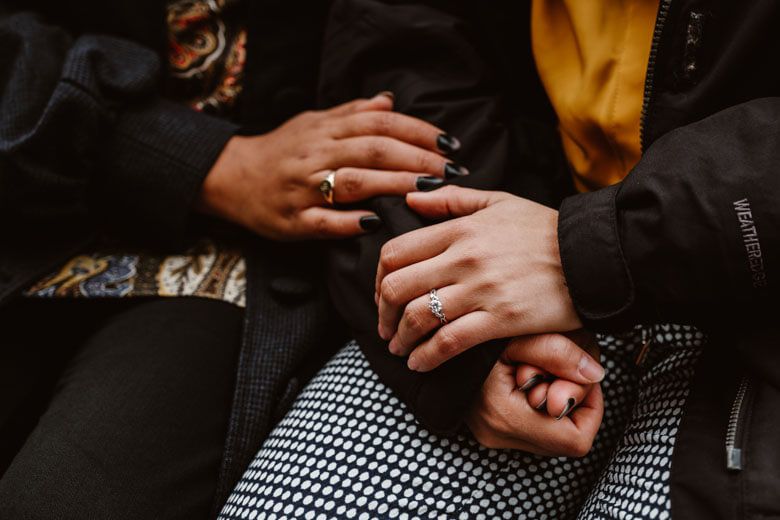 Professional photographers like Catherine are very adept at suggesting incredible and interesting locations for a variety of photoshoots whether you are home or on vacation. They are often local experts and know the best and most unique spots for your professional images. They truly strive to give clients the definitive photo shoot experience, and memories to treasure forever.