24. 9. 2020
10 Best Romantic Fall Getaway Spots for Couples In the USA
If the monotony of life is taking a toll on your relationships or you are generally looking for a getaway from an otherwise chaotic life, there is nothing better than traveling. And why not? Traveling can be one of the greatest opportunities to spend quality time and to get to miles away from the chaos and stress of daily life. Not only this, but a romantic getaway can rekindle the lost spark in a relationship and bring up everything together.
Speaking of this, someone who is living in the USA, the romantic escapes there can really leave you rejuvenated and refreshed. So, whether you are planning a romantic getaway for your wedding anniversary, Valentine's Day, or just a week-long vacation with your partner, there are a number of couple-friendly spots in the USA that can contribute to a perfect romantic escape.

Without any further delay, let's get started.
Experience the Most Romantic Staycation in the USA
Spot #1
Los Angeles
Los Angeles can be the most romantic place ever to have a getaway with your partner. If you are a beach person, then the golden, serene beaches of Los Angeles will surely leave you mesmerized. For someone who is looking for a mountain retreat or a cozy time in urban gardens, Los Angeles is where you need to be.
To add a bit of spice and spark, nothing beats the champagne spa baths that Los Angeles has got to offer. To sum up, if you are unable to find something that sets the mood just right, then most probably you have not spent time looking hard enough because there is nothing that Los Angeles doesn't have.
To be specific, the Lovely Catalina Island, situated in southeast Los Angeles has the most exciting activities that a couple can enjoy. From the beautiful boat passage to a bicycle tour of the island, it can be one memorable trip!

Furthermore, the most iconic Palm Springs is another lovely spot. A desert resort city in the heart of the Coachella Valley has activities that are quite popular among couples. This includes swimming, sunbathing, and tennis. And, don't forget to hire a personal photographer to get your romantic photoshoots done!
Spot #2
The New York City
The Empire State Building happens to be the most favorite spot for most of the couples for their romantic photoshoots. Therefore, we would suggest you to never miss out on this place if you plan your next getaway to the magnificent New York City.
This place, popularly known as the city that just never sleeps, has got so many exciting things to offer to a couple on a trip. Entertain your sweetheart by taking her in a rowboat on the beautiful Central Park Lake amidst the breath-taking views of the Manhattan skyline.
If not this, then simply catch up over a Broadway show or enjoy a cozy and scrumptious meal at a popular gourmet restaurant with the love of your life. If you are looking for something simpler yet incredibly romantic, then just visit the Hayden Planetarium at the American Museum of Natural History and walk hand in hand. Isn't it a perfect way to end the evening?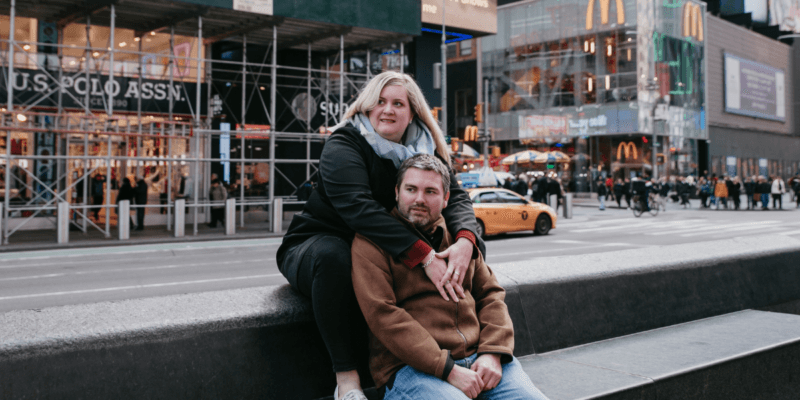 See Photographers Available in NYC
Spot #3
Las Vegas
Apart from the fact that Las Vegas is popularly known as a destination where you can party till you drop, it has managed to grow into one of the most really fun and romantic getaway spots. Whether you are a newly-wed couple, on your second honeymoon, or couple wanting to celebrate their marriage anniversary, Las Vegas won't disappoint you at all.
The resorts in Las Vegas are excessively huge and spectacular. Las Vegas is an ideal spot for couples who happen to be shopaholics, foodie, and picture-addict. Yes, this place has some ideal backdrops for a vacation photoshoot.
Find Your Personal Photographer in Las Vegas
Spot #4
San Francisco
San Francisco is regarded as the most romantic city ever on the USA west coast. The Bay, coupled with glorious architecture, picturesque landscape, and overall ambiance, makes San Francisco a must traveling destination, especially if you are a couple looking for a romantic escape.
If you intend to go for your romantic escape here in San Francisco, you should not miss out on the exquisite Golden Gate Bridge. A romantic getaway without paying a visit to this bridge is just incomplete! For an exciting, colorful, and ethnic experience, make sure you go for a stroll in Chinatown with your partner.
See San Francisco-based Photographers Here
Spot #5
Chicago
From adventurous bike rides, fine dining to cocktail bars, Chicago is another place that can be quite a romantic experience for couples. If you do plan to go here, we suggest you start your day at Café Selmarie located in the Lincoln Square and savor some of the most mouth-watering croissants and cinnamon rolls.
Next up is the Magnificent Mile, where you can pay a visit to quench your thirst for shopping and epic historical views. And, when you do, don't forget to swing by the Golden Coast area where you shall find luxury and classic boutiques. West Loop is the trendiest spot in Chicago where you can find the city's most delicious restaurants.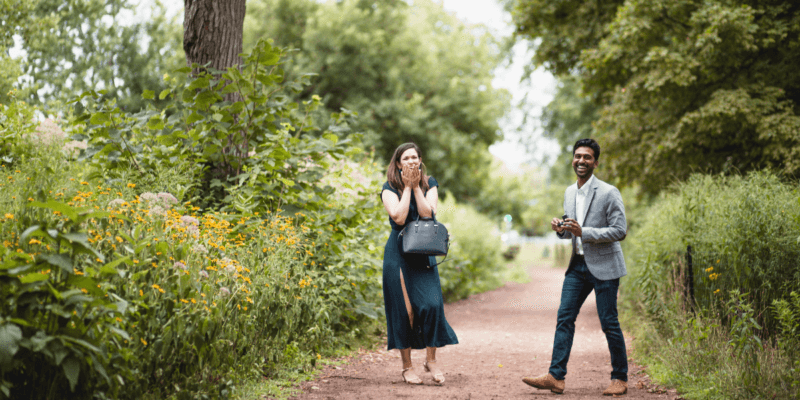 Book Your Photographer in Chicago
Spot #6
Miami
Famous for its nightlife, whether you are a just-married couple on its honeymoon stage or looking for ways to keep the spark alive, a romantic week in Miami may help you just do that! From pristine ocean views and relaxing spas to luxury five-star dining, Miami is sure to leave every couple enthralled and all charged up.
For an unforgettable experience, the Faena Hotel Miami Beach is what we will suggest considering that it has that good Old Hollywood glamour. This is what makes it breathtaking and a must-visit place.
Other places such as Cecconi's Miami make for a charming eating place. You will almost feel that you are sitting and eating amidst a coastal village all the way to Italy. Don't forget your personal photographer to capture all your memorable, romantic moments!
Spot #7
New Orleans
This is the only city with the most European feel. With fantastic dining coupled with fabulous scenic sites, you wouldn't find a sweeter spot than New Orleans to have your much-needed romantic getaway.

While walking hand-in-hand in the French Quarter or Audubon Park, sipping cocktails in the city that invented them, there is so much to love. Nothing beats the experience of walking hand-in-hand amidst the lovely and beauteous Garden District and sipping on yummy cocktails. Moreover, New Orleans has the world's best hand-crafted jewelry. Well, your wife is going to love you if you plan to take her here for the vacay!

Other than this, a trip to New Orleans is incomplete without jazz music. It is almost synonymous with sin to visit New Orleans and not visit jazz. A couple who is madly in love with jazz must plan their romantic getaway here! Speaking of this, for the ones looking for an authentic jazz experience in its truest sense, Preservation Hall is where you should book the tickets.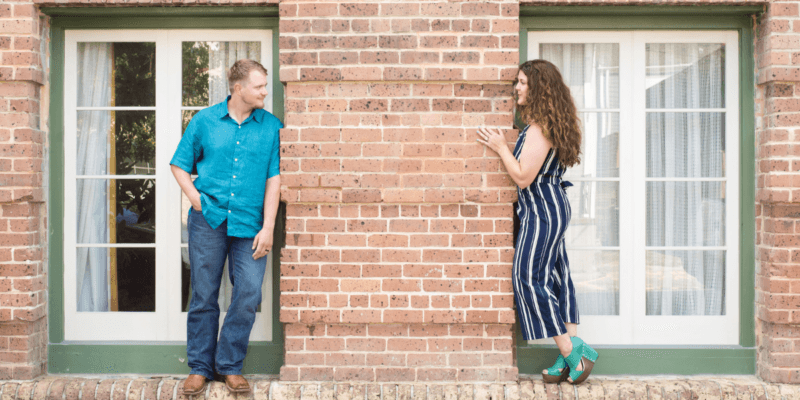 Book Your Photographer in New Orleans
Spot #8
Washington, D.C.
For someone who is looking to take her sweetheart to a kissable location, Washington is your answer! Be prepared for one of a kind experience of jetted tub amidst stunning views of Possession Sound and a relaxing experience at one of Washington's European-inspired spas. And, of course, do not miss out on the soothing water views at the great Silver Cloud Inn Mukilteo. This one has the most luxurious accommodations coupled with mesmerizing sunsets and mouth-watering hot breakfasts.
All in all, Washington is a visual treat, which is why it makes for the best couple-friendly spot!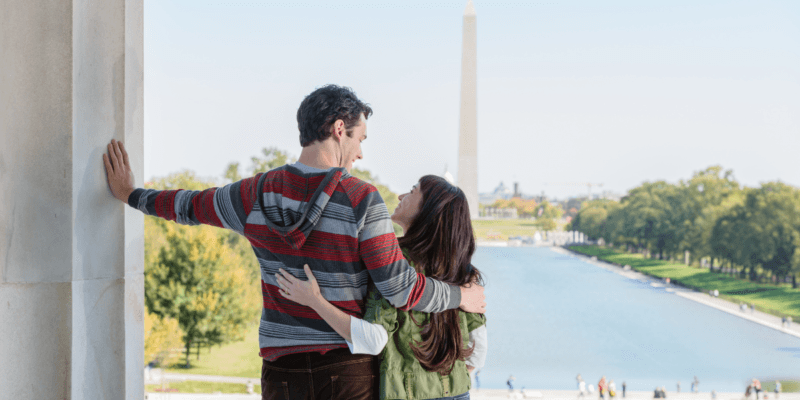 See Local Photographers in Washington, D.C.
Spot #9
Seattle
The Seattle metro area has got a lot to offer when it comes to romantic getaways! The place has something for everyone. From dining at luxurious waterfront restaurants to taking romantic strolls in the outdoors, you can spend a memorable time with your better half in many ways. If you are looking for recommendations, then Salish Lodge, located in the small town of Snoqualmie, is every couple's favorite.
Other than this, there is Willows Lodge in Woodinville that tops our list if you are looking for a therapeutic spa session with your sweetheart.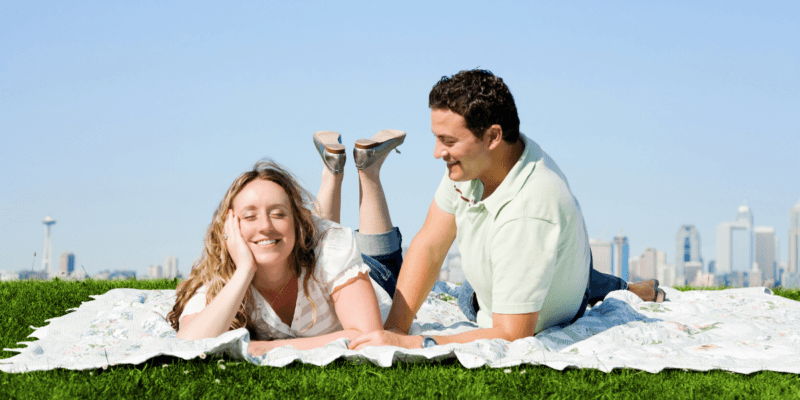 Book Your Private Photographer in Seattle
Spot #10
Honolulu
For a lot of couples, Honolulu is the ultimate dream destination. This is because of the dreamy blue skies, golden beaches, and azure waters. Of course, the picture-perfect mountain landscapes only add to the experiences.
Some of the activities that a couple can do together are whale watching. In addition to this, another most romantic activity could be going for a sail off the coast of Honolulu as the setting sun paints a beautiful movie-like scene. This particular scene makes for a perfect vacation photoshoot. So, don't forget to take your personal photographer with you!
Other than this, you would not want to miss the free fireworks show at Hilton Hawaiian Village if, by any chance, you are in Honolulu on a typical Friday. Well, isn't it romantic?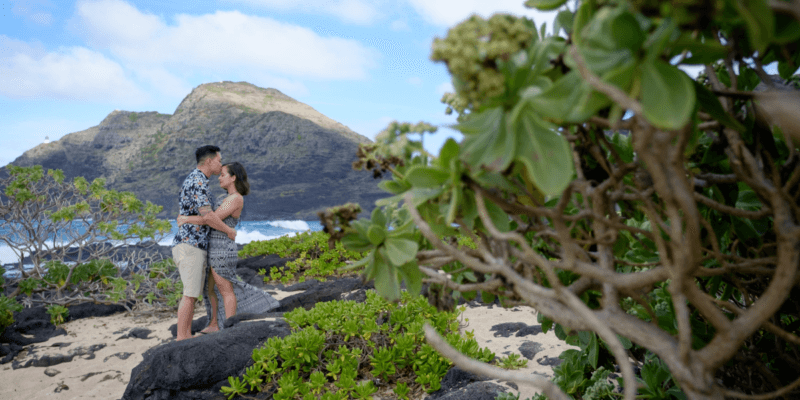 Buy memories, not things…
Limited time only!
SEE OUR GIFT CARDS
Great customer service and experience
Photoshoot in very short term
The most destinations on the market
Very positive customer feedback
1114
Photographers & Videographers
990
Destinations world-wide
100% Money Back Guarantee
We believe in our service and quality of our photos so much that we decided to offer a 100% money back satisfaction guarantee for your photo shoot. If you don't like your online gallery once we deliver it, you can contact us within 7 days and claim your money back. Find more details in our Terms.