There cannot be more concrete evidence of your love, bond, and affection than pulling back the memories of the day you two got married. Your anniversary is not less than a romantic date that can spark your love for your significant one. And celebrating it by planning something special is a without a doubt is one of the grand gestures of love. What makes the best of the anniversary celebration is the smorgasbord of ideas you can use to surprise your life partner. You can schedule a tour around the most romantic places of the world or take them on a delectable dining experience or maybe recall the memories by inviting everyone who helped you make your wedding a reality. No matter what your idea of a celebration is, an anniversary photo shoot is mandatory.
This romantic idea is one of the best ways to add more memories to your remembrance keepsake box. Fortunately, our local photographers can help you make your anniversary a day-to-remember for your whole life. With their dexterity in anniversary photography, our professional photographers enable you to reminisce about your big day and refresh the love and passion for your one-and-only.
Why an Anniversary Photo Shoot Is Just What You Need
Celebrating an anniversary with your partner is always a special occasion. It is an homage to your love, the time you have spent together, and the relationship you have built. It is the time when you show your appreciation for each other and relive those tiny moments of passion and emotion.
Your relationship is something that has already proven its value over time. All the memories and moments you have are priceless. And that is exactly why we think that an anniversary is a perfect time for an anniversary shoot. Not only will you get a set of fantastic anniversary photos, but you will also create new memories that you will never forget.  
Anniversary Photo Shoot Ideas from Around the World
If you want to show the world that how powerful and strong your bond is with your significant one, arranging a wedding anniversary shoot is undeniably the best idea. Whether your first anniversary is just around the corner or you've already done some anniversary photoshoots and you're just looking for inspiration, we have something for you.
This time, we have rounded up some of the most amazing anniversary photo shoot ideas from around the world that may sparkle a bit of inspiration for your next big anniversary.
Idea #1
Lost in Love in the Beautiful Santorini Island
There is no denying that the wedding is the most special and precious day for any couple. Celebrating or experiencing again the breathtaking moments of your wedding brings all the emotion that you felt that day to life. Plus, you don't have to think about all the wedding planning, finding the perfect venue, wedding photographer, and other stressful things – you simply enjoy the good part.
In fact, a wedding anniversary photoshoot is one way you can pride in your unity and affectionate relationship with your spouse. You can appreciate your loved one for always having your back and standing for you when you needed them the most.
If you are not good with words, one of our local anniversary photographers can help you convey this message to your life partner by making you do "Lost in Love" pose. The simple pose has the capacity to express so much that you cannot imagine. All you need is to have a romantic setting such as Santorini, Greece, and show your pure romance by kissing gently your loved one. There you go, a perfect anniversary photo for your family album!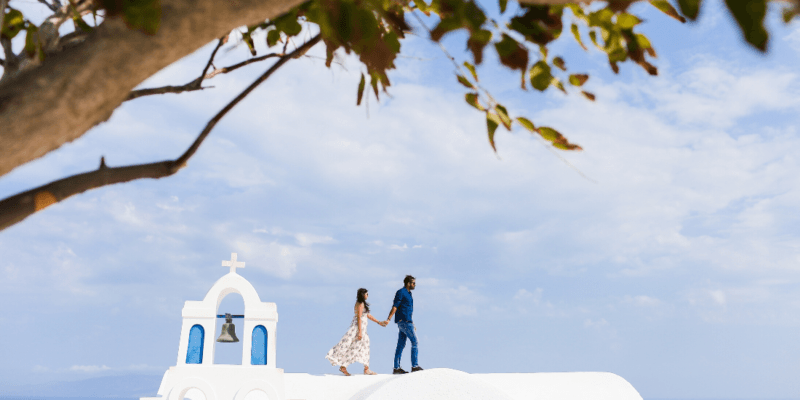 Idea #2
Happily Ever After Poster
This anniversary photo idea is one of the cutest poses you can try to celebrate the loving moments of your "years of togetherness." If you are going to hit a milestone of "10 years," this can be the perfect time to tell the world that you two will stay together forever. For example, take a slide board in your hand and write a quirky caption, such as "Still Happily Ever After." Do not forget to kiss each other while holding it will make a post-card worthy moment.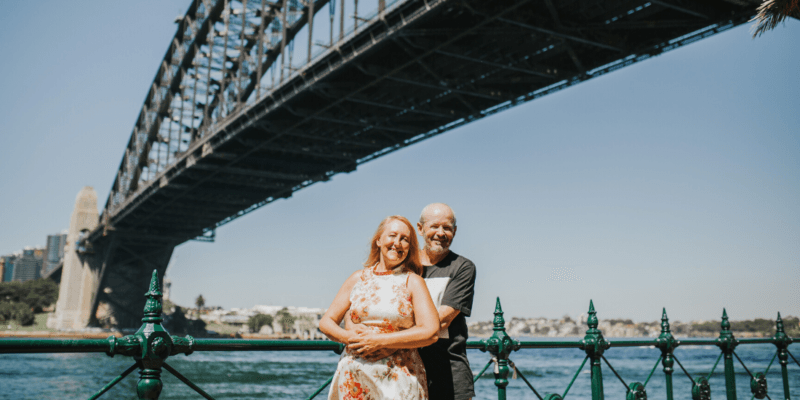 Idea #3
Take Advantage of a Tropical Vibe of Mallorca
What can be better than having our anniversary photoshoot on the beautiful island of Mallorca, Spain? The unspoiled, tranquil golden beaches and mesmerizing sunsets will take your anniversary photography to the next level. The magical beauty of this island is the reason why it inspires romance.
Once you are on the island, you do not need staged poses or act in front of the camera. Leave it to your professional anniversary photographer. He/she will capture the most loving candid poses of you and your loved one whether it's your first anniversary together or 25th years from the wedding day. You can even enjoy an anniversary trip on a serene island while your private photographer will seize your natural poses and expression on a scenic Spanish beach.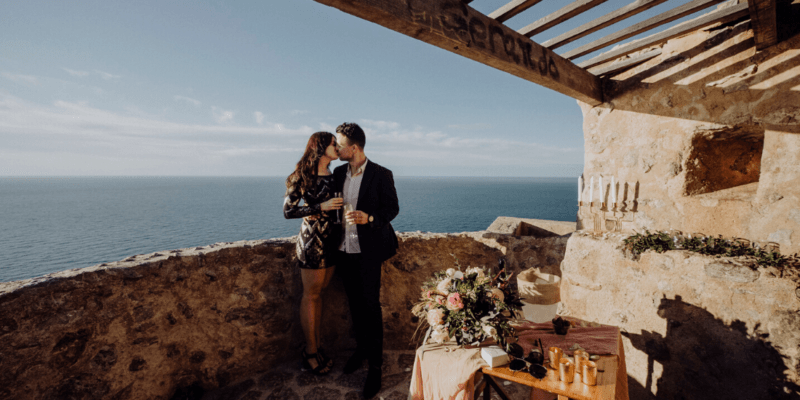 Idea #4
Propose Again in the Charming Streets of Amsterdam
As the title implies, the anniversary photoshoot is all about recreating the moment of your proposal. The photo is even more meaningful if you did not get a chance to go down on your knees and ask that magical question. So, do not hesitate to avail this chance on this anniversary. Although you don't need a special place to create this moment, Belgium has a classic charm that can make it an ideal scene. Whether you are crossing canals or roaming around cobblestone streets, the postcard-perfect views will make your anniversary photoshoot worthy enough to post on your Instagram.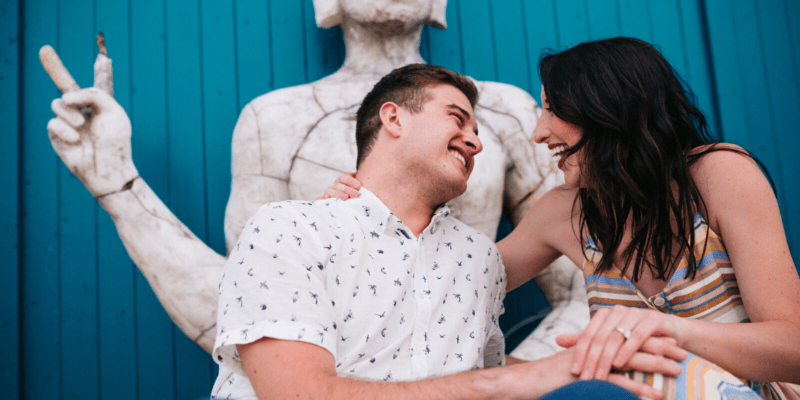 Idea #5
Hand in Hand Forever, from High Mountains to White Sand Beaches
Whether you are on an alpine adventure in Switzerland or succumbing to the beauty of real paradise in the Maldives, hand in hand pose always works for your anniversary photoshoot. It is simple yet the most powerful pose that portrays the chemistry between couples.
Interestingly, you can capture this couples photo shoot pose in numerous ways. You can walk on the turquoise and clear white sand beaches while your anniversary photographer clicks some memorable poses of you and your loved one. Also, you can look into each other's eyes while holding hands and get a picture for your romantic couple photo shoot.
Idea #6
The Minimalistic Heart Pose
Unique, trendy, and classy, the heart pose with hands is the most favorite shot of the anniversary couples as it perfectly symbolizes pure love. Another thing that makes this pose a couple's favorite is its easiness. A couple of any age can go for this anniversary photo shoot and enjoy it at the same time.
Some photographers include this pose in minimalistic photography as it focuses on the heart shape. That is the reason why this anniversary photo shoot is a great idea if you are spending vacations in Egypt or Japan. Squeeze the image of mysterious and majestic pyramids of Egypt in the heart shape pose with your partner and tell the world that your love is ever-lasting.
Idea #7
Make it Family Portrait Anywhere You Feel at Home
If you believe in celebrating everything with family, you can add your kids to your anniversary photoshoot. After all, they are the witness of your growing love and bond and should learn how true love stays with you. Photography with kids is always a challenge but if you make them a part of your anniversary photo shoot, you're sure to capture some adorable poses together.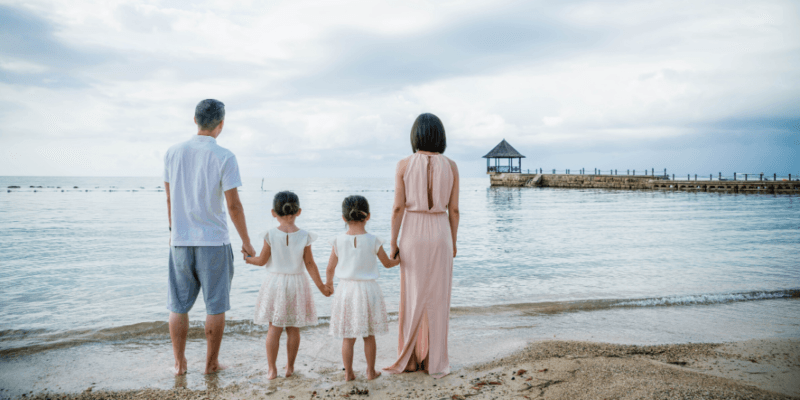 Do not miss the opportunity to show your love for your life partner this anniversary. Pick up some unique ideas for your anniversary photo shoot and hire a Localgrapher to make it memorable.