24. 6. 2018
How about Visiting Porto in Portugal for the Most Amazing Proposal Photo Sessions Ever!
Getting down on one knee is not easy. You need to muster up plenty of courage, eliminate the fear of rejection and just do it! Now, the mood must be set first. You don't just ask in a casual way. This is the person you love dearly, and you would love to spend the rest of your lives together, so we suggest you go all out.
Take your partner on vacation to Porto in Portugal, romance them seriously and then when they least expect it, get on one knee and pop the question. What we want for you is to go back home engaged. Nothing else. But if you get to have a little bit of fun on your vacation, why not?
Porto is ideal for a romantic getaway. It has dark corners and dimly lit streets, but don't worry, it's completely safe. You can steel a few secret kisses and also get down on one knee right there on the streets. It has a nostalgic atmosphere that is typical in all of Portugal. Many romantic souls love to visit this incredible city. It helps them reconnect on a whole new level, just being in this town. So don't wait any longer, book an incredible trip to Porto.
While there, invite us to come along, with our professional proposal photographers in Porto to capture each and every magical moment as you secretly propose. You will want to remember this for the rest of your lives.
So how do you propose in Portugal? Allow us to show you some of the most picture-perfect proposal photo sessions in this beautiful city.
Tip #1
Romantic Proposal in the Dreamy Streets of Porto
As mentioned earlier, the streets in Porto have been designed for romance all the way. From the dimly lit streets and dark corners, walking down the street is almost an aphrodisiac. There are also numerous couples steeling one moment after another.
One street, in particular, stands out. The Rua das Flores, or simply known as the flower street. You can tell by the name that this street is lined with flowers. This street is beautifully decorated, it has cozy little cafes and restaurants, plus it is very cheerful.
Grab a cup of coffee or something hot with your partner and get ready to propose, as the stage has already been set for you. All you have to do is muster up enough courage and get down on one knee.
Tip #2
The Beautiful and Inspiring Sunsets in Porto
Porto is built on a hill, so you can see where this is going. There are many lovely lookout points for you to just sit and enjoy the breathtaking sunset with your partner. This just puts you in a romantic mood, perfect for one of our secret proposal photo sessions.
Couples especially love the historical landmarks, the terraced gardens and the elegantly designed bridges for a romantic night out. But perhaps the Clérigos Tower and the Crystal Palace Gardens will stand out to anyone looking to have a quiet intimate time. These locations have been known to provide settings that arouse declarations of love.
Tip #3
Romantic Proposal during Porto Wine Tour
There's nothing like a little wine to get your romantic juices going. Take a wine tour to some of the most incredible lodges available in Porto, and don't waste time. Get down on one knee over a bottle of wine and propose.
Tip #4
Secret Proposal at the Douro River
If you have seen Porto photographs or postcards, almost all have an image of the Douro River. A trip to Porto must include a visit to this incredibly beautiful landmark destination. You shall not be disappointed.
Now imagine proposing at this landmark river? And take some photographs for a reminder, because this will be you all-time favorite postcards, birthday card for relatives and Christmas card. Just one photo of you on the bended knee will change your whole communication procedure with your relatives and friends.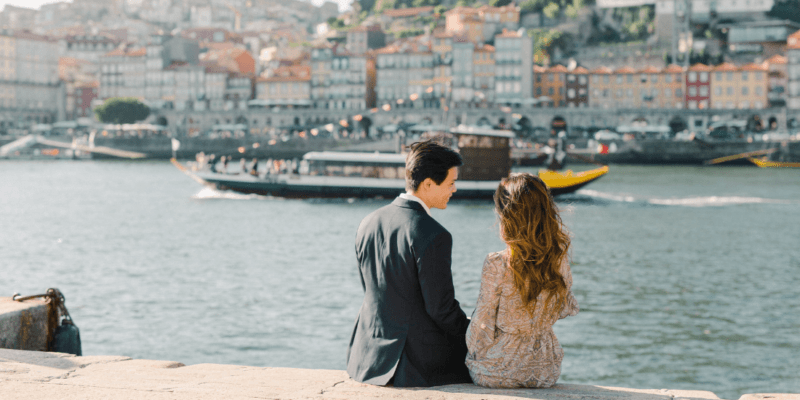 Tip #5
Get Down on One Knee by the Magnificent Coastline
There's nothing more romantic than a stroll on the beach with your partner. You get to walk hand in hand, as you enjoy the quietness of the ocean. This would be the perfect time to surprise your partner with a secret proposal.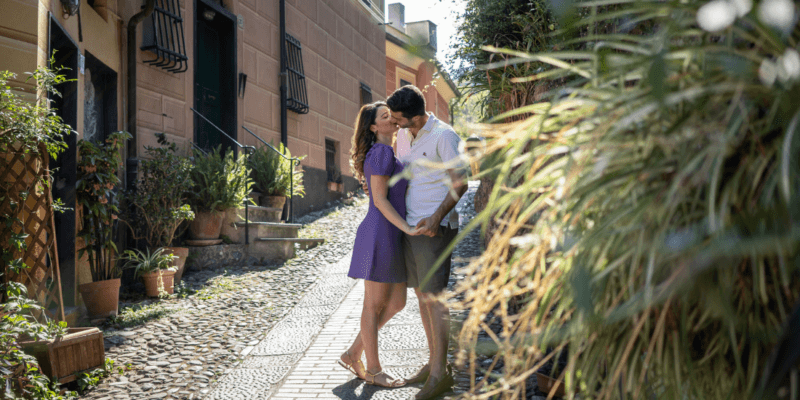 Tip #6
Romantic Atmosphere on the Historical Trams
This city is built on a hill, and so the streets as you can imagine are extremely hilly, navigating the streets on a vehicle can be a daunting task. No worries though, Porto's trams are cozy enough and beautiful enough to even bring about some romance while you travel. Discover the city on the trams and while you are at it, get down on one knee in the middle of nowhere and propose to your partner. One of the best secret proposal photo sessions we've ever done.
When you're ready to propose, don't settle on smartphone selfies to commemorate this life-altering event. Hire a professional photographer and create lasting memories that will forever bring you and your partner smiles with each viewing.
Is an ugly zit…
RUINING your perfect pics?
Get rid of it for $15 USD!
SEE PHOTOSHOP PACKAGES
Great customer service and experience
Photoshoot in very short term
The most destinations on the market
Very positive customer feedback
1225
Photographers & Videographers
1075
Destinations world-wide
100% Money Back Guarantee
We believe in our service and quality of our photos so much that we decided to offer a 100% money back satisfaction guarantee for your photo shoot. If you don't like your online gallery once we deliver it, you can contact us within 7 days and claim your money back. Find more details in our Terms.