12. 2. 2020
Best Solo Travel Photo Shoot Sessions from Around the Globe
There's a stigma that comes with traveling alone. Some will say it's scary, it's lonely, and it's not as fun. However, there are many reasons that traveling by yourself is actually beneficial for you. Once you pass the fear of exploring a new place on your own, there's a whole new world of opportunity waiting for you.
Traveling solo often increases your self-confidence, as you navigate and make new friends on your own. You will make your own decisions on what to see, and where to eat, and that power helps you become more confident, assertive, and decisive. Overcoming those obstacles and knowing you did it without relying on others will make you feel stronger and more independent.
Hiring a personal vacation photographer to follow you around on your adventures will help solve the photo shoot problem, as you don't have to worry about who's going to take those exciting photos of you living your best life. Need a little help with how to go about a solo photo shoot? Here are some inspirational solo traveler photo sessions from around the globe.
Solo Travel Photo Shoot Ideas From Around the Globe
Idea #1
Long Walks on the Beach in Montego Bay
Who said long walks on the beach had to be a romantic gesture? Take a stroll and soak up the sun on your solo-endeavor. Visit a country where white sand beaches sooth your feet and blue waters calm your nerves. Ocean waves will make you feel at peace, just as you should when traveling by yourself. 
This photo taken in Montego Bay, Jamaica strives to show this solo traveler's happiness as she looks back and gives the camera a smile. Bare feet meet the cool sand. Her multi-colored dress is flowing, a perfect dress for a casual beach stroll. While this may seem like a summer shoot, Jamaica has perfect temperatures all-year-round. A spontaneous solo trip seems ideal at this location.
Photo: Stacey, Localgrapher in Montego Bay
Idea #2
The City of Singapore is Yours
Own your solo photoshoot. Embrace that you are alone and thriving in a brand new city. A classic "new city" photo is the one seen here in Singapore. A barricade separates you from water. The city is across the way, making you look at something in the distance. You look out into the background to see where you are and take it all in. Your back is towards the camera and you place your hands along the barricade. This pose is saying, "I'm here and I'm ready to take on this new city."
This is the perfect solo photoshoot shot because it shows your courage and acceptance that you are enjoying time alone and ready to own the city like you've lived here your whole life.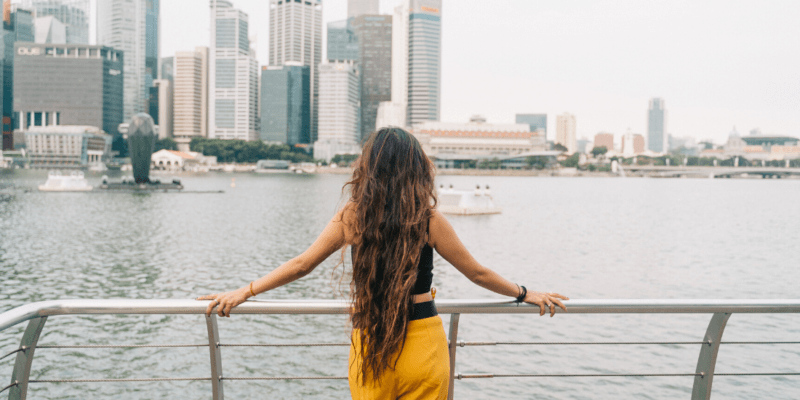 Photo: Dirgan, Localgrapher in Singapore
Idea #3
Taste Testing
Not all of your photo shoots have to require scenery. They can also include activities you partake in. Exploring activities in a new country also helps you become a part of the new culture you're learning about. Take this photo, for instance. It was taken in Bangkok, Thailand, however, the background is blurred. Trees seem to make up the greenery, however, that is not the focal point. 
The focal point is the traveler sitting down with a beverage in hand, surrounded by food. A very straightforward picture, she is smiling at the camera. The food covers the table, and although it is also blurred out to an extent, you know she is engaging in a cultural meal. Plus, enjoying a drink on your own doesn't seem like a half-bad idea.
Photo: Bonny, Localgrapher in Bangkok
Idea #4
Business Woman in the Making
Nothing says, "Empowering," like a business photoshoot. The best part about this is that business doesn't have to be boring. Take a look at this independent woman you see in the photo. This is a headshot. You can only see from the chest up, but that doesn't make the photo lackluster. Her blazer has a fun pattern and stands out all on its own. Thus, emphasizing her unique character. 
The background also helps to focus on the woman in the foreground. The bright yellow walls look like they're closing in at the top, creating a focal point. This means the viewer's eye is trained to look at the center. In this case, the center is the woman. Both the blazer and the angled colored walls make bold statements, which is what a professional headshot can look like if you have the right private photographer for your photo shoot. Next time you're in Rotterdam, Netherlands, see if you can do something like this!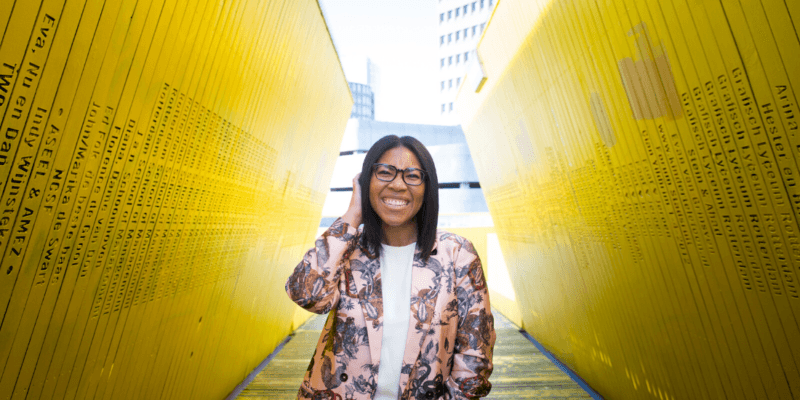 Photo: Alfred, Localgrapher in Rotterdam
Idea #5
Casual Look
You don't need to all smile to let your followers know you're having a good time. Sometimes, traveling alone means you're in need of a good photo shoot for your Instagram. That can also mean that you don't need scenic views; you just need an interesting spot.
This photo, taken in Kharkiv, Ukraine, is simplistic. A brick wall is on his left side, and a blue wall stands on his right. The edginess of the brick contradicts the smooth blue, however, both walls are darkened. His look is calm, not smiling. His sunglasses match the darkened mood, as does his clothing. The pose is lackadaisical, leaned back against the wall. If you can find a good spot for a photo shoot like this, then make your move!
Photo: Elena, Localgrapher in Kharkiv
Idea #6
Gone With the Wind
Just because you're traveling solo, doesn't mean you can't dress up for yourself. This vacation is yours to enjoy, so why not do it in style? This beautiful photo combines the elements of earth, wind, and water. 
The wind helps flow her red dress elegantly in the air towards one side. This photo captured almost makes it seem like the dress is part of the sky, as it looks so still yet so textured. She looks out into the distance for a pose, and she is barefoot on the rocks, connecting her to nature and the water around her.. The turquoise water of Ko Samui, Thailand splashes against the rocks and helps make the dress stand out more. Graceful and elegance makes for the perfect solo photo.
Look good, feel great, create the ultimate travel solo photoshoot!
Photo: Dimas, Localgrapher in Ko Samui
Idea #7
Making Friends in Munich, Germany
You don't need to go with a group of friends to enjoy your trip. You can make new friends in any country you visit. In this case, sometimes animals can make the most exciting friends. This picture, taken in Munich, Germany, includes a woman who was pleasantly interrupted in her solo photoshoot. 
These new flying friends turned this into a group shot filled with excitement. The woman is off-centered and seeds are thrown into the air as seagulls fly around to try and catch them. Meanwhile, she is smiling as she does this. You can see other birds such as swans and geese in the background swimming alongside the area. A magnificent piece of architecture borders the background. You can tell it's winter due to the red coat and scarf, which means that there's never a bad time for solo adventures in Germany!
Photo: Sophia, Localgrapher in Munich 
Idea #8
Blend In, Stand Out in Tokyo, Japan
Make a bright statement as you blend in with the world of color around you. Tokyo, Japan has a meaningful collection of pinwheels, representing pleasing the Gods and creating energy for their wellbeing. Although Tokyo is a very robust and high-tech city, they still have traditions that keep their land traditional. Typically, pinwheels are displayed in Tokyo temples, also captivated with peaceful gardens. They also make a pleasant sound, keeping with the tranquil but content vibes. 
In this photo, the colorful pinwheels match the woman's red top, blending her in. Although she is intertwined with the pinwheels, she is still a standout. The sun is glowing on her face as she looks away from the camera. She is enjoying her alone time and is embracing every moment on this photo shoot with her personal photographer.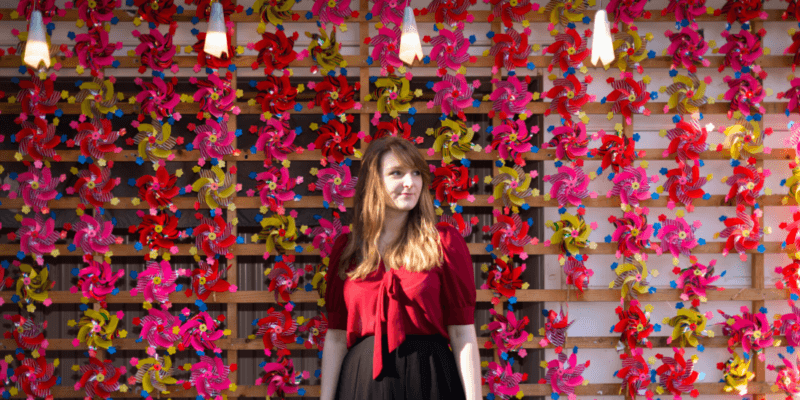 Photo: Pooja, Localgrapher in Tokyo
Idea #9
Show Them Your Smile in London, UK
A candid smile shows true happiness in a photo. The fashionista in this photo taken in London, United Kingdom is all smiles as she's photographed in between rustic buildings. A white divider matches the woman's coat and sweater, while blue on her left and the red on her white pop in the background, giving a very patriotic look (as the United Kingdom's flag are those colors). The sun peers through the trees and a small ray peeks behind her head. You can tell she is laughing as her hair sweeps to her face. Therefore, this look shows that she is independent and living her best life in a new city, exploring on her own. 
London is great at any time of the year, as mid-forties are the lowest it usually gets during the winter and hits an average of mid-seventies during the summer. You can wear your best looks for any season there, so go on and hire your vacation photographer to take you around the city of history, theater, and excitement.
Photo: Agata, Localgrapher in London
Idea #10
Visit the Streets of Tallin, Estonia
The fun part about traveling around the world is that every city and every country are unique in their own ways. The architecture, history, style and overall look have something distinctive about it. Take this photo, for instance. The photo shoot took place in Tallinn, Estonia, a beautifully-preserved medieval city, where cobblestone streets greet your feet. 
Quaint and colorful buildings align the streets, thus creating a charming environment for visitors and locals. The pose the woman has is sweet and casual, therefore matching the surrounding area. Her outfit even ties in with the traditional dresses of Estonia. Her dress is a little more "folky" and has beautiful print aligned on it, just like the dresses you see in the country's traditional folk style.
Photo: Marit, Localgrapher in Tallin
There should be no such fear of traveling alone. Many wanderers can explore the world they live in without the worry of anyone else's agenda. There is no one to listen to besides yourself, and you just might end up meeting new friends along the way. The exquisiteness in this world is endless, and not every nook and cranny can be explored. But if you explore enough, you'll find some of the natural beauties that lie within.
Even if you travel alone, you can always hire a private vacation photographer to capture all your exciting moments on your journey. Just because you're traveling alone, doesn't mean you can't have a fun photo shoot along the way of you living your best life. So go on and do your thing, because you've got a great big beautiful world waiting for you!
Buy memories, not things…
Limited time only!
SEE OUR GIFT CARDS
Great customer service and experience
Photoshoot in very short term
The most destinations on the market
Very positive customer feedback
1109
Photographers & Videographers
990
Destinations world-wide
100% Money Back Guarantee
We believe in our service and quality of our photos so much that we decided to offer a 100% money back satisfaction guarantee for your photo shoot. If you don't like your online gallery once we deliver it, you can contact us within 7 days and claim your money back. Find more details in our Terms.