Engagement photos are increasingly popular today, but they can be made even more special with someone who captures the instant of your proposal, creating beautiful images to treasure forever. When Kevin was planning to propose to his girlfriend in St. Petersburg, Russia, he knew that their families would not be able to be there, and he wanted to make his proposal both special and accessible to them as well. He knew where he wanted the engagement photo shoot to take place, but needed some help to pull it all off.
Why You Should Hire a Proposal Photographer in St. Petersburg?
St. Petersburg – formerly known as Leningrad – sits on the Baltic Sea and is Russia's second-largest city. It is one of the most modern cities in Russia, and the cultural capital, home to the Hermitage – a world-class art museum. Its architecture and historic canal provided the perfect backdrop for Kevin's proposal setup.
With the help of our engagement photographer Kristina, every special moment was captured. Kevin pulled a robin's egg blue box out of his pocket and held it behind his back – perfectly imaged by Kristina. As he went on bended knee, Kristina kept shooting and made sure to capture the second when Kevin asked his girlfriend that all-important question. And, of course, the professional photographer also caught the exact moment that she said "yes"!
Traditional engagement photoshoots do not often catch a couple's first reaction since the actual moment has long since passed. But with a professional engagement photo shoot, photographers can capture the precise moment when a couple becomes engaged, making it truly special.
Kevin and his new fiancé were clearly very comfortable sharing their affection in front of Kristina, as she was so professional. Looking at their engagement photos, it was easy to forget that the photographer is even there, as they were living in the moment, enjoying their first few minutes together, newly engaged.
From Proposal to Engagement Photo Shoot Session
Kristina then used the rooftop location to its full advantage and took many more photographs of Kevin and his new fiancé. The location had some interesting architectural features, and the lighting was just perfect, which Kristina used to capture some special moments between the lovely couple. She was able to take the very best pictures to remind them of their special day together in St, Petersburg.
But the rooftop was not the only location for the engagement photo shoot, and Kristina captured the happy couple with some of St. Petersburg's most famous locations, including its historic canal, lined shops and cafes, and the beautiful St. Isaac's Cathedral, which dominates the St. Petersburg skyline. Kristina again used the natural lighting to her advantage and showcased our happy couple at their best.
What is more, she let the couple enjoy their newly engaged status without being too intrusive. Instead, it is almost as if the proposal photographer is not even there; it is just the two of them. None of the images feel overly posed or rigid. Instead, they are natural and beautiful.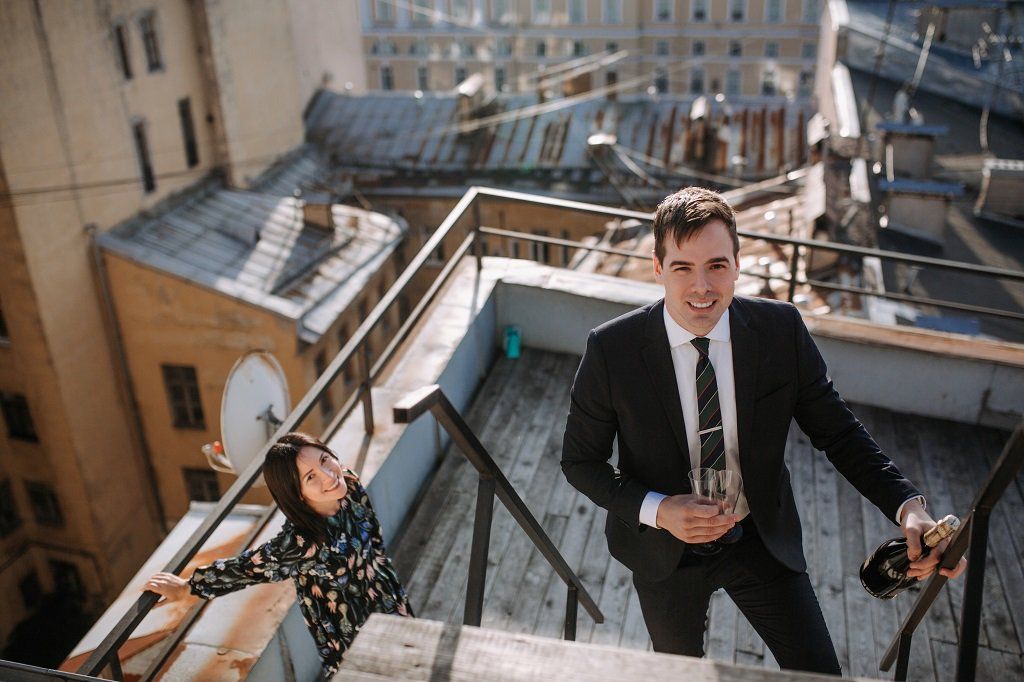 Share the Results of Your Engagement Photo Shoot Shared with the World
It is important to share major relationship milestones with those we love, and engagement photos like these are the perfect way to do it. Kevin and his fiancé can remember their time in St. Petersburg, but also share these very special, high-quality images with all of their family and friends. Every special moment can be captured by one of our vacation photographers and supplying our clients with high-quality and professional pictures no matter the occasion and setting.