4. 12. 2019
Dos & Don'ts: What to Wear for Your Next Photography Session
If you've ever booked a family photoshoot you know that depending on the concept, context and overall vibe you're aiming for, picking an outfit for the occasion is one of the top checkpoints on your list. With that being said, pondering on what to wear to your next photography session during your vacation might be the last thing on your mind. And we get it, you're on vacation, you just want to live every minute of it, the rest seems pretty irrelevant! And while this is completely true, one of the photography tips from our Localgraphers would be to give your outfit choice a bit of thought before heading out. 
Why Picking an Outfit is Important?
You're now on an adventure, and probably, it's one of the most amazing you've been on in a while. Choosing an outfit that will reflect not only your personality but the overall experience and aura of the location is important! Remember, you'll be looking back on these photos in a few years and you really want to look your best, right?
Without further ado, here are some DOS and DON'TS that will help you pick the perfect outfit for the wonderful photo shoot you're about to be the star of.
Photography Tips on What to Wear to Your Vacation Photoshoot
Tip #1
Color Coordination
Color coordination has everything to do with coordination and nothing to do with matching. Why make this clarification? Because matching outfits is about having everyone wear the same color, pattern or style. Coordination, on the other hand, refers to something completely different. If your vacation photoshoot is with friends and family, you can start off with a basic color palette and go from there. For instance, white clothing with a pop of earthy tones.
Fun Photography Tip: If you have a very stylish friend or family member, have them create a "rock star" outfit and the rest of the group can pick accessories, colors, and patterns inspired by it!
Tip #2
Be Yourself
It may sound a bit threshed, but it's one of the essential photography tips: You're you, so let yourself shine through! When looking back on these incredible memories you've created during your adventures. Pick an outfit that resembles who you are, being comfortable in one's skin essential.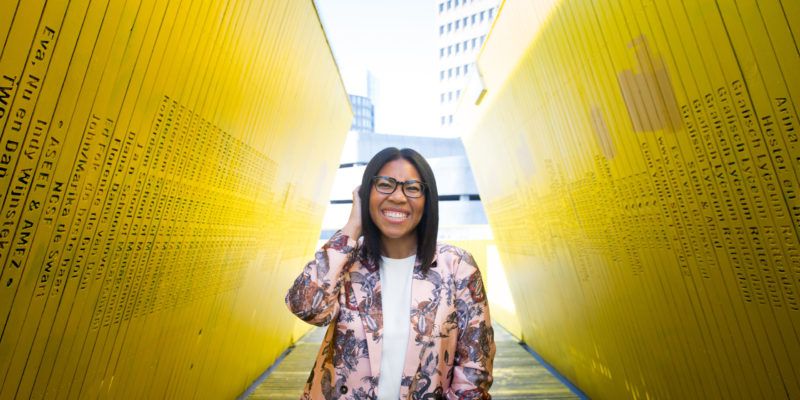 Tip #3
Use Subtle Props
It's possible that while on your vacation photoshoot you need to walk from point A to point B, while your personal photographer guides you through the area in search of the perfect shots. During this time, feel free to play around with any props you find along the way! Maybe you're in a stunning green area and there are flowers you can pick up and pose with. In tropical destinations, play with sand or splash in the water while on the beach! Take a fun photo trying an exotic fruit in Thailand. You can do a lot with subtle objects you find along the way that'll reflect your experience at the time.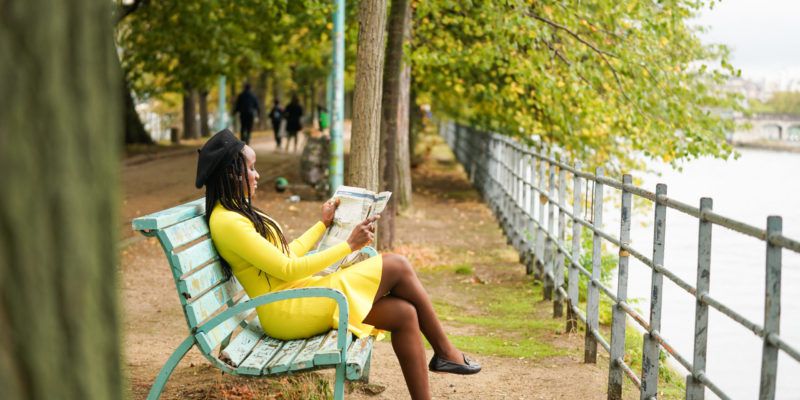 Tip #4
Accessorize
If accessorizing is very not you, then it's not necessary to go through with this tip. However, if you do own accessories you're comfortable with wearing, go for it! Especially if you've recently bought accessories that denote traditions and culture from the country you're visiting. For instance, wear a colorful scarf or pair of beautiful earrings from Spain or a new sun hat you bought on the coasts of Brazil.
Tip #5
Check your Feet
Shoes matter! They can make or break an outfit, really. Of course, depending on the type of vacation or trip you're on, you may have not packed specifically the right pair for every occasion. We understand shoes take up a lot of space in a suitcase! If this is the case, you can start outfit planning starting from the feet up. What shoes did you bring along? How can you combine these? Shoes tie the entire outfit together. Finally, did you pack some funky socks to go with your outfit? Throw them on for the shoot!
Tip #6
Movement
You'll want to choose an outfit that moves with you. Having movement and flow in garments during a photoshoot adds a unique touch of dreaminess to the whole thing. This tip goes for all ages, but if you're shooting with kids, have them wear free-flowing clothes and accessories. A twirly dress accentuates beautiful movement and adds innocence and pureness to the shot.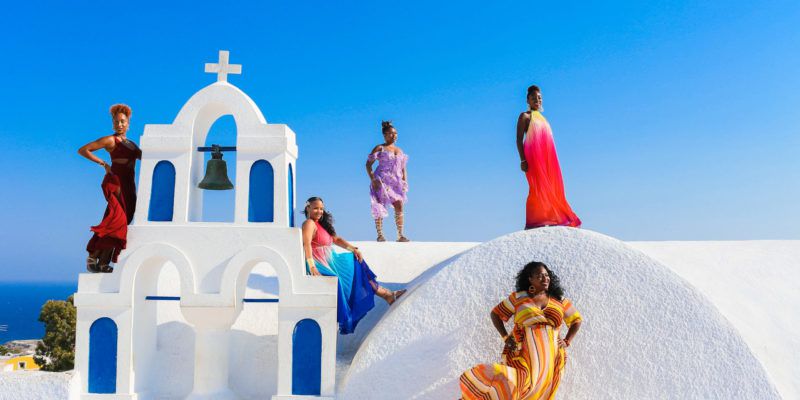 Tip #7
Wear Patterns
In moderation, patterns add a great dose of personality to the entire outfit. But just like we mentioned already, try not having one outfit stealing the spotlight altogether – but don't be afraid to get creative either. Patterns should complement each other with other solid color garments. It's all about balance.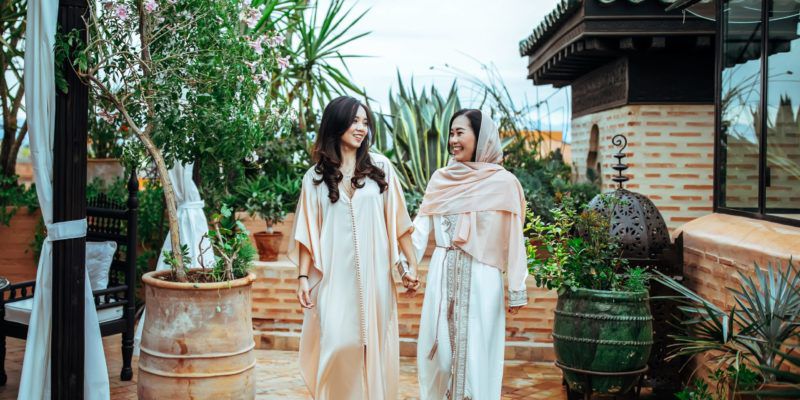 Tip #8
Have Fun!
Have a blast during your photoshoot! Our vacation photographers are amazing so you won't need to feel conscious about anything throughout the shoot. Be more active, hang around, and do less posing. Posed photos are bound to happen, especially with larger groups of people. However, capturing the moment and the experience is all about staying natural. Enjoy the experience and this will surely shine through in the final images.
Photography Tips on What
NOT TO

Wear to Your Vacation Photoshoot

Tip #1
Don't Wear Logo Shirts
Please, please, please don't wear logo shirts! This is very distracting and gives off an "I-didn't-really-care" vibe to the final images. Your vacation photoshoot calls for a little sprucing up. Sure, you can still wear a trendy, sporty-chic outfit but without the added interference of a logo plastered across a t-shirt. If needed, send this photography tips article to your fiancé, friend, or family member and remind them to stay away from their logo shirts, just this once!
Tip #2
Don't Wear Tight Clothing
Unless this is specifically the style you like to go for and it reflects your personality, go for it! Tight clothing is also good if the photo session takes place during a night out on the town. If not the case, your personal photographer will most likely advise you to wear light pieces of clothing that you can move freely in. Remember that most vacation shoots will take place in different spots, you'll be walking some, so it's best if you're comfy!
Tip #3
Don't Overthink It
You're most probably in a stunning, paradisiac, or historical part of the world and overthinking – should be completely off the table. Yes, thinking about picking a perfect outfit for the photoshoot is important, (this photography tips article is all about that) but it shouldn't be stressing you out. Simply pick what you're comfortable in and own it!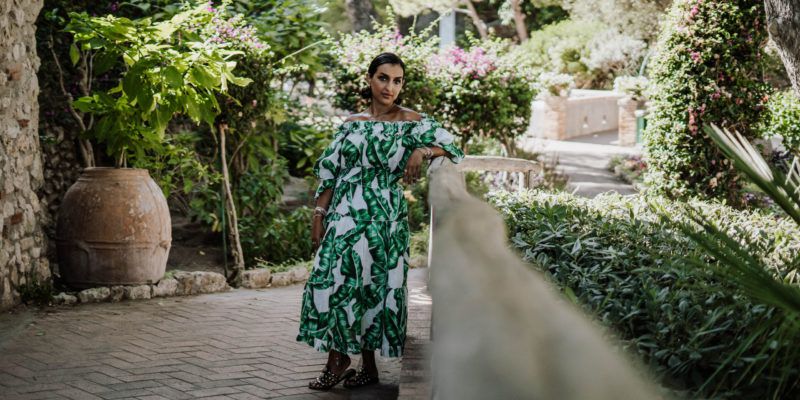 Tip #4
Don't Outdo Anyone
If your vacation photoshoot is with friends and family, it's best to make sure that everyone is on the same page in terms of outfits. If casual is the way to go, make sure it stays that way. You don't want anyone sticking out like a sore thumb or "stealing the spotlight" in the final images. This can be very distracting. In the case you're picking "fancier" outfits, find out if everyone on the trip has the same options available as everyone else.
This photography tip is crucial for those interested in booking a wedding, honeymoon, or proposal photoshoot. You don't want to "outdo" your partner during such memorable moments.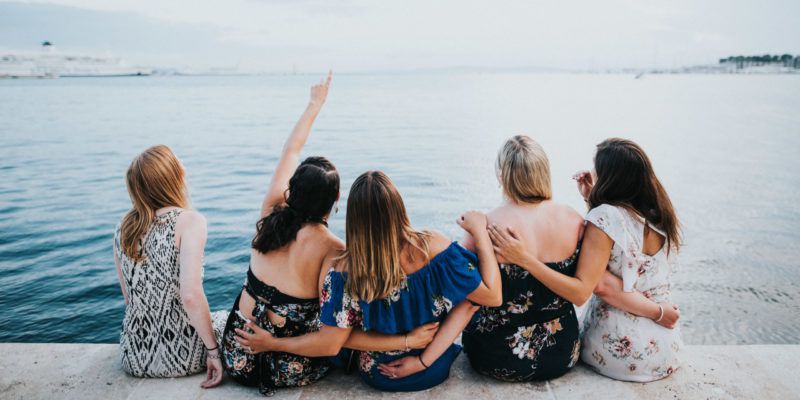 Tip #5
Don't Be Too Trendy
Remember, trends come and go and it's likely that some of your vacation photos get framed or posted on social media. Photography tips preach that it's best to choose timeless, more classic outfits for the entire family or group of friends. Undoubtedly, in the case that this is the look you want to go for! If you're looking to pose for edgier photos during a night out in Berlin, for instance, rock the trends! Nevertheless, our photographers would advise that if booking a honeymoon or proposal photoshoot, it's always best to stay on the classic side of things and try not to date yourself – or anyone else.
Tip #6
Don't Over-Accessorize
While rocking a few accessories is great, make sure that they don't turn into the center of attention. Accessories should be used to compliment your final look instead of impairing it. Plus, as mentioned before, it's likely that you'll be moving from spot to spot, and too many accessories can become a real hassle. Make sure you wear the right amount and are not feeling too conscious or uncomfortable during the photo session.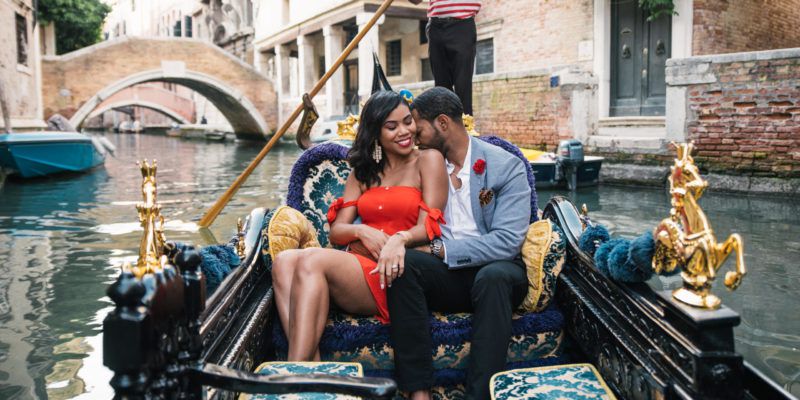 The most important take away from this photography tip list is: Don't stress and have fun! The rest is completely optional. The essential thing about vacation photography is capturing the essence of the moment, you, and your destination. If you're interested in booking your next photo session, reach out to us or check our photographers and destinations. Happy travels!
Buy memories, not things…
Limited time only!
SEE OUR GIFT CARDS
Great customer service and experience
Photoshoot in very short term
The most destinations on the market
Very positive customer feedback
1118
Photographers & Videographers
997
Destinations world-wide
100% Money Back Guarantee
We believe in our service and quality of our photos so much that we decided to offer a 100% money back satisfaction guarantee for your photo shoot. If you don't like your online gallery once we deliver it, you can contact us within 7 days and claim your money back. Find more details in our Terms.