13. 10. 2016
The Most Breathtaking Solo Trip to Prague With a Vacation Photographer
Just when you thought Prague could not be more beautiful, this solo traveler proved us all wrong. With her dazzling smile and elegant attire, Kimberley's solo photoshoot, over the Charles Bridge and on Kampa Island, is sure to take your breath away.
Why Should You Hire a Vacation Photographer in Prague
Kimberly travels to Europe every year to explore the vast sceneries of each unique city. As a solo traveler, she takes much delight in sharing her adventures with her friends and family.
To truly capture the spirit of Prague, Czech Republic, Kimberly knew her limited photography skills would not suffice. So she decided to hire one of our professional vacation photographers.
It was an early start to the day as Matej, our Prague-based vacation photographer, fetched Kimberly at her hotel and escorted her to the first site of her vacation photoshoot. Not being the type of person to do anything half-heartedly, Kimberly had brought a change of outfit.
Each dress was elegant and airy, reflecting the glamorous yet playful spirit Kimberly shares with everyone she meets.
Charles Bridge – Prague's Iconic Photo Spot
In a city that houses the largest ancient castle in the world, along with a wall honoring the late John Lennon, Prague is a delightful mix of both ancient medieval times and modern art. There is no better viewpoint of this collaboration between old and new than the Charles Bridge.
From Charles Bridge, Matej was able to capture the Prague Old Town skyline, the Prague Palace and Petřín Hill, without having to waste time moving to different locations.
Starting early meant that Kimberly could enjoy her vacation photoshoot without crowds of tourists rushing past. Matej used the morning light to make the stark, gothic Prague Castle blend in with the soft shades of the nearby buildings.
Kimberly commanded the cobbled walkway in her strappy silver stilettos and flowing purple dress. The tourists and locals were clearly mesmerized by the paparazzi photography session.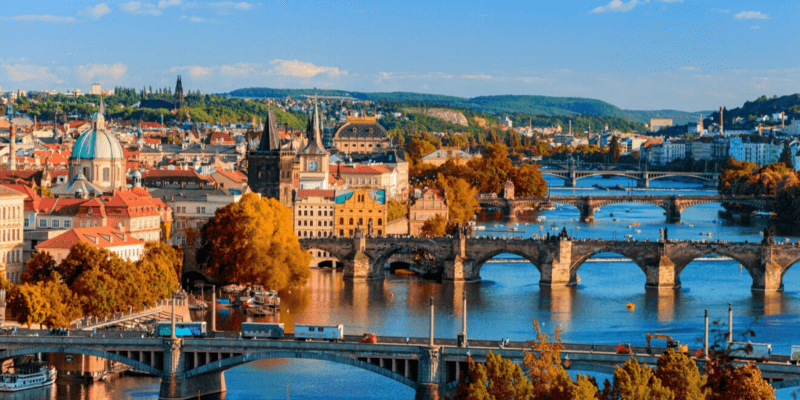 Vacation Photos from Kampa Island
The photoshoot continued down the stairs to Kampa Island. At Matej's request, Kimberley flicked her dress before making her way down the stairs, the trail danced beside her. The symmetry of the stairway provided a striking frame for the photos.
On Kampa Island, the Vltava River glistened bellow and a gentle hue was cast over the buildings in the distance. Matej captured this delicate atmosphere in each picture as Kimberly gazed ahead.
Matej impressed Kimberley with his professional yet friendly nature. She said,
"I had fun working with Matej and at the end, I was very happy with my pictures."
In fact, she was so impressed that she booked a Localgrapher for her next solo trip destination: Dubrovnik, Croatia.
And if you thought Kimberly looked glamorous in Prague, you will not believe how gorgeous her photoshoot in Dubrovnik turned out. We'll be posting those pictures in the next few days.
If you are ready to command the walkway of a foreign land and take home some breathtaking photos on your next vacation, be sure to book your perfect Localgrapher now!
Book Your Vacation Photo Shoot in Prague Now
BOOK HERE
Buy memories, not things…
Limited time only!
SEE OUR GIFT CARDS
Great customer service and experience
Photoshoot in very short term
The most destinations on the market
Very positive customer feedback
1167
Photographers & Videographers
1035
Destinations world-wide
100% Money Back Guarantee
We believe in our service and quality of our photos so much that we decided to offer a 100% money back satisfaction guarantee for your photo shoot. If you don't like your online gallery once we deliver it, you can contact us within 7 days and claim your money back. Find more details in our Terms.