26. 7. 2018
Celebrating 25th Anniversary with a Photo Shoot in Prague
Yuliya decided a vacation in Prague was the best way to celebrate her 25th anniversary with her partner. With its beautiful architecture and rich history, Prague is one of the most popular vacation destinations in the world. And such a fascinating, beautiful location demands a photographer with the skill to highlight it all with a stunning anniversary photo shoot!
Why You Should Hire a Vacation Photographer in Prague, Czechia?
Prague is both the capital and largest city of the Czech Republic. It is one of the most commonly visited cities in Central Europe and is an important flight and train hub; if you're traveling through the continent, there's an excellent chance you'll pass through Prague.
Just over 10% of the population of the Czech Republic lives in Prague yet the capital is bustling without feeling nearly as overcrowded as Paris or London. The exact founding date of Prague has been lost to the mists of history as people have been living in the area for thousands of years since Neolithic times. The Celts, Romans, Germanic tribes, and others have all left their imprint on the historic tapestry of modern-day Prague.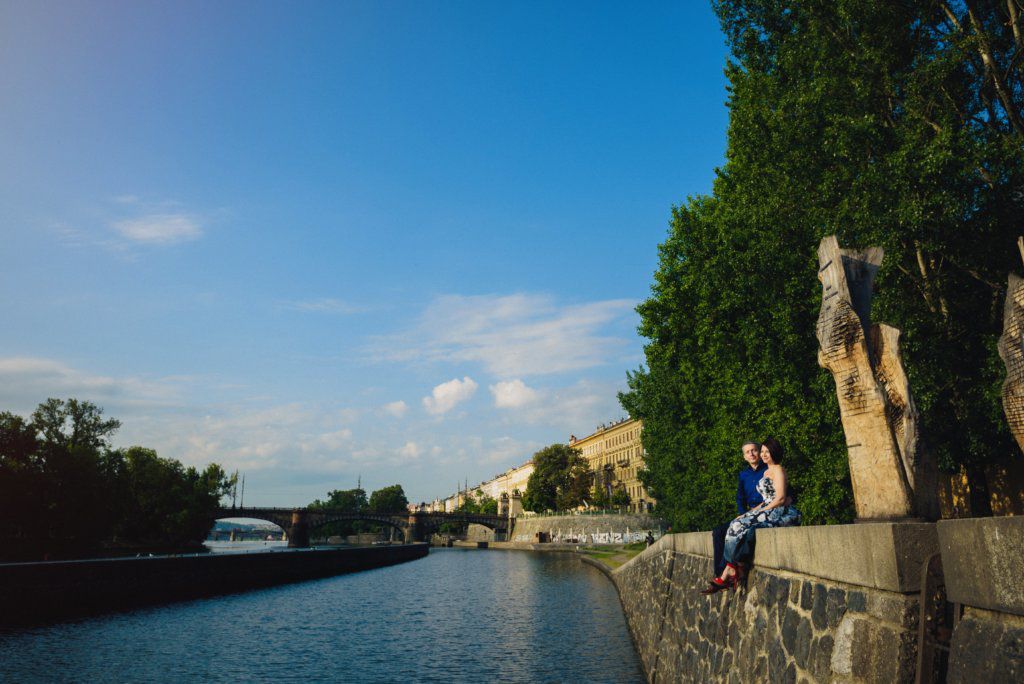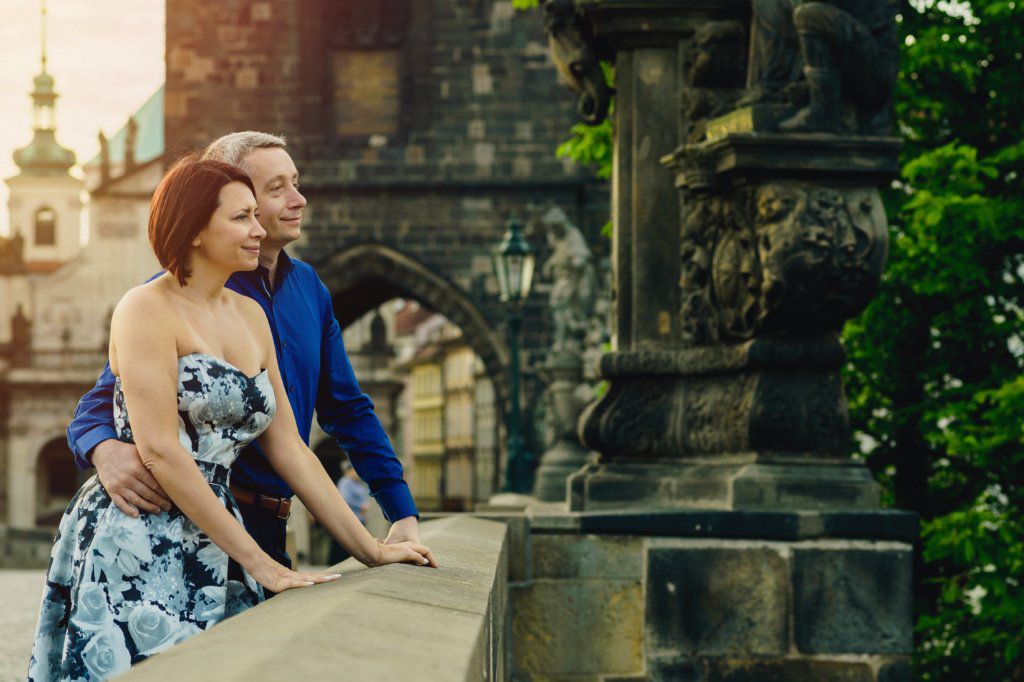 Book Your Vacation Photo Shoot in Prague Now
START HERE
The food scene in Prague encompasses all of the best things the Czech Republic has to offer as well as the rest of Europe. Trdelník is a popular dessert featuring a roll of pastry with various fillings like honey, Nutella, or poppy seed paste. The roll is topped with butter, nuts, and a cinnamon-sugar mixture that's incredibly good. Svíčková (beef in cream sauce) is also popular as well as wide selection of Czech beer. There really is something for every palate.
As a result, the architecture is some of the finest in Europe. Prague's Astronomical Clock, built in 1410, is the oldest functional astronomical clock in the world. Prague Castle is another architectural marvel, first built in 870 AD and successively added to over the centuries. It's the largest known ancient castle in the world and well worth visiting on your trip to Bohemia.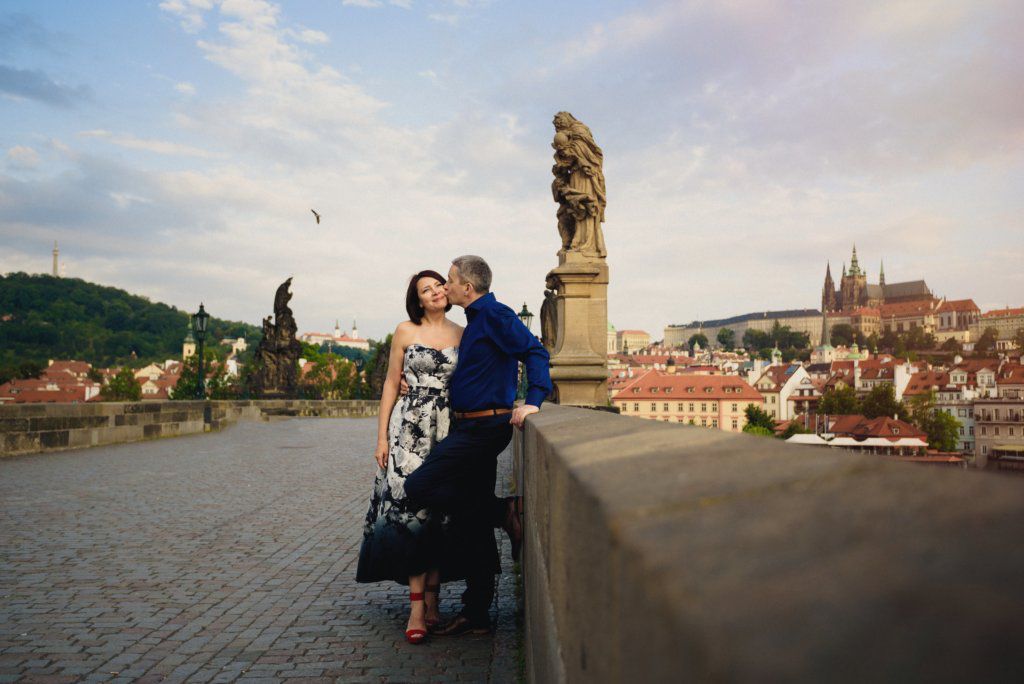 Romantic Anniversary Photo Shoot in Prague
Yuliya could not have chosen a better city for her anniversary photo shoot. But such an incredible city demands better than cellphone selfies. That's why she reaches out to Braulio, our local vacation photographer. Together, they planned the best locations for the anniversary photo shoot, working quickly to make it happen within their 2-day timeframe in the city.
Braulio's experience as a professional photographer is incredibly obvious as we look over the images. Hiring a local photographer means having someone who not only understands light but knows exactly when and how to get the best effects with it. Braulio chooses a location where the sunset would provide dramatic lighting without overwhelming the subjects or creating dark silhouettes.
The depth of field, or how much of the scene is in sharp focus, is also perfect for the location. We can see the two lovers but also the beautiful stonework of the castles, bridges, and streets of Prague. By choosing an evening timeframe and specific angles and locations he was also able to create the illusion of having the entire city to themselves; note how few people are shown in the background. In short, these are images that will last a lifetime and will always bring up fond memories of a special date. So don't hesitate when booking your destination vacation; make the moment as special as possible with a destination photographer!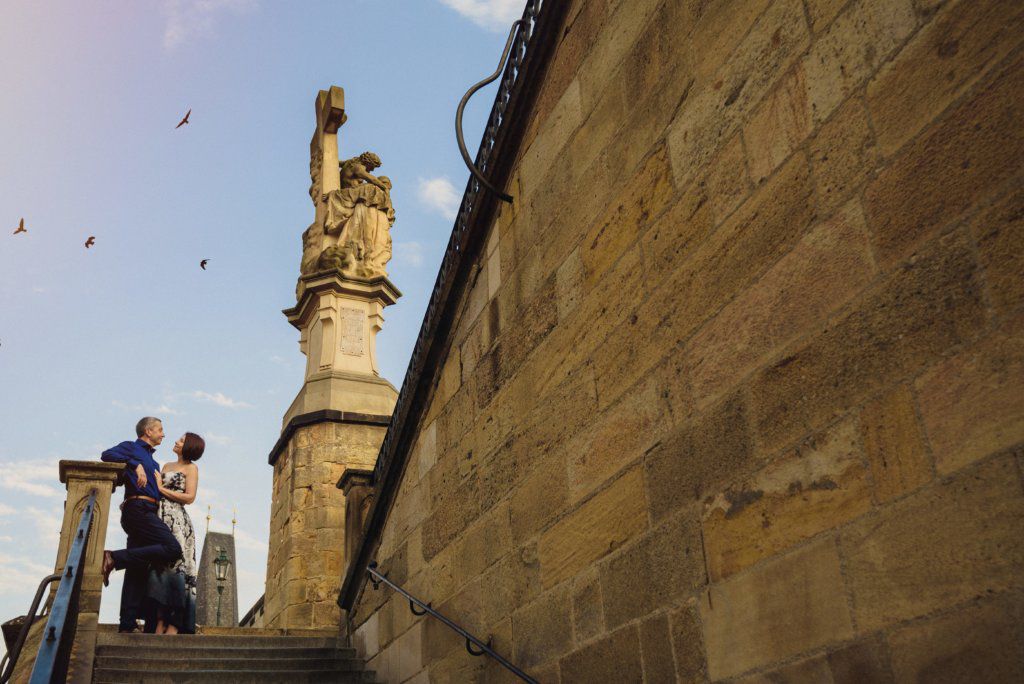 Buy memories, not things…
Limited time only!
SEE OUR GIFT CARDS
Great customer service and experience
Photoshoot in very short term
The most destinations on the market
Very positive customer feedback
1167
Photographers & Videographers
1035
Destinations world-wide
100% Money Back Guarantee
We believe in our service and quality of our photos so much that we decided to offer a 100% money back satisfaction guarantee for your photo shoot. If you don't like your online gallery once we deliver it, you can contact us within 7 days and claim your money back. Find more details in our Terms.