18. 9. 2018
Budding Love Photographed in Ocho Rios, Jamaica
Ocho Rios is a beautiful place for couples to explore together, and this romantic couple photoshoot in Jamaica was a great way to celebrate their vacation and relationship. A vacation photographer captured all of their emotions in a truly gorgeous, natural setting.
Booking a Vacation Photographer Has Never Been Easier
Josh decided that a vacation to Jamaica wouldn't be complete without the photographs to commemorate their trip as a couple. The couple's connection with each other is emphasized and highlighted by their interaction with their Ocho Rios beach surroundings. The local vacation photographer understands the terrain and is able to bring out the reflections of nature in the storytelling of the couple's love story. The light of the sunset sparkles in the light of their eyes.
Both playful and deeply admiring, the earth, sun, and this relationship revolve around the other being, as we are reminded in this sunset couple photoshoot. The interlocking tree branches echo the embrace of the pair, in solemnity, security, and serenity. Even the steadfastness of rocks, standing strong against the ever-crashing waves brings to mind the unwavering faith of relationships fated to last.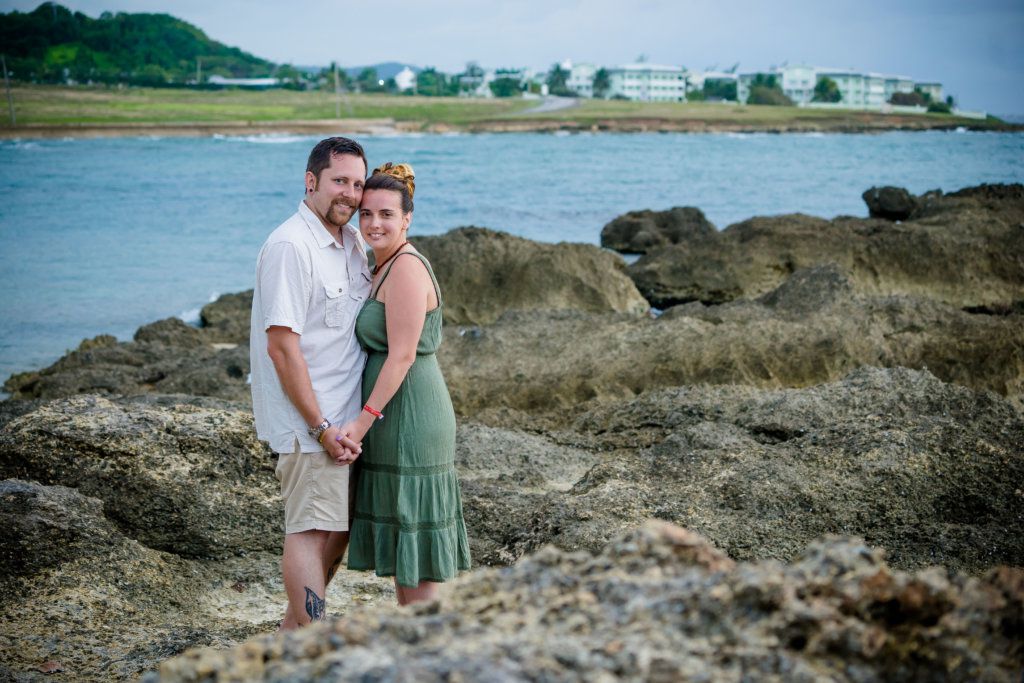 Vacation Couple Photoshoot in Ocho Rios, Jamaica
Stacey, the couple's vacation photographer, features the breadth of these matched personalities individually and together. From pensive moments to loving mile-wide grins, Stacey also included the fun moments of laughter and making a splash! Stacey professionally makes recommendations, but also is friendly and makes everyone feel at ease.
After all, being photographed should feel natural and fun! Feeling comfortable comes spontaneously for a couple together, and the variety of poses offer a chance to show how deep their affection runs. Whether walking together, sitting arm in arm, or looking deep into one another's eyes, Stacey's photographs paint the full picture of this duo's charm.
How Many Locations are Enough for a Photoshoot?
The resort where Josh stayed may have provided everything necessary for their vacation, including the views! But vacation photography is more than just standing in front of sand, water, and a camera. Stacey shared the special makeup of the place and focused on angles that are consistent with the experience of the couple photographed. The feeling of a paradise found is shown in the sheltered abode of trees where the twosome are held in each other's arms.
This getaway is just for the two of them, and we are reminded of that when no one else is seen on the length of the beach. The rock cove also seems to encircle these two in a world all their own. Vacations serve as a time to reconnect and rejuvenate, and the photography affirms this experience. The getaway couple photoshoot is an opportunity not just for professional photography, but also for meaningful exploration of new places and of each other.
Why You Should Book a Couple Photoshoot in Jamaica?
In addition to making such a great choice to visit the Caribbean together on a couple's vacation, Josh also made a great choice in a vacation photographer to memorialize the experience. Jamaica offers amazing sand beaches, tropics and rocky coves with great outlooks.
The bright charm of blue water and fiery sunsets serve as a perfect backdrop to the adventure of love photographed here. The landscape's variety and beauty made for a storybook romantic getaway for Josh. With Stacey, they have memories of a sunset that literally tells their story and will never be lost!
Buy memories, not things…
Limited time only!
SEE OUR GIFT CARDS
Great customer service and experience
Photoshoot in very short term
The most destinations on the market
Very positive customer feedback
1143
Photographers & Videographers
1024
Destinations world-wide
100% Money Back Guarantee
We believe in our service and quality of our photos so much that we decided to offer a 100% money back satisfaction guarantee for your photo shoot. If you don't like your online gallery once we deliver it, you can contact us within 7 days and claim your money back. Find more details in our Terms.