16. 3. 2020
How To Convince Your Partner To Do a Vacation Photo Shoot
Your Instagram feed might be full of Sofia Vergara and Kim Kardashian photos, rocking their vacation photo shoot and having fun with their loved ones. Or photos of your favorite sports stars on Facebook, spending some quality time with their significant one on the serene beaches of Bali.
So is professional vacation photoshoot for only celebrities?
Well, if you have this same thought, you are not alone. Many people, especially couples, believe that vacation photo shoot is a kind of luxury and is for only celebrities and stars. Or they should hire only for special occasions. However, that is not true.
A vacation photoshoot is anything, and anywhere you want it to be. Know that the right photographer who is skilled enough to take your simple holiday photos into idyllic vacation pictures. All you need is to convince your partner to do a vacation photo shoot if you want to embark on the vacation trip like celebrities do.
Here we have rounded up some interesting tips you can use to get your loved one onboard about vacation photoshoot. 
9 Ways How to Make your Partner Say "YES" to a Vacation Photo Shoot
We are sure you have an idea of what kind of excuses you may get to hear from your partner while convincing them to book a vacation photo shoot. Now you can prepare yourself in advance with the right answers. Here are some winning tips to put your partner on board for an exciting and memorable photoshoot.   
Tip #1
Tell your partner it is going to be a different experience
Cheesy backdrops, forced smiles, awkward hugs, we have all been there when it comes to taking photos. But "a vacation photoshoot is different," and you need to remind your partner that. When you opt for a vacation photo shoot, every moment counts. Remember that no one can capture your dream, and style the way a professional photographer can.  
You need to make your partner understand that a vacation photoshoot is something much more than just a visual record of your trip. And that is what set us apart from the photoshoots you have had in the past. Our local photographers, in this respect, have their focus on the candid and natural moments and click photos that narrate your bond with your loved one. Your photoshoot can still be as creative as you want it no matter the location — be it in front of a landmark or in the lush forests with camping tents for shelter.
Professional photographers know how to replace fake smiles with actual laughter and staged posing with a candid shot while you explore the stunning beauty of your vacation destination.
Rain in Paris… we know how to add a romantic downpour shot to your traveling diaries.
Tip #2
You have a chance to document your special moments
You often get to hear that a vacation photo shoot takes a lot of time when considering booking a photographer and tell your partner. Well if your partner thinks so, it is not something very uncommon.
"Professional photography" takes forever is generally the common misconception many people have. They think it will take an entire day, and they won't get time to enjoy the beauty of the locations they want to visit.
However, with a candid and fun vacation photoshoot with us, our local photographers do not take more than an hour. The easy-to-go photography packages not only allow you to capture all your precious moments but also spare you enough time to spend time with each other.
That means with our skillful vacation photographers, you can see the most beautiful and famous sites of your destination and discover the hidden spots only local residents know about. What about taking it as a local tour that you have with an expert who will seize your love story without having you look at the camera?
 In short, a vacation photo shoot does not let your trip go waste as it takes little time but gives you memories that you can cherish for years. It is different from the rest of the photography sessions because it is more about spending quality time with each other and documenting your most precious moments.   
What about celebrating your next anniversary in Venice during vacations and making tons of memories with the love of your life?  
Romantic gateways, proposals, honeymoons, even babymoon, a vacation photo shoot is an ideal option to make the most of these occasions. And when you have skilled photographers by your side, you can fill your special events with some fantastic memories and gorgeous photos. Put simply, opting for a vacation photoshoot is like investing in memories that last forever.
Tip #3
It's a great way to experience your vacation destination in a fun way
This is one of the most important reasons you can use to convince your loved one for a vacation photoshoot. Hiring one of our professional vacation photographers means you have an opportunity to discover the hidden gem of your destination. Our vacation photographers are local experts and can take you to some of the most popular photo spots b and secret places that you had never seen before. They offer you the exclusivity that all visitors expect when they are vacationing.
Your photographer can be your qualified guide who knows the place inside out. They will not only capture great photos but also know the right spots to capture photos that show unique backdrops. Whether it is the iconic Eiffel Tower you want to frame in the background or some off the beaten path, your personal photographer knows it and can infuse your pictures with the unique flavor of that place.
Tip #4
A local photographer has an 'Inside Expertise'
This is another great advantage you can share with your significant one to convince him or her for a photoshoot. 
When you book a vacation photo shoot, you get not only a pro photographer but also a guide all-in-one. He or she knows the local language and is well aware of cultural norms. That helps you understand the local people and their behavior, eventually benefiting your stay in that specific destination.  
Plus, the photographers have often connections for non-touristy and private photoshoot locations. Between your photoshoot sessions, don't forget to get some insider advice on the best eatery spots and the places to hang around.
Tip #5
You can feel like a star for once
"I will feel awkward", "I am not a celebrity", are some of the excuses your partner may say to change your mind.
Well, there is no denying that many people feel shy or are not comfortable in front of the camera. But who doesn't want to look like a star in the vacation photos?  Unfortunately, not everyone is good at posing or putting on fake smiles on the face. Plus, taking a chic photo with your partner that can break your Instagram requires a lot more than just merely smiling.  
This is where the expertise of a professional photographer comes into play.  No photographer can take the valuable shots until he or she makes the clients feel relax and stress-free.
With a vacation photographer, you do not need to stress out about the right poses and angles. He or she guides you about even the little details that can help you get the pictures.
Local photographers have exceptional photography timings. They tell you when it is good to pose. The friendly guidance is what all you need to loosen yourself up to capture some insta-worthy shots.
Furthermore, our photographers ask you specifically about the guidance you need during your vacation photo shoot. If it the first time you are planning a photoshoot, you can seek the maximum amount of advice. Your photographer will help you pose while capturing your natural moments. This allows you to channel an inner model (that you might not have discovered so far) and make you feel like a star. 
So even if you do not know how to snuggle close to take a loved-up photo like Ricky Martin, leave everything on our pro vacation photographer.
Tip #6
A vacation photo shoot is painless
If you have chosen our couples photography deal, 60 minutes photoshoot may seem like a very long time until you experience it yourself and find out how fast the time goes by. From meeting your vacation photographer to sharing thoughts, to exploring new spots to wrapping up the photoshoot, everything goes swiftly. That means a vacation photoshoot is quick, fun, and painless.
In case your partner makes excuses after listening to this, you can show him reviews and feedback of satisfied customers on our website. Or bargain down by letting him or her pick a dinner place of his/her if they agree to have a photoshoot. We are sure your partner will end up having a lot of fun and walk away with an experience he or she never had before.
Tip #7
The value and experience you get are priceless
You have seen the movie and music stars taking a vacation break every year and posting pictures on Instagram, the thought "it is expensive" makes sense. Plus, many people feel overwhelmed when they look at their travel budget and add in the price of a vacation photoshoot. Many of them often forget to consider the experience and value that go way beyond having this one-time expense. 
However, between taxis, flights, tours, and hotels, paying $250 to capture your special moment is undeniably the least expensive thing one can do on the vacations.
That means once you have checked out from your hotel, done with the food and everything, it is time of your trip you can use for making memories with your significant one. And local photographers make sure to help you make those memories by offering the most affordable pricing packages.
Not only this, at Localgrapher, we offer some of the best pricing packages for our clients. You can choose the package that fits your needs, and most importantly, budget. For instance, if your trip is short or 60 minutes sound a lot of time for you, choose our Bronze package that costs only $250. It is affordable and convenient for all types of travelers as it includes 30 minutes photography session and 20 hi-resolution photos. Plus, the package offers a two-year backup if you lose your pictures somehow. 
On the contrary, if 30 minutes seem like a short time, go for our Silver package, which makes an excellent option for couples. You can buy this 60-minute photography package in just $350 and get 35 hi-resolution pictures, along with a two-year backup. 
Next is our Gold package that offers valuable photography services in just $500 if you want an extensive photoshoot. You can have 100 minutes of the photoshoot and get 60 hi-resolution photos.
While some photography services price the services by taking additional charges for editing, at Localgrapher, we believe in easy-to-understand pricing packages. All our pricing packages include everything from planning a photoshoot to publishing the photos.
That means you can easily convince your partner for a vacation photoshoot by showing the transparent pricing on our website.
Thus, whether you hang them on the walls, share with friends on Instagram, they reflect upon your love story and adventures. That makes your pictures from the vacation photoshoot absolutely priceless.
Tip #8
It's a perfect way to make and preserve lasting memories
We understand that when you travel with your loved one, every moment is a memory. However, remembering each detail can be a tough job for your mind. Imagine how you would feel if you get home from a long vacation trip and cannot remember where you had the delicious Chinese cuisine or where was that quaint neighborhood you wandered with your partner? 
Well, having invaluable vacation pictures will quickly transport you and your partner back to the moments you were strolling around and making memories together. Opting for a vacation photo shoot with our photographers is one way to preserve your precious moments and turn them into vivid memories. 
There are cases where photographers do not show up on the photoshoot, miss the date, or do not send the pictures. But when you book reliable photography services like us "Localgraphers", we ensure that all your concerns are at ease.
Serving in more than 900 destinations, we are a team of the most trusted photographers who are experts in their domain. We do what we say! So hiring our reputed professionals is the best way to resolve this concern.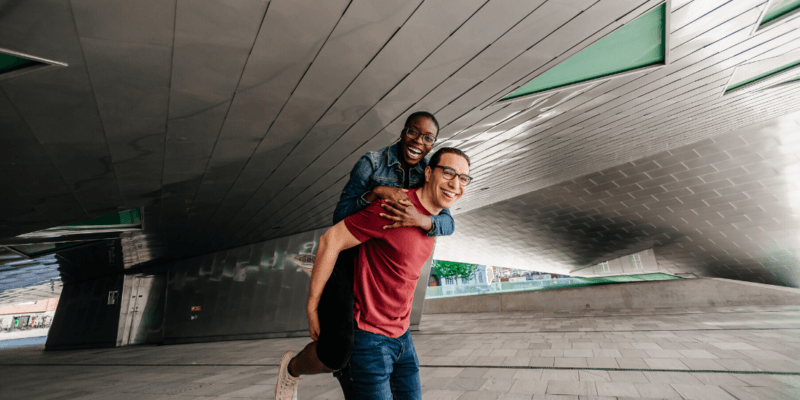 Tip #9
You get high-quality vacation pictures like no others
Let us be real, who wants to take the stress of clicking the perfect photographs while having fun with the partner? Plus, if you are not an expert, clicking flattering couple photos with the stunning scenery in the background is a difficult job. No matter how expensive the phone you use to take the pictures on your vacations, those are not the ones you would like to hang in your bedroom or keep with you as heir-loom.
So what makes professional photos different from the random cellphone pictures?   
To answer the question precisely, it is professional pieces of equipment and a post-photography process that take your picture quality to the next level. Local photographers can transform your simple shots into showstoppers. You get these high-quality pictures in just four days after your photoshoot. You can share them with your friends, on social media, or print them on holiday cards. 
A romantic shot on a beach in Miami or a fun snapshot in Tokyo can be your favorite souvenir from your whole trip. Show your partner some relaxed and intimate poses from our couple photography session to make him understand why quality matters when it comes to taking memorable photos.
Know that hiring a vacation photographer does not mean that you have poor photography skills. No matter how beautiful snaps you take with your smartphone, it is hard to meet the quality of photos a professional photographer can make. They know precisely how to preserve your precious moments while helping or guiding you with the best ways to express yourselves in the photos. They may turn your vacation trip in a significant event of life that you will remember forever.  
In a nutshell, there are plenty of reasons that you can use to convince your partner or take him on board for a vacation photoshoot. Although we have mentioned a few tips here, they are all relevant and compelling enough to get a "Yes" from your partner. Make sure you book your vacation photoshoot for your favorite destination.
Buy memories, not things…
Limited time only!
SEE OUR GIFT CARDS
Great customer service and experience
Photoshoot in very short term
The most destinations on the market
Very positive customer feedback
1109
Photographers & Videographers
990
Destinations world-wide
100% Money Back Guarantee
We believe in our service and quality of our photos so much that we decided to offer a 100% money back satisfaction guarantee for your photo shoot. If you don't like your online gallery once we deliver it, you can contact us within 7 days and claim your money back. Find more details in our Terms.