28. 1. 2020
Best Corporate Photography Ideas You Will Want to Steal in 2020
Purpose, plan, objectives, and individuals with stern faces are the things come to mind when you say the word "Corporate". Whether it is a conference or launch party, it is full of intellectuals ironing out the details or making decisions for big investments. And capturing these valuable moments undeniably requires the right set of skills and precision.
Best corporate photography means you have to capture all the crucial moments as well as people who played their role in intensifying business growth.  Each picture should narrate the success story of the company or portray the dedication and determination of the employees. In short, capturing compelling pictures of corporate business events is a challenge. And hiring a professional photographer is definitely the best way to shoot people networking at a business conference. 
We, Localgraphers, in this regard, excel in all photography genres and know what it takes to cover formal and corporate events like conferences, presentations, lectures, and official ceremonies. We understand that boring corporate photography does not reflect on your company or brand. It is worth noting that quality photography of your business events can impact your brand identity as your customers use imagery to determine and evaluate your business profile.  
Thanks to our competent photographers who capture your corporate events in a unique way that sparks the motivation and interest level of potential attendees. If you have some important corporate events in the pipeline, consider making them events-to-remember with these unique corporate photography ideas.
But before that let's quickly overview how hiring a professional photographer can take your brand image to the next level.
Why You Need Professional Photographers for a Corporate Event?
Reason #1
Professional Photos Make a Good Reference Point for Future Events
The way a professional photographer can capture the details of your corporate event, an amateur photographer cannot do it. Corporate photography is about not only taking artistic pictures of the event but also highlighting the potential aspects of a business. Professional pictures of a corporate event are great to use as a reference for your future corporate events.
Reason #2
Boost Morale of Employees
This might sound a considerate part of the reason mentioned above, but it makes an important point to address.  
Hiring professional photographers for your corporate event is one way to capture the workforce behind your business. Our photographers, for instance, know how to display employees and workers in action.
Know that employees always like seeing their photos in the company's official profile. Whether you put them online or hang them in office space, it shows that you value your employees. It is a great way to boost the morale of your dedicated team.
Reason #3
Advertising
If you are looking to make your corporate event public or want to share it with the international business community, you might want to hire professional photography services.  Let us say your company arranges a huge charity event. To make that charity event a success, it is important to show it to the world; especially through print and social media. 
In addition to standard advertising, you can use photos of previous events to get customers to buy tickets and donate for the services. Remember that only professionally captured pictures can help you show the true spirit of the charity events and get people to buy the tickets for the next event.
Reason #4
Brand Building
This is the mash-up of the last two points. Only professional photos of your corporate event help you create a perfect image of your brand for the outside world to perceive. The professional photos appear as formal and cohesive groups that help your company build its brand identity. 
Our photographers, in this regard, have tons of experience to create a distinct and attractive look for your corporate events.
Best Poses for Corporate Photography
Pose #1
Unique Shots of Your VIPs
What makes all corporate events common is the presence of the "VIPs". These "Very Important Person" are the limelight of any corporate events. Whether you have invited national celebrities, recognizable CEOs, internal executives or business tycoons, they are designated VIPs and need special coverage. Either way, it is essential to understand photography perimeters these special attendees have as many business personalities are often image-conscious.
The best way to capture these VIPs is to click their candid poses or make their posed shots in front of a signage background. Not only will it work as proof of their presence at your event but also make them comfortable.
Pose #2
Keynote Speaker in Action
Are you a keynote speaker at your business conference? How about capturing some close-up poses during your presentation?   
It might sound an ordinary corporate photography idea but trust us; it can grab the attention of your business competitors. Know that only professional photographers have the right photography knowledge to click creative poses from various angles. Our photographers use interesting perspectives and angles to make shoots that perfectly capture you in action.
Pose #3
Have Fun with Staged Shots
While many corporate events need lots of shots and clicks of their attendees-both staged and candid, capturing some playful pictures is a real challenge. 
What about taking your corporate event photography beyond taking "grin and grip" shots? Our photographers know exactly how to steal the fun moments from serious conversations of the attendees.
If you belong to the fashion industry and holding a corporate event, this idea is for you. Get your famous attendees in front of the camera and take some fun posed photos. What about pointing fingers at each other or holding each other's mustache (of course if you have)?
The shots are not only interesting but also innovative to bring a twist in your corporate event photography style. Trust our photographers' creativity to make your serious-come-fun images unique enough to stand alone on your brand's Instagram profile.
Pose #4
Full Conference Room Shots
You might not have seen full room photos in any corporate event albums. This is one way you can capture the essence of your event theme in a frame. Corporate events mostly have the same pictures of attendees listening to the speaker or sitting quietly on their seats. This makes pictures repetitive.
Taking pictures of the full room from the right angle depends on your venue type.  Plus, your event has to be well-attended if you want to take a useful picture. Our photographers address these challenges in two ways.
Pose #5
Click a Bird Eye View
Most of our photographers visit the venue before the due date of event to find a perfect vantage point for overhead photography. If there is no such point, they use a stool, ladder or balcony to click wide-angle shots that show a room full of attendees interacting with each other. If you are holding a small corporate event and do not have a large number of attendees, don't worry, we have you covered here.
Our skilled photographers know some expert techniques and angles that make your event venue look full of attendees. They use special crops and editing tricks that hint at your venue being moderately occupied.
Pose #6
Take Close-ups of Front Rows
A technique exclusive to our photographers, this is the best way to make your corporate events look full of attendees. All you need to is to make your guests seated on the front rows or tables at the event. This way, our photographers make your corporate function feel well-attended, even if it is not.  The approach is ideal when you want to avoid stage-close or wide-angle shots.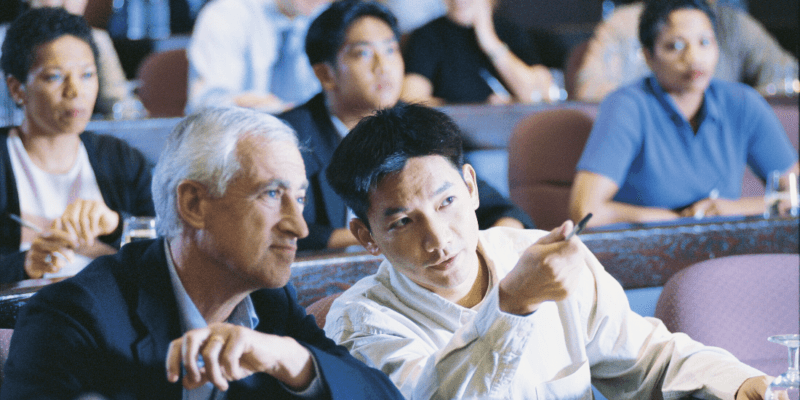 Some of the Trendiest Ideas for Corporate Photography in 2020
Gone are the days when corporate photoshoots were limited to taking the same portrait styles or headshots. Like other genres, corporate photography has evolved with some interesting and dynamic ideas. Here we have rounded up some trendy ideas many leading and emerging brands use to make their official meeting and conferences memorable and stand out.
Idea #1
Candid Photos of Attendees Talking and Interacting
Every corporate event serves two main purposes. It has a speaker who addresses or educates the audience and the attendees to interact with each other and make a network.
These purposes provide a perfect chance to click some natural and candid poses of both the keynote speaker and attendees. Capturing attendees when they are interacting with each other is one of the trendy corporate photography ideas you definitely want to try in 2020. 
There is no need to make your guests, business partners or attendees pose or look into the camera. Our photographers are perfect when it comes to seizing candid moments. They know how to capture attendees when they are interacting or chatting with each other. They capture their reactions while talking or listening to the speaker. The candid shots are ideal to make your corporate event look engaging and informative as they capture people's natural expression.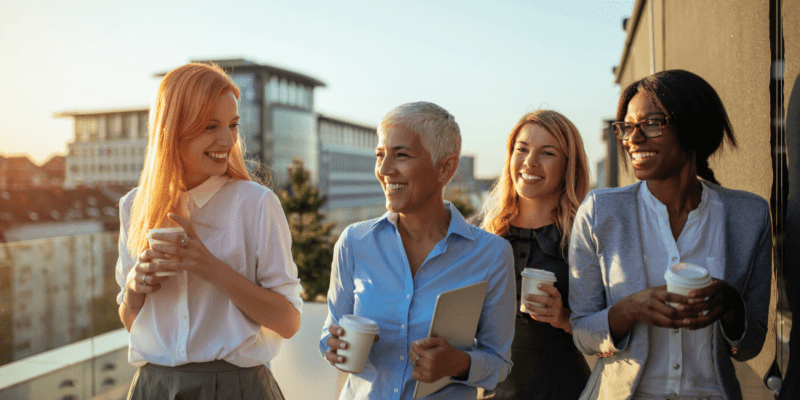 Idea #2
Pictures in Photobooths
Event photo booths are a memory machine and have become one of the raging trends in corporate photography. You might have seen many popular brands incorporating photo booths into their corporate events. 
You can rent a customized photo booth that has your brand logo or graphic to promote your company at your corporate event. Hiring professional photographers is the best way to allow your attendees to make the most of these memory machines.
Localgrapher Tip:  There are photo booths that have the ability to register email addresses of attendees when the photo session ends. That means apart from uploading pictures on your company's website or business ac account; you can send them to attendees with a caption.
Idea #3
Hierarchy as Photo Theme
You simply cannot ignore this photography idea when holding a corporate event. This pose requires you to make workers, team leaders, CEOs, managers, and other colleagues stand according to their hierarchical order. 
To make this corporate photography idea even more impactful, you can make a team leader stand on the front. Divide the team into two halves and make them stand at the back on the left and right sides of team leader. Ask them to slightly lean on their positions to make an arrow. 
No matter how old this idea may seem to you, it turns into one of the unique and stylish photographs. The pose is also fantastic to let your potential attendees see the competent team of your company.
Idea #4
'We Made it' Pose
Don't miss out on this must-to-try photography idea. "We made it" pose is an ideal way to portray your team efforts for achieving a milestone. If your company is having an annual ceremony, it is time to narrate your success story by using the creative photography skills of our photographers. All you need is to make a circle and put your both hands over each other's hands. Bend forward, look down into the camera and say CHEESE!  
As it is a low angle shot, your photographer will capture it by sitting on the ground and focusing on your hands. No matter how difficult capturing this photography shot may seem to you, it is a unique pose to show people that you are a team of dedicated people.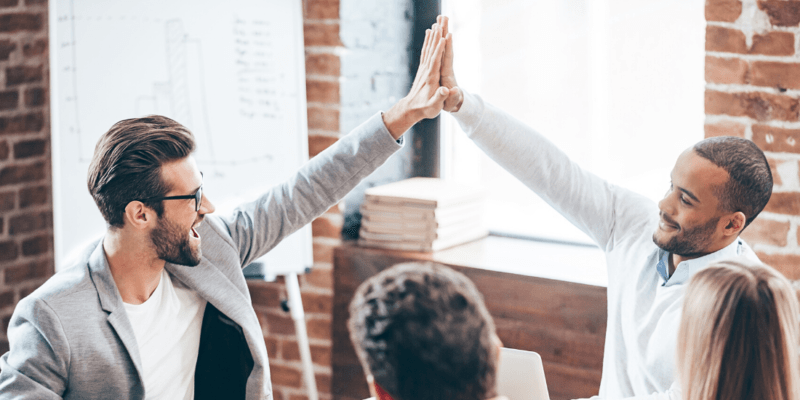 Idea #5
Stairs Make the Best Setting
When it is about finding "trendy poses" for corporate photography, stairs make the best setting. They naturally give pictures a motion without having to move people to set them in a frame. If your venue has stairs, our photographer can make the best use of them by asking everyone to sit or stand on the steps. 
Make a pose, show thumbs, or laugh, try anything together to show your team spirit while our photographers seize the "picture of the year".
Idea #6
All Heads in One Frame
Getting the best results of something you have paid for is an ultimate wish of everyone. And it is something that sets us apart from other photography services. We believe in providing professional photography services to all our clients regardless of the size and budget of their corporate events. 
"All heads in one frame" shot is an example of our photographer's creativity. The beautiful shot captures the heads (half) of the attendees from the back, focusing on the keynote speaker or presenter on the stage. It adds a professional feel to the pictures as it captures "the entire scene" of the conference.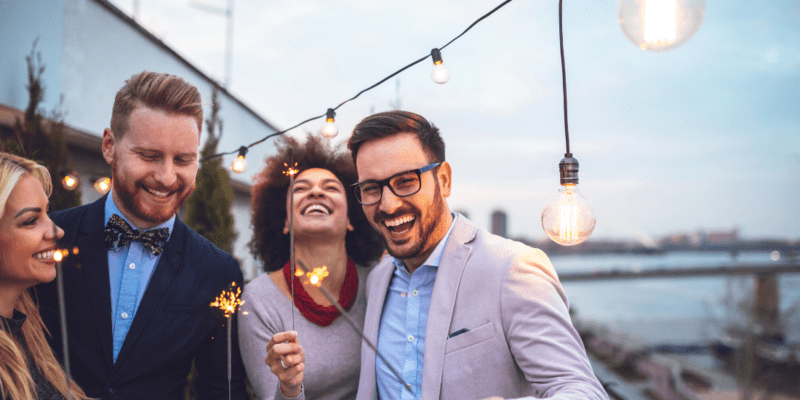 Idea #7
Use Your Product as Prop
If you follow corporate events, you might have seen Oliver Blumes – CEO of Porsche AG posing with his newly launched Porsche 718 during the corporate event in Switzerland.  Not only this, Oliver delivered his presentation standing right next to the vehicle.
The idea did not impress the potential attendees of the event but also set a new trend for the automobile companies. That is to say, using company products as props to click some interesting poses is, without a doubt a creative corporate photography idea to make a long-lasting impression on the attendees' minds.
Idea #8
Power-Posing: Use Company's Backdrop
Themed backdrops are an essential part of corporate events. Companies and businesses display these backdrops to communicate their vision to attendees and to promote their brands.
Regardless of a reason, a company chooses to display its signage; they make a perfect backdrop to try some fun poses at the event. For example, if your company is working in collaboration with another firm, you can pose with your partner (holding hands) in front of the backdrop. Or stand with your team in a way that everyone faces the backdrop. Look back while standing in the same position and let your photographer capture this fun pose.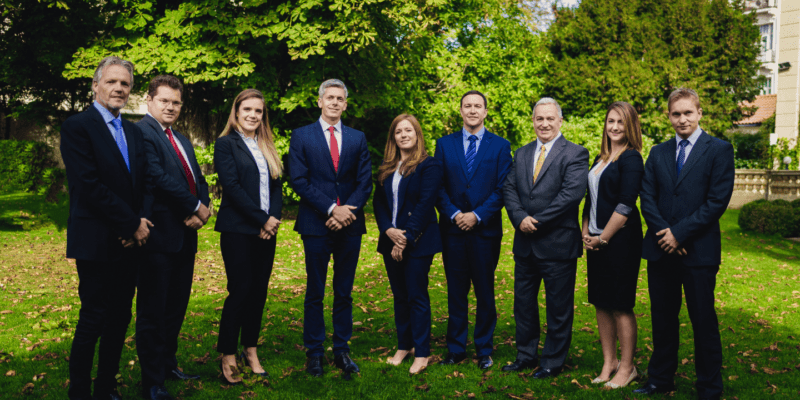 How Do You Hire Us for Your Corporate Events?
Whether you attending a global conference, or launching your clothing line or arranging a friendly soccer match between your business mates, you need high-quality photos of your corporate events. Our trained photographers excel at capturing the best photos of your business events. 
No matter what your destination is, we can help you cover your professional events. You can make the bookings in three simple steps.
Step 1: The first step is to select the Localgrapher of your choice (the one who suits your event requirements the best). Visit our Localgrapher for Your Business site and fill an online form to let us know what photography services you need. With this online form, you can send us a request for your customized photoshoot.
Step 2: Your filled information goes straight to our booking team. Our booking agents get back to you to take additional information about your corporate event. It helps us find you the best photographer according to your event and budget.
Step 3: Once you finish the whole booking process, you can contact our photographer and discuss further details with him/her about your corporate event.
Start Your Photo Experience Here
In a nutshell, the better you plan and execute corporate events, the better your photos tend to come out. It happens because your attendees and guests are able to enjoy themselves and make the best use of their time. 
Our photographers have the right knowledge, expertise, and equipment, along with in-depth understanding of making your corporate event photos top-notch and compelling. We deliver a high-resolution album that makes marketing, printing, and advertising photos for brand promotion a breeze.
Thus, try the given photography ideas and book our professional photography services for your corporate event to make it fun and memorable.
Buy memories, not things…
Limited time only!
SEE OUR GIFT CARDS
Great customer service and experience
Photoshoot in very short term
The most destinations on the market
Very positive customer feedback
1221
Photographers & Videographers
1067
Destinations world-wide
100% Money Back Guarantee
We believe in our service and quality of our photos so much that we decided to offer a 100% money back satisfaction guarantee for your photo shoot. If you don't like your online gallery once we deliver it, you can contact us within 7 days and claim your money back. Find more details in our Terms.