One year of marriage is a big milestone to make, and a special occasion to celebrate. Planning a romantic anniversary trip with your sweetheart is a great way to commemorate this event. One of our professional photographers had the pleasure of capturing this celebration of love between a young couple traveling to Riviera Maya.
Beautiful One-Year Anniversary Photo Shoot
With her one-year wedding anniversary coming up, Yvonne wanted to make sure this important day was a special time spent together with her husband. They decided to travel to the resorts and beautiful beaches of Riviera Maya, Mexico, where they would meet Alesha, one of our local photographers in Riviera Maya, who would assist them in capturing their anniversary vacation in photographs.
Getting some professional photographs of an anniversary is a must, but this can be difficult if you are traveling. Finding the perfect setting is a challenge, and then to achieve good pictures of the event can feel nearly impossible. Luckily, with our local photographers all over the world, an anniversary photo shoot can happen in an exotic paradise just like Yvonne and her husband had.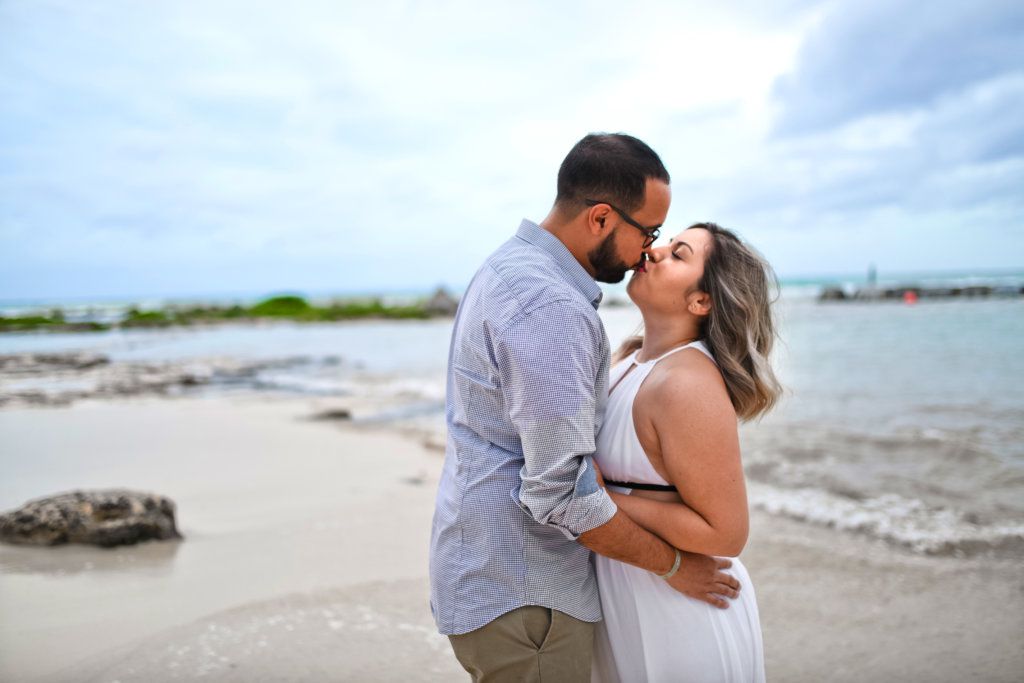 Romantic Photoshoot on the Beaches of Mexico
Once the happy couple reached the stunning beaches Riviera Maya, our local photographer Alesha met them to start the anniversary photo shoot. Alesha made sure to take simple, yet elegant photographs that captured the spectacular scenery but highlighted the celebration of love between Yvonne and her husband. The setting of photographs is important, but the true quality of an anniversary photo shoot comes from the people in them. As a local photographer, Alesha knew how to make the spectacular surroundings of the Mexico coast supplement the photos, not distract from the couple's celebration.
Plenty of pictures were taken of that special anniversary kiss marking a full year of marriage. The romantic beach atmosphere was a perfect backdrop for the anniversary photo shoot, with gentle waves in the background and pure white sand. Walking barefoot together along the beach helped add to the natural charm of the moment. Simple things like this help give pictures genuine quality, something that can get lost in studio photographs but is incredibly important to achieve when photographing a vacation, particularly a wedding anniversary photo shoot.
Alesha's skills and knowledge as a local photographer helped Yvonne achieve the pictures she was dreaming about; each of the romantic and tender moments she shared with her husband on the beaches of Riviera Maya was captured in beautiful images.
A Stunning Photo Collection
Alesha made sure to take the time to give the couple a wide variety of photographs. Yvonne and her husband chose a truly picture-perfect vacation destination, allowing Alesha to make use of charming wooden pavilions, stone walkways, and shoreline views to set the tone of the photographs.
With some more formal pictures of the couple posed and smiling at the camera, as well as images captured in the moment of a special glance or shared look between the two, the anniversary photo shoot had a great combination of natural beauty and elegance.
Dancing, kissing, or holding hands, the couple looked ideal together, their happiness and joy apparent on both their faces. With the sun setting in the background, Alesha was able to capture a romantic glow all around the couple on their anniversary celebration.
Every special moment can be captured by one of our professional photographers and supplying our clients with high-quality and professional pictures no matter the occasion and setting.