6. 6. 2019
Top 20 Amazing Honeymoon Destination Ideas
Starting your marriage with an incredible getaway is a dream for newlyweds. With so many destinations and ideas out there, it can be overwhelming to make this special trip perfect and worthy of the love you share. This list offers the best honeymoon ideas to celebrate your marriage in an unforgettable way.
Idea #1
Honeymoon in Saint Lucia, Caribbean
The beautiful Eastern Caribbean island of St. Lucia makes a wonderful honeymoon destination. With its dramatically tapered mountains called the Pitons, the island offers a ton of diversity with many options for your honeymoon activities such as volcanic beaches, reef diving, fishing villages. The interior of the islands is covered in rainforests and waterfalls.
Idea #2
Honeymoon in Tulum, Mexico
The beautiful honeymoon destination of Tulum is located on the Caribbean Coastline of the Yucatán peninsula of Mexico. This stunning destination is known for its well- preserved Mayan ruins. The town was once a port city for the Mayans. If you are interested in snorkeling, here you will find the world's largest aquarium. If you are looking for a more unique experience, Tulum is known for its cabanas. You and your love can spend time engulfed in nature and make a unique connection.
Idea #3
Honeymoon in Hawaii, USA
One of the most iconic destinations for a relaxing trip is Hawaii, as a dream for many travelers any of the islands are a wonderful choice for newlyweds to enjoy their honeymoon. The islands offer beautiful beaches, volcanoes, rainforests, as well as many luxury resorts. This is the ideal honeymoon destination.
Idea #4
Honeymoon in Santorini, Greece
For iconic views and incredible honeymoon photoshoots. The Greek island of Santorini provides the most stunning backdrops. The iconic whitewashed buildings paired with the deep blue waters and mesmerizing blue skies create an almost unbelievable view. This Cyclade Island in the Aegean Sea is a perfect honeymoon destination. With beautiful hotels perched in the hills overlooking the incredible glittering waters, newlyweds can relax in style.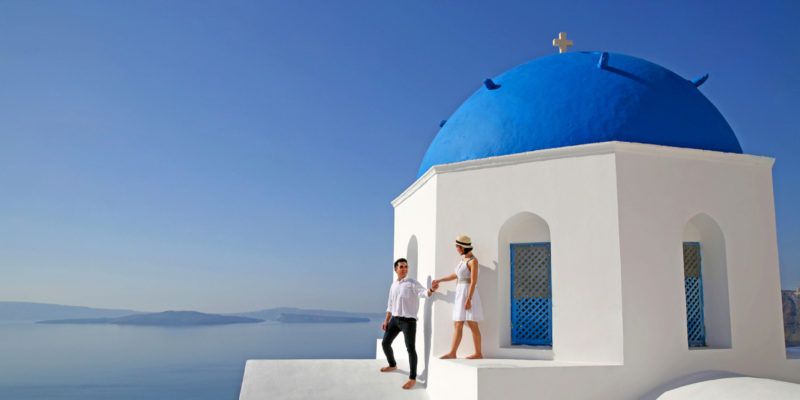 Idea #5
Honeymoon in Montego Bay, Jamaica
On the north coast of Jamaica, you will find incredible white sand beaches and fragrant tropical flowers. Jamaica is the ideal place to enjoy a relaxing beach vacation with your partner. This beautiful honeymoon destination offers pristine coral reefs for the adventurous couple as well as vibrant Caribbean culture. Relax on the beach with live reggae and jerk chicken or fresh pineapple cut right before your eyes on the beach by a local with a machete.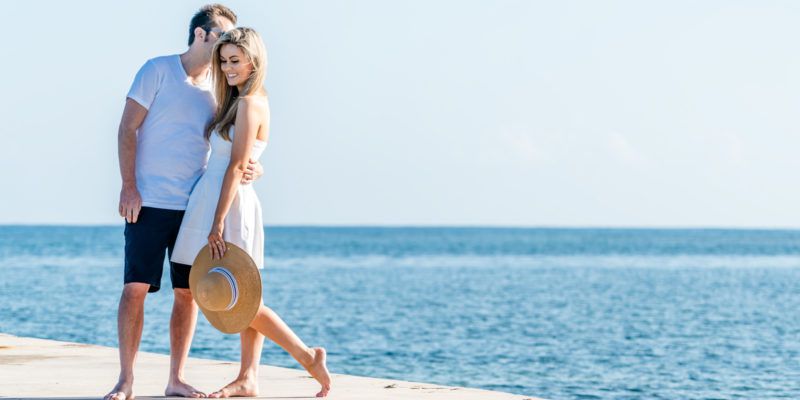 Idea #6
Honeymoon in Algarve, Portugal
On the southernmost point of Portugal, you will find the stunning Algarve coast. This beautiful honeymoon destination is known for its Atlantic beaches and golf resorts. The southern coastline is covered in picturesque fishing towns. The coast offers picturesque beaches, tucked below tower rock cliffs creating dramatic views. The Algarve's many historic cobblestone villages provide the perfect environment for romantic strolls. The Algarve is also an incredible location to discover some of the most undiscovered wine regions on the planet. These wines are affordable and you and your love can enjoy exploring new wine regions without spending a fortune.
Idea #7
Honeymoon in the Maldives
Halfway between Indonesia and Africa are the stunning Maldives islands. These islands are officially known as the Republic of the Maldives. The island group is made up of about 12000 coral islands. The iconic photos of the Maldives are the small private beach huts that are sprinkled all over the island. Enjoy the privacy of the beach huts as you relax in the sea. If you and your love are fans of the swimming, the Maldives is the best honeymoon destination for you, as it is 99% water!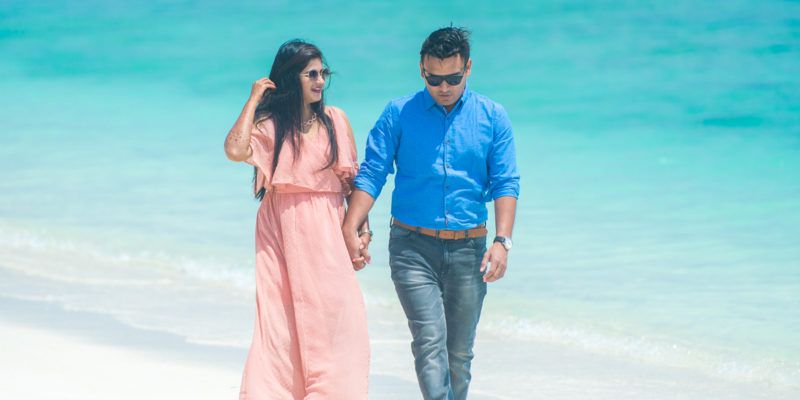 Idea #8
Honeymoon in the Seychelles
In the western Indian Ocean lies Seychelles about 1,100 miles off of the Tanzanian coast. Formally known as the Republic of Seychelles, it is made up of about 115 different small islands. These spectacular islands are home to species of animals you can't find anywhere else. If you enjoy island hopping, Seychelles is the place for you. Seychelles is made up of over 150 islands scattered in some of the most exquisite turquoise waters. This honeymoon destination is sure to please if you are looking for a unique destination.
Idea #9
Honeymoon in Florence, Italy
A honeymoon in Tuscany is a charming way to relax and celebrate your marriage. Florence is perfectly placed in the stunning rolling hills of Tuscany. The capital of the region provides the perfect location to explore the small towns of Tuscany. The city is a combination of romance and culture. You and your partner can dive into Italy's vast history by visiting any of the hundreds of museums dispersed around Florence. With Tuscany being one of Italy's largest producers of wine there are many opportunities for wine tastings or visits to the vineyards found just outside of the city. The Arno River runs through the city and creates incredible views. One of the most romantic views in the city is Piazalle Michelangelo. Located on a hill with a view of the entire city. A romantic getaway to Florence is one of the best honeymoon destination ideas.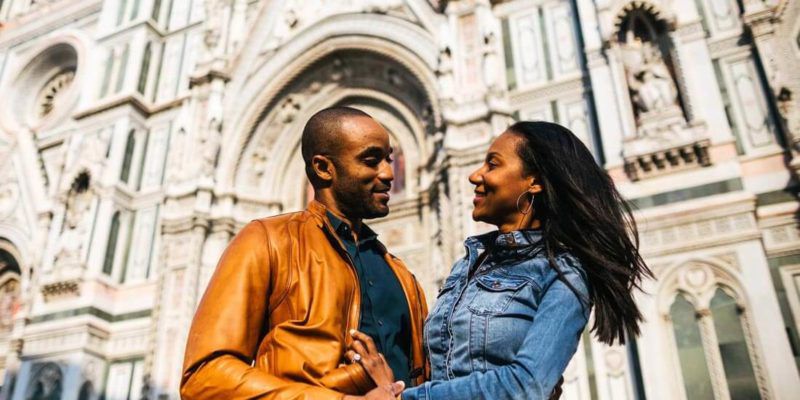 Idea #10
Honeymoon in Palma de Mallorca, Spain
Palma is a beautiful resort city on the island of Mallorca. Its location in the western Mediterranean provides over 200 beautiful beaches. The islands are the perfect place to relax in the sun during the day and immerse in Spain's vibrant nightlife in the evening. The cities are full of wonderful restaurants to sample some of Spain's specialties such as paella and cava a refreshing sparkling wine.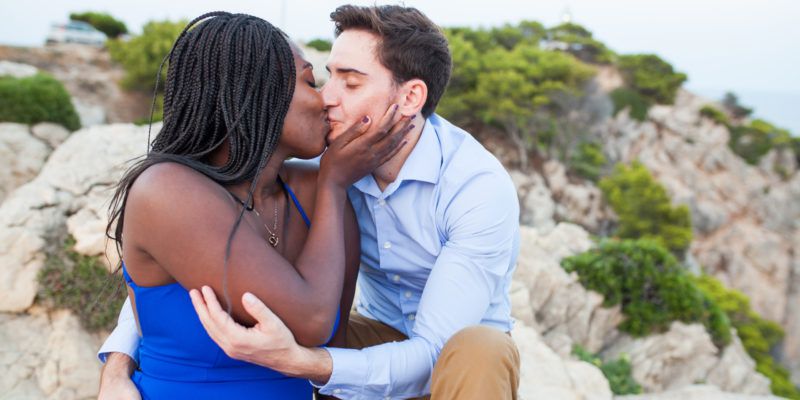 See Palma de Mallorca Photographers
Idea #11
Honeymoon in Los Cabos, Mexico
The beautiful honeymoon destination of Los Cabos is located at the tip of Mexico's California Baja peninsula. This picturesque peninsula is between the Pacific Ocean and the Sea of Cortez. The destination offers deserts and mountain ranges covered in cactuses next to deep the blue waters of the ocean. The beautiful combination creates the perfect destination for a romantic getaway.
Idea #12
Honeymoon in Paris, France
A visit to Paris makes for an incredible honeymoon destination. With its spectacular food and wine and incredible fashion, this capital city has it all. The City of light is often confused with the city of love and that is because the city has romance in the air. You and your spouse will fall in love all over again in Paris.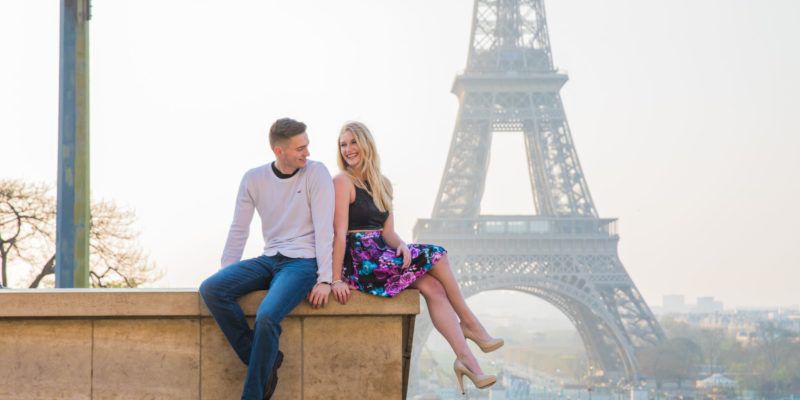 Idea #13
Honeymoon in Hvar, Croatia
If you are looking for an escape to an island on the Adriatic, the port island of Hvar is the best choice for your honeymoon. The island boasts incredible turquoise waters, which perfectly contrast the hilltop fortress. The Island is located near to the Pakleni islands, which can be easily visited by boat for an exciting excursion.
Idea #14
Honeymoon in Bali, Indonesia
The Indonesian island of Bali is home to some of the most luxurious hotels and resorts. This island offers a diverse experience for newlyweds with its beautiful beaches, hiking terrains, and marine life. The island truly has something for everyone.
Idea #15
Honeymoon in Mauritius
This island located in the Indian Ocean is covered in white sand beaches and coral reefs. This island offers incredible adventures and opportunities to interact with interesting animals such as giant tortoises and crocodiles. The island is also is home to the sacred lake in Black River Gorges National Park. If you are up for an adventurous honeymoon this is the best choice for you.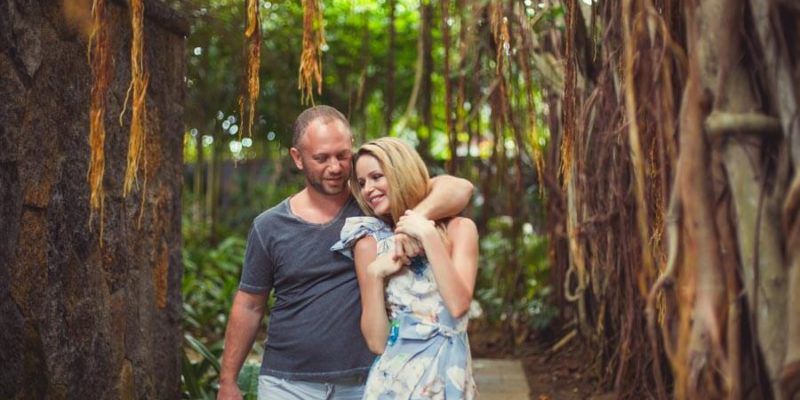 Idea #16
Honeymoon in Aruba, Caribbean
Aruba is a perfect romantic getaway if you are seeking a destination that offers peace and tranquility, excitement, and adventure all in one location. This island in the Caribbean is also home to many celebrations and cultural activities. If you and your newlywed are interested in exploring together this is a great honeymoon destination for you.
Idea #17
Honeymoon in Siracusa, Italy
For a honeymoon trip that is a bit off the beaten path head south of Italy to the Italian island of Sicily. Located on the Ionian coast of Sicily the city offers many archaeological sites, situated in the northwest of the town, you will find many Greek and Roman ruins. If you are interested in history and tasting some of the best food in Italy, this beautiful ancient town is the perfect honeymoon getaway.
Idea #18
Honeymoon in Phuket, Thailand
Phuket is Thailand's largest island and is located in the southern part of Thailand. The Island of Phuket is conveniently located near to both Ko Phi-Phi's popular dive sites and the national-park-protected, Similan Islands. If diving or snorkeling interests you, then this adventurous islands is a great choice for a honeymoon destination idea.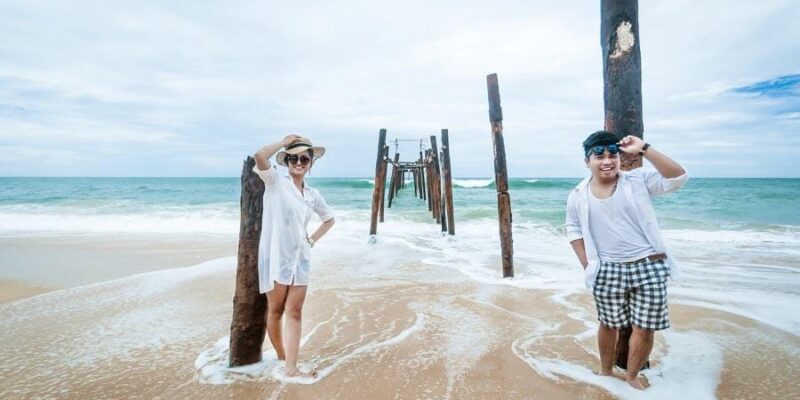 Idea #19
Honeymoon in Roatán, Honduras
Roatán is an island just of the coast of Honduras this incredible island is located next to the Mesoamerican barrier reef, this is the largest barrier reef in the Caribbean Sea. This tropical paradise creates a wonderfully relaxing escape and is a fantastic way to spend your honeymoon.
Idea #20
Honeymoon in Goa, India
Goa is located on the western tip of India on the enticing Arabian Sea. This honeymoon destination provides both incredible beaches and many interesting excursion opportunities like visiting a spice or cashew farm and sampling some of India's vibrant flavorful foods. This destination is a great honeymoon idea for adventurous souls looking for a unique honeymoon experience.
With this list of honeymoon destination ideas, you are sure to find the ideal trip location that will meet your needs and provide you with memories to last a lifetime. All of these destinations have something unique to offer and are truly a unique way to celebrate your marriage.
Buy memories, not things…
Limited time only!
SEE OUR GIFT CARDS
Great customer service and experience
Photoshoot in very short term
The most destinations on the market
Very positive customer feedback
1162
Photographers & Videographers
1034
Destinations world-wide
100% Money Back Guarantee
We believe in our service and quality of our photos so much that we decided to offer a 100% money back satisfaction guarantee for your photo shoot. If you don't like your online gallery once we deliver it, you can contact us within 7 days and claim your money back. Find more details in our Terms.