19. 3. 2020
When and Where to Find Cherry Blossom Photo Spots in Japan
Natural aspects help to emphasize the beauty in a photo. Mountains, snow, flowers and anything else that make a season special help paint a picture within the picture. The possibilities are also endless; you can make nature your background or foreground, you can use it as a prop, and you can really use your creativity. It also depends on location. Different countries and cities have different essences of beauty. Japan, for example, is known for its blooming cherry blossom photo spots. The natural beauty of these makes for an incredible photo op. Cherry blossom season is an event you're not going to want to miss.
When is Cherry Blossom Season in Japan?
Japan's 2020 cherry blossom season is in bloom in April and lasts for around two weeks. Sakura, or cherry trees, may bloom at slightly different times each year. As springtime emerges, Japan waits patiently for the first bursts of pink.
Typically, the blossoms begin developing between March and early April. It also depends on location. Each city might begin blooming buds at different times of the month. Weather plays a big role in the blooming of cherry blossoms. A combination of high temperatures in autumn and winter, as well as a warm and sunny spring affect how rapidly they grow.
In 2020, the cherry blossoms are set to appear in Tokyo and Nagoya as early as March 19 and 22. Kyoto begins March 23, and more cities appear throughout the month. So make sure you plan for an earlier arrival to get the most epic photo shoots with these cherry blossoms!
Tips & Tricks for Sakura Chasers
If you're a traveler wanting to visit specifically for Cherry Blossom season, you are going to want to make sure you do it right. The ultimate Sakura chaser should know when to go and how to navigate to insist on finding the best cherry blossom photo spots.
Check the Bloom Status: Cherry blossoms are only in bloom for at most about two weeks. Want to make sure you're in the right city at the right time? The flowering meter is a great way to check the bloom status of a tree. It will come in handy!
Map it out: There are many cities in Japan that show off their pink and white blooms. Odds are you may not be able to hit each city while you're visiting. That's okay; it just means it's an excuse to come back. However, if you want to see the blooms in an efficient matter, look at the cities on a map to help you navigate how you want to go around Japan.
Get a Japan Rail Pass: This is the easiest way to travel from city to city without much hassle. You can get a pass for 7, 14 or 21 days to travel across the Land of the Rising Sun. It's valid for the majority of railways. You can also get an ICOCA Card or Tokyo Subway ticket for traveling locally in the city.
Dress to Impress: If you're going to be engaged in Japan's culture, you should sport the attire. Put on a kimono and feel as if you're a local. Plus, it will help you step up your cherry blossom Instagram game!
Have your Phone Ready: Make sure your phone either has enough oversea data, has an international plan, a 4G SIM Card, or has Wi-Fi. You're going to want to post your pictures immediately after you see how beautiful they turn out!
Where to Find Insta-Worthy Cherry Blossom Photo Spots around Japan 
When you go to Japan for these eye-catching blooms, it's no doubt you're going to want to take some stunning photos, especially for Instagram. Here are the best cherry blossom photo spots in each city to make sure you'll be racking up those "likes".
#1: Cherry Blossom Photo Spots in Tokyo
Spot #1
Chidoriga-Fuchi Park
The park is a seven-hundred meter-long walkway along the moat of the Japanese Imperial palace located between the Imperial Palace and British Embassy. The park is home to approximately 260 cherry trees. You can even take a little boat to score yourself some incredible cherry blossom photos underneath the trees while floating on water.
Spot #2
Shinjuku Gyoen
The Shinjuku Gyoen is one of the largest and most beautiful parks planted in the heart of Tokyo. There are three different types of gardens: the Japanese Garden, the French Garden, and the English Garden. Don't think you can make it to Tokyo in time to see the pink beauties? Don't worry, because the English Garden has more than one-thousand trees that bloom at different times, starting from late March to early April.
Spot #3
Meguro River
This is the perfect romantic spot for your Tokyo photographer to have an engagement or proposal photo shoot during this season. You and your partner can enjoy a glass of wine under exquisite cherry blossoms. Plus, there are a bunch of shops and cafes alongside the four-kilometer river, surrounded by Yoshino Cherry Trees.
Spot #4
Sumida Park
This popular park stretches along the Sumida River and is lined with cherry trees. It is also located near Asakusa, the main sightseeing spot in Tokyo, as well as the iconic Skytree. You will be able to take the coolest photos of iconic spots in Tokyo with the enhancement of pink florals.
Find your Photographer in Tokyo Here
#2: Cherry Blossom Photo Spots in Osaka
Spot #1
Osaka Castle Park
Feel like royalty walking through the beautiful fields of trees. The Osaka Castle is a historical landmark surrounded by a park planted with over 4,000 cherry trees. You can visit the Nishinomaru Garden that houses around 600 of these trees. If you plan on spending the day there, stay until sundown. Both the castle and trees are lit up, creating a whole new vibe for the atmosphere.
Spot #2
Kema Sakuranomiya Park
A must-see on your travel list, this park is meant for visitors and locals alike. It is planted with over 4,800 cherry trees that bloom during springtime. Put these blooms together with the Okawa River and lush greenery, and this park is one of the most popular cherry blossom photo spots for your cherry blossom photoshoot.
Spot #3
Okawa Riverside
Two of Osaka's famous Sakura viewing spots are located on the riverside, making it a perfect Instagram location. Kema Sakuranomiya Park being one of them, and then the Zohei-kyoku located on the Kita side. About 4,800 cherry trees line up in the area between Tenmabashi Bridge and the Sakuranomiya Bridge. This is a great spot for, let's say, a cherry blossom anniversary photo shoot, or you can view the Sakura up close by taking a cruise on the Okawa River.
Find your Photographer in Osaka Here
#3: Cherry Blossom Photo Spots in Kyoto
Spot #1
Arashiyama
This is one of the most famous districts in Kyoto. Spring is its time to shine when the cherry trees blossom along the Katsura River, although beautiful throughout every season. Its pastel colors make for a scenic cherry blossom photo spot. The inclusion of Kyoto's architecture and culture helps take in the city's natural beauty. Plus, it's a great time to treat yourself to the large variety of seasonal snacks that are only available once a year. Your foodie friends on Instagram will be jealous!
Spot #2
Maruyama Park
This park is famously known for the large weeping cherry tree. This tree is over seventy years old and has a rich history. You can marvel at the cherry blossoms both during the day and at night. The tree, named Gion Shidare-zakura, lights the night from the moment the sun sets until one in the morning. To keep the party going, numerous beer stalls and food stands fill the park. This makes for an entertaining cherry blossom photo spot. 
Spot #3
Daigoji Temple
The Temple is designated as a World Heritage site and a one-of-a-kind place to admire the Sakura. This peaceful environment is a place of prayer and beauty.  Visitors can see precious cultural assets such as the five-storied pagoda and the Sanboin with its well-kept garden.
This temple has played an important role as a guardian of traditional culture. The cherry blossoms are located everywhere on the grounds along with the prized architecture of the temple buildings. It is even said that Toyotomi Hideyoshi, who ruled over Japan more than 400 years ago, came to this temple to view cherry blossoms. Talk about a historic cherry blossom photo spot.
Spot #4
Philosopher's Walk
Take a stroll on this picturesque two-kilometer path. It is an easily accessible spot for cherry blossom viewing. There are approximately 500 Sakura trees planted along the path. Those walking alongside the path can enjoy this calming and leisurely stroll. Many cats live in the area as well, so animal lovers can enjoy a photo op.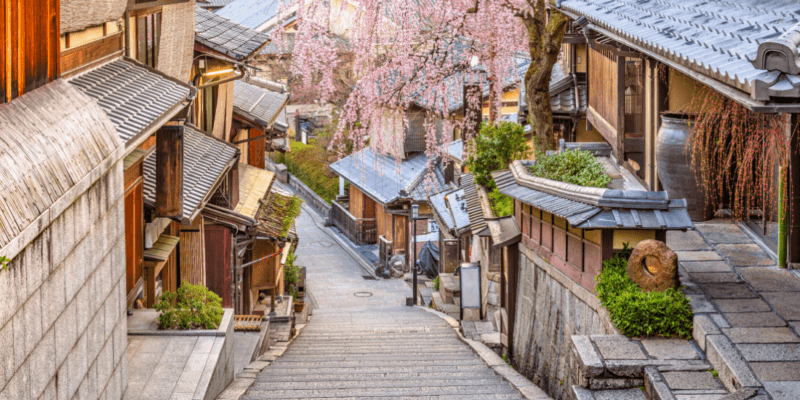 Find your Photographer in Kyoto Here
#4: Cherry Blossom Photo Spots in Nagoya
Spot #1
Nagoya Castle
Nagoya Castle was once one of the most important castle towns in feudal Japan, constructed in 1609. Now, nearly 3,000 cherry blossom trees are planted on the grounds of the historic castle. Some varieties include the weeping cherry varieties. The vibrant pink of the blossoms contrasts beautifully with the castle's walls, making for a stunning cherry blossom photo spot for your Instagram.
Spot #2
Inuyama Castle
A small but elegant castle, it is one of only a handful of castles with its main keep recognized as a national treasure. A row of 400 Sakura trees beside the Kiso River guide explorers up to the castle. Visitors can even ride boats up and down the river for a better view (and better pictures). A parade of puppets and floats gather in front of the castle during the castle's Sakura festival, Inuyama Matsuri. You will be able to snap some amazing cultural photos during this event.
Spot #3
Yamazaki River
Come take photos in the area that is considered one of the "Top 100 Cherry Blossom Spots in Japan". The Yamazaki riverbank is lined on both sides for over a kilometer with vibrant cherry blossom trees. Picnics (or hanami) are held on the grass on the sides of the river, making it the perfect cherry blossom viewing spot. If you'd like to stay later, the blossoms glow in the evening during peak blooming period.
Spot #4
Fuji Cemetery
This may seem like an unusual spot to view elegant cherry blossoms, but Sakura has traditionally been used to symbolize the cycle of life and death. Viewers can celebrate the cherry blossom season by honoring the natural cycle of life at the massive 2.1 million meter square cemetery. It is filled with 8,000 Sakura trees. This site is peaceful and honorable.
Find your Photographer in Nagoya Here
#5: Cherry Blossom Photo Spots in Nara
Spot #1
Nara Deer Park
There's a reason behind the name. This park is a must-see because of the adorable deer that roam here. During any time of the year, it's a perfect place to snap selfies with these woodland creatures for your Instagram.
However, during the spring you can get your Japanese photographer to shoot photos of you becoming one with nature. The extreme amount of cherry trees in the park has a population greater than the deer. Don't forget to grab a bag of deer crackers before you arrive, this will help bring the deer in close proximity to capture some pictures under the trees!
Spot #2
Koriyama Castle
Located in Yamatokoriyama City, the castle is one of the best cherry blossom photo spots in the Nara Prefecture. Built in 1580, this historic castle is known as the Gotenzakura, or "Cherry Tree Area of the Palace." Every year from late March to early April, the location holds the Yamatokoriyama Castle Festival. Visitors can enjoy events such as the illumination of the cherry trees, goldfish exhibitions, and parades. Grab your Japanese photographer, because you'll want to snap all the memories of you entertained in Nara's culture.
Spot #3
Mt. Yoshino
The mountain is one of Japan's most renowned cherry blossom spots. Over 30,000 cherry trees of different varieties cover the mountain. Temples and shrines are also located throughout. A ropeway is used for visitors to ride and explore the Sakura-filled landscape. Mt. Yoshino is also a designated UNESCO World Heritage site due to its historical use as a pilgrimage road for practitioners of Shinto mountain worship. Travelers can enjoy being surrounded by the pink and white scenery that blends with the cultural and spiritual significance of the area.
Find your Photographer in Nara Here
#6: Cherry Blossom Photo Spots in Hokkaido
Spot #1
Nijukken Road
This road has a dedicated row of cherry blossom trees, acting as a tunnel that seems continuous all the way to the sky. It is one of the most well-known places for cherry blossom viewing and also makes its mark as one of "Japan's Top 100 Cherry Blossom Spots". It also made headlines as one of the "100 Landscapes of Japan's Roadside Trees" and was selected as a Hokkaido Heritage. Out of about 3,000 cherry trees, more than half of them are 80 years old.
Spot #2
Goryokaku
This is Japan's first French-style fort. It has a cherry-color, is star-shaped, and emerges on the land of the North. Goryokaku was also selected as a special national historic site. Its unique shape is home to one of Japan's greatest cherry blossom photo spots with about 1,600 cherry trees. Grab your Japanese photographer and head over to Goryokaku tower. The tower has an observatory where you can enjoy a 360 degrees view of the Goryokaku behind glass windows.
Spot #3
Seiryuji Temple
The temple is located in Nemuro and opened its doors in 1892. Chishima cherry trees are only found in the eastern and northern areas of Hokkaido, so the temple is a well-known place to view them. These trees change colors from when they begin to bloom until they are in full bloom. In some cases, they are light red when they begin to bloom, white when they are in full bloom, then circle back to red. There are also about 30 Chishima cherry trees that are over 130 years old. One tree is over 150 years old and recognized as "Hokkaido's 100 Year Anniversary's Old Tree of Historical Interest." You can snap a cherry blossom photo shoot with a historic tree for your Instagram.
Find your Photographer in Hokkaido Here
There are so many areas in Japan where you can enjoy cherry blossoms. Each city provides an interesting, unique, and/or historical scene that helps emphasize the blossoms' beauty. You are going to enjoy the season no matter which city you visit, and if you are visiting just one or multiple. There are also many cherry blossom photo spots within each city, so you will never miss out on seeing them.
Get your private photographer to help you capture your cherry blossom photo shoot for Insta-worthy pics. You will not want to miss out on the opportunity to snap a photo anywhere you go.
Buy memories, not things…
Limited time only!
SEE OUR GIFT CARDS
Great customer service and experience
Photoshoot in very short term
The most destinations on the market
Very positive customer feedback
1114
Photographers & Videographers
990
Destinations world-wide
100% Money Back Guarantee
We believe in our service and quality of our photos so much that we decided to offer a 100% money back satisfaction guarantee for your photo shoot. If you don't like your online gallery once we deliver it, you can contact us within 7 days and claim your money back. Find more details in our Terms.