31. 10. 2019
Couple Christmas Photo Shoot Ideas You Will Want to Steal This Holiday Season
You must have got your festive sweaters and cameras ready as the celebration season is around the corner. It is the time of year when you can spend some quality time with your significant one and take some awe-inspiring pictures you can cherish the whole year. Christmas undeniably makes the perfect time to capture romantic, funny, and quirky poses with your partner if you decide to go for a couple Christmas photo shoot. The festive season is full of colors and joyous moments, making every moment worth capturing. 
However, clicking the perfect photos may sound easy, but it can be tough if you lack the expertise. Gone are the days when couples preferred staged photoshoots. Now photography trends are changing. No one likes the photos that require him or her to look into the camera and keep on maintaining a forced smile on the faces. Candid poses, on the flip side, are all the rage, especially when it is about couple Christmas photo shoot. Not only do couples love taking funny staged shots, but also they love posting them on their Instagram.
However, genuinely, who has time for capturing the perfect poses with a lengthy to-do list of a holiday season? The best way to solve this problem is to hire a competent and professional Localgrapher. The photography experts can take couple Christmas photo shoots to the next level. With our Localgraphers, there is no need to take the stress of capturing the perfect shot for the festive season. They know exactly how to portray your happiness, festive spirit, and, most importantly, your ever-lasting love for your partner through pictures.
Let us go through some of the cutest and adorable couple Christmas photo shoot ideas that you surely do not want to miss out during this year's festive season.
Best Couple Christmas Photo Shoot Ideas of the Holiday Season
Idea #1
In Action Photo Session
What about beginning your Christmas photoshoot with some "cooking together" shots this year? There is nothing cuter than baking scrumptious cookies or the holiday season with your partner. The sweet cookies and matching apron will make the sweetest couple Christmas photo shoot you have ever done before. There is no need to force a smile on your faces but to feel the warmth and compassion of "togetherness" while your Localgrapher takes the pictures of you two sharing happiness. 
Remember that the more you enjoy the process, the more will it show in the pictures and add to your memories.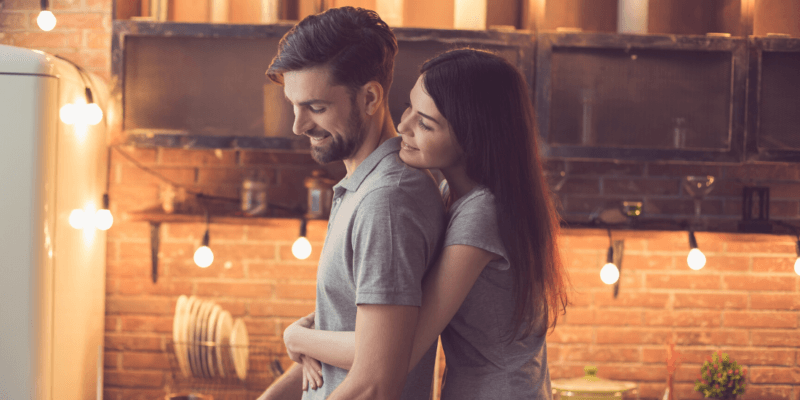 Idea #2
Have Some Fun With Christmas Lights
If you have recently got married, celebrating Christmas with full zeal will strengthen your love bond. And what can be better than having a festive and romantic approach to your couple Christmas photo shoot? Christmas lights make the perfect prop to add a glow of love to your Christmas pictures. Wear them in necks, hang them on a bare tree or wrap them around you, no matter how you choose to use colorful Christmas lights, they will give a magical glow to make your pictures captivating.
Idea #3
You, Me, and Vineyard
Outdoor photoshoots are the best when it is about showcasing the true colors of a holiday season. This lovely couple Christmas photo shoot idea will prove that. 
Like the previous one, the idea has nothing fancy, nor does it take any heavy Christmas decorations. All it needs a romantic walk with your partner in the middle of the lush green vineyard. Do not forget to hold each other's hands while walking to give a glimpse of your forever love. Only professional photographers like Localgraphers can seize the moment perfectly with their photography skills.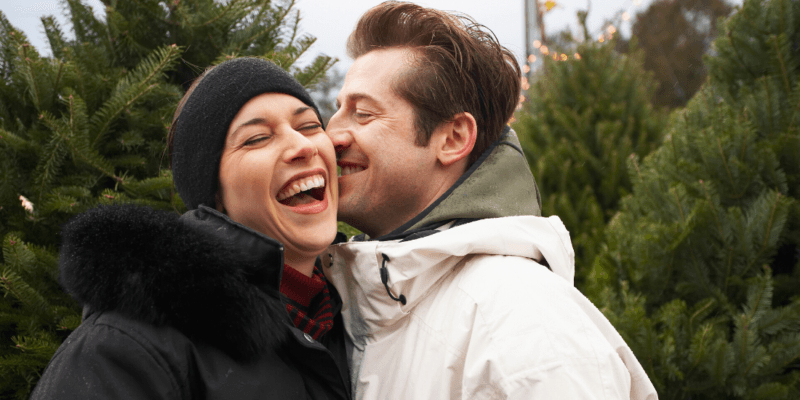 Idea #3
Tea Mugs, Blankets, Snow, and You Two
Not a fan of glamorous and fancy couple Christmas photo shoot? Then this photoshoot idea is definitely your cup of tea. Simple yet amazing, there is nothing intrigued and complicated in this couple photoshoot. A simple wooden backdrop with vibrant candy-printed blanket and coffee mugs can transform the scene into a perfect cozy moment to take some worth-capturing Chrisman photos.
Idea #5
Love Is In The Year
When you are in love, there is no need to hide your emotions regardless of where you are or what event you are celebrating. And Christmas is no exception. 
This couple Christmas photo shoots idea needs you to be expressive and bold by kissing your partner. The little "Merry Christmas tag" in your hands and Christmas décor at your back will give the perfect Christmas day vibes.
Idea #6
Fun with a Christmas Tree
It is Christmas! And there is no need to stop yourself.
The holiday season is all about having fun, especially when you are with your partner. Decorating a Christmas tree together is without a doubt the most fun way to gather some unforgettable moments with your partner. Wear Christmas-themed outfits and get all cozy by sitting on his shoulders of your partner to decorate the tree with sparkling ornaments, ribbons, and colorful stockings.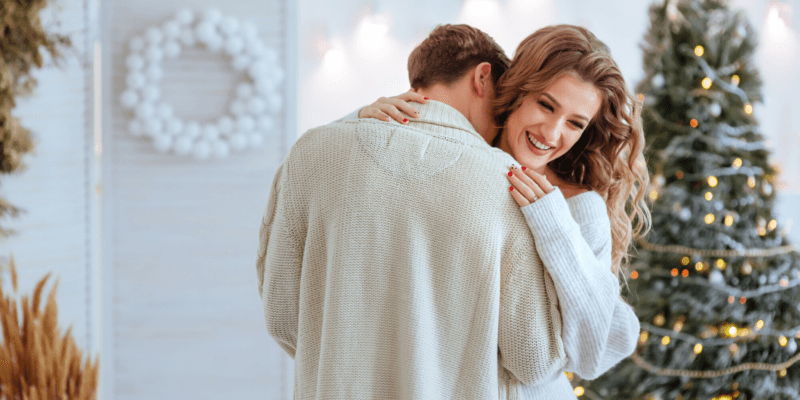 Idea #7
Use Candy Canes as Props
The festive season is incomplete without sweets and delicious candy canes. Not only these delicacies are great to make Christmas sweet but also colorful and joyful. Using a white red candy cane as one of couple Christmas photo shoot ideas is an interesting way to capture unique Christmas photos. All you need is to kiss your partner while showing a heart-shaped candy cane to your private photographer. The color, shape, and backdrop will narrate your love story without having you to express anything.
Idea #8
Create Some Magic with Nature
The snow-filled background creates an incredibly cozy ambiance to click beautiful couple Christmas photos. You can add little more creativity by making a heart shape in the snow and standing in the middle of that love symbol.
Let your partner kiss on your forehead, and your Localgrapher captures the moment. The shot gives amazing love vibes, making everything around you a part of your bond. You can discuss with your photographers to choose the right Christmas-themed outfits to make the shot even more impactful.
Overall, celebrating Christmas with your partner and capturing every single moment of the festive season is not less than a norm. Try out these wonderful ideas this Christmas and gather tons of memorable photos with the most important person in your life.
Buy memories, not things…
Limited time only!
SEE OUR GIFT CARDS
Great customer service and experience
Photoshoot in very short term
The most destinations on the market
Very positive customer feedback
1152
Photographers & Videographers
986
Destinations world-wide
100% Money Back Guarantee
We believe in our service and quality of our photos so much that we decided to offer a 100% money back satisfaction guarantee for your photo shoot. If you don't like your online gallery once we deliver it, you can contact us within 7 days and claim your money back. Find more details in our Terms.