27. 2. 2022
Localgrapher Academy: How to Look Cute on Your Couple Photos
It's certain that you and your significant other are already adorable as a couple. They're the peanut butter to your jelly, the flip to your flop, and the ying to your yang. As perfect as you are together, it's nice to document those special moments. This way, you can always look back at all the intimate, beautiful times you've spent together. Through both good days and hard days, you can reminisce over the gorgeous couple photos you have with one another and always feel that unique love. No matter the stage of life you and your partner are in, couple photos are the sure thing to take your relationship to the next letter!
We've come up with a few tips on what you can do to ensure cute couple photos.
Tips on How to Make Your Couple Photos Even Cuter
1. Show a Common Interest
If you're a couple, you're guaranteed to have something in common that brings you closer together. Why not depict that in your couple photos? If you both have a hobby like playing instruments together or bike riding together, you can bring props to help emphasize the importance of that activity in your romantic pictures.
2. Candid Photos
Posing for photos can feel uncomfortable, especially if you're not used to doing so. Thankfully, your professional photographer knows how to avoid awkward couple photos and knows how to get you naturally smiling. This way, you both feel more like yourself and your true beauty, both independently and together, shine through your photos.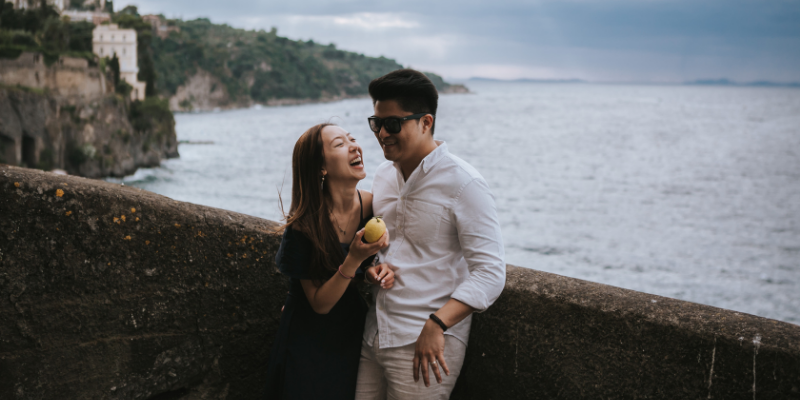 3. Cozy Up
Grab your biggest sweater or your comfiest blanket and wrap yourselves tightly together. This makes for such a romantic, sweet photo since you're cuddled up together. This picture may be best during the fall or wintertime, when you still want to have the beauty of the outdoors but the temperatures start to drop a bit.
4. Hug From Behind
There's something special about your loved one coming up from behind and wrapping their arms around you that gives you big butterflies in your stomach. This picture seems natural and really depicts a deep connection between the two of you.
 5. Head on Shoulder
It's great for couples with a slight height difference. Resting your head on their shoulders is a sign of relaxation and comfort. Your significant other shows they put their trust in you and find a sense of peace laying on you.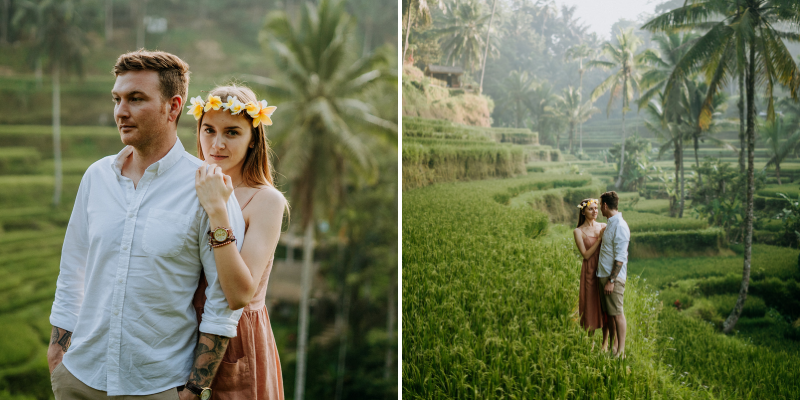 6. Tip Toes
Another great couple photo is again for couples with a height difference, having the shorter person stand on their tippy-toes. Showing just the feet with no faces indicates that these two are in a relationship without showing much else. They're close together and it alludes to the thought of one person trying to reach up for a kiss.

7. Catch a Surprise
The surprise can be as small as giving your partner flowers, or it can be as big as giving them an engagement ring. Allow the photographer to take photos of you holding the surprise behind your back while your partner has no idea what's behind you.
8. Pregnancy Couple Photos
If you are in the stage of your life where you're starting a family, a pregnancy couple photoshoot is great for keepsake memories, pre-child. These photos can be used for an announcement to your loved ones, used for memorabilia, or just for a photo album to show as your baby grows up.

9. Arms Around Waist
With both of you having your arms wrapped around one another, you are embraced in each other, feeling safe and warm. This makes for a traditional, sincere, and cute couple photo. The arms can be wrapped tightly or loosely for different looks.
10. Holding Hands
This versatile pose can be used in different scenes and scenarios. Mostly paired with walking in different scenes, holding hands can represent taking each other on a journey together. Try having them walk hand in hand, looking around or at each other. Or, you can snap photos of just the hands to symbolize togetherness.
11. Only One Looks at The Other
While one is looking into the distance or into the camera, the other one in the pair will look at the other as they're gazing off. This look shows admiration towards the other. You can truly see the love in the person's eyes as they're looking at you, and capturing that is worth a long-lasting memory.

12. Right Before the Kiss 
There's a moment of pure passion, intensity, and love that comes with looking at each other right before the kiss. That will show through any good photograph. Try picking your partner up, or just having your personal photographer capture only your faces looking at one another.
13. The Actual Kiss
Like every great love scene, there's a passionate kiss that swoops you off your feet. Turn that movie love into reality and have your photographer capture a passionate smooch. Put it together with stunning scenery (like a sunset), and you've got yourself your own fairytale.

14. A Hidden Kiss
Hide your kiss with a prop. It'll be obvious you're leaning in for a smooch, but you can hide it with something small for a playful photo. For example, a bouquet of flowers is just enough to hide a kiss without covering the face. The same goes for food, such as cotton candy. It sets the tone of playfulness and also creates a scene, such as a carnival.

15. Black and White
Black and white couple photos can come off both sophisticated and romantic. They also remove any distraction of color and help the viewer focus on the other aspects/main subject of the photo.

16. Rule of Thirds
Composition rules in photos work great for couples' portraits and help to add interest to them. The Rule of Thirds leaves negative space around the couple but still focuses on them in the foreground. The leading lines will drive the viewer's eyes to them, which is the general "rule" for photos.
17. Foreheads Together
Similar to the photo "right before the kiss," pressing your foreheads together is a sign of romantic passion, giving off a "what if" type of vibe. Will they kiss, will they not? You can also either close your eyes or have them looking into your significant other's. That will give off two different feelings in the photo.

18. Forehead Kiss
 A forehead kiss gives your partner butterflies in their stomach. Although an internal feeling, you can still capture that in a photo. A kiss on the forehead is a sweet gesture, and can often at times feel comforting and as if your partner is protecting you.
19. Walking 
Walking feels as if the viewers are joining you on an adventure. The walk doesn't have to be going to a particular destination, but can simply be just a walk. Try walking through a meadow, on a beach, or in a cityscape. Wherever you end up, take your followers with you on your journey of love.

20. Focus on the Landscape
The couple doesn't always have to be the center of attention. Sometimes, the landscape tells the story. A beautiful view can help match the beautiful couple. If you're also worried about weird couple photos because you don't know how to pose and feel uncomfortable, then this option may be a great one so the main focus isn't on you.

21. Shoot from the Waist Up
Typically, the crop for a photo of people is around either the knees and up or waist and up. You don't always necessarily need to get full body photos, as your faces are the main stars of the photos. You'll also be able to get more of the facial expressions without being too up close and personal.
22. Lean Back
Standing pictures don't have to be straight up. Having a decorative wall or natural element like a tree to lean on is not only resourceful but is also more comfortable because it feels easier and more relaxed.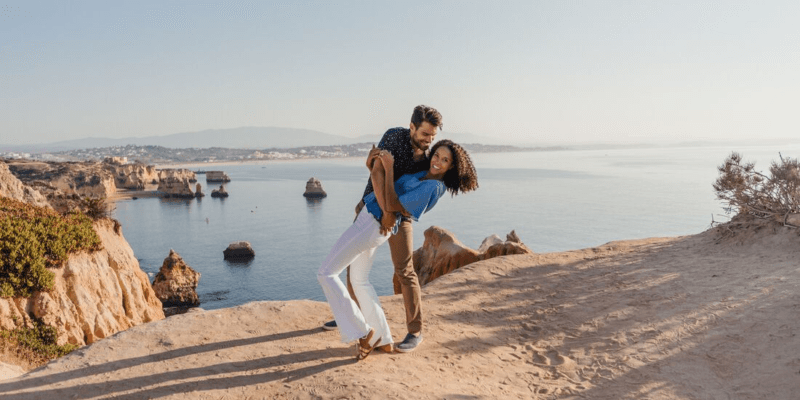 23. Silhouettes
Taking advantage of all the backlight, silhouettes show just your figures blacked out with no detail. A silhouette would look great with a relatively clear background with visible skies and very few distracting elements. Simplicity is the goal here
24. In the Rain
A romantic love scene in the rain is a cliché yet famous scenario in tons of movies and shows. Whether you're kissing, dancing, or singing in the rain, this is a playful and dreamy picture. You can also snap photos in the rain while dry by cuddling up under a clear umbrella and having the photographer snap pictures of you through the umbrella.
25. Lying Down
Take more photos from different perspectives. Having you both lay down on the ground will opt-in for many different photos. Your photographer can snap one with you on your back and your significant other on their stomach, laying their face over yours. Or, you can both be on your backs while the photographer snaps a photo from the upper perspective.

26. Tattoos
This is for couples that have matching tattoos. Clearly, these tattoos mean a lot to you if you have matching, permanent ones. And tattoos usually have strong personalities when seen on their own. Snapping some close-up photos of the ink is a unique addition to your memory album.
27. Reflections
Working with reflections is a really cool and interesting way to take couple photos. You can use a mirror or calm water as big as the ocean and as small as a puddle after a rainy day. Reflections can be taken in different angles and sizes for different effects.
28. Piggyback Rides
Having your significant other jump on your back and get carried around is fun and playful, and can even make for great candid couple pictures depending on how many attempts it takes. The piggyback photo is also versatile; crop the photo to picture just the body wrapped around, get the whole figure, or just the faces.

29. Dancing
Dancing can be staged or on a whim. You can even put some music on in the background so it doesn't seem like an awkward couple photo. Dance and let loose. Do some silly moves, spin each other around, and even dip your significant other. Even if you're not a big dancer, this can be a good prequel to your wedding dance.

30. Light Up the Night
A nighttime photoshoot with lights creates a beautiful scene. You can use the natural, starry night if it's a clear night. Or, you can use smaller light-up props, such as sparklers or fairy lights, and have (safe) fun with it.
31. Show Off the Ring
This is perfect for couples looking for an engagement shoot. However, it can also be adorable for a couple who's been married for years, as a reminder of their love. A ring show-off is a classic proposal or engagement photo, as there's so much raw excitement and emotion that comes with showing off your favorite piece of jewelry.
32. The Lift
Whether it's a simple pick up off the ground, or a full-on Dirty Dancing movie scene, a lift is a cute gesture (and a romantic one, at that). There can be a kiss during the lift or even a simple smile and laugh, but either way, it's a fun move that screams passion!
33. Silly Faces
Photos don't always need to be straight-shooters and serious, classic poses. You can show off your playful, goofy side with funny faces. Something as simple as sticking your tongue out or going cross-eyed can even initiate an unanticipated laugh, perfect for a candid photo.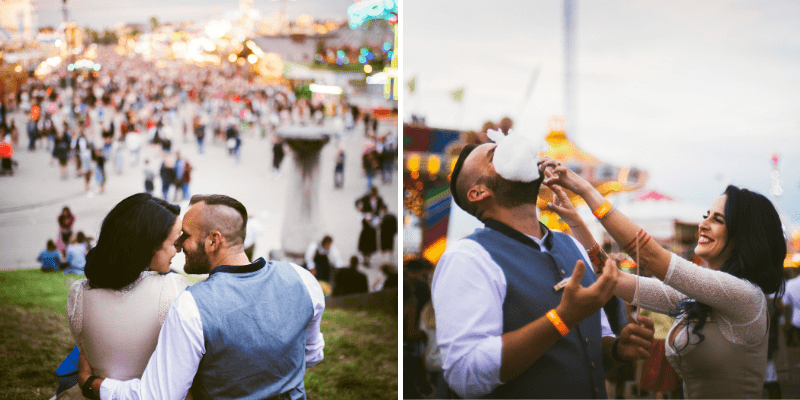 Couple photos can help enhance a relationship in many different ways. No matter if it's the beginning of a new relationship, the middle of a long-lasting one, the start of your newly engaged life, or the continuation of your happily ever after, cute couple photos are a staple to have, to hold, and to cherish. Even if you think you would take awkward couple photos, there is a pose for every couple, and a photographer to help you through it. The most important thing to remember is that as long as you're crazy about each other, the photos will come out perfect.
Buy memories, not things…
Limited time only!
SEE OUR GIFT CARDS
Great customer service and experience
Photoshoot in very short term
The most destinations on the market
Very positive customer feedback
1221
Photographers & Videographers
1067
Destinations world-wide
100% Money Back Guarantee
We believe in our service and quality of our photos so much that we decided to offer a 100% money back satisfaction guarantee for your photo shoot. If you don't like your online gallery once we deliver it, you can contact us within 7 days and claim your money back. Find more details in our Terms.