29. 11. 2019
Christmas Photoshoot Ideas for Any Family Size
Remember your good old festival days when taking Christmas photoshoot meant putting on matching sweaters, carelessly feathering hair, and going to a studio for a family photoshoot? 
Time has changed now, and so are the family picture customs. Gone are the days when you and your family had to look straight into the camera to capture a classic family portrait. Now, it is all about having fun and enjoying the most awaited festival and capture candid poses. The more you enjoy your Christmas photoshoot, the more it will make your family pictures memorable.  
Christmas photoshoots are supposed to be fun so you should not take the stress of taking pictures when you have better options. Simply put, all you need to do is to hire a professional photographer for capturing imaginative and captivating decorations. And when it comes to choosing perfect photography skills, there is no better choice than Localgrapher. 
Unique and Fun Christmas photoshoot Ideas
As Christmas is just around the corner, we have compiled a list of some creative and exciting Christmas photoshoot ideas. Get ready for some unusual poses and bright backgrounds to rock your Instagram post this Christmas.
Idea #1
Santa Baby
You might be wondering Christmas photoshoot with Santa is just for kids. But this is not the case. Making memories with Santa will not only allow reliving your childhood memories but also gives you a chance to enjoy Christmas to its fullest. So why not buying you a Santa suit and take some amazing and cute photos while playing with your kids and giving them gifts. You can buy both authentic looking Santa outfit and vintage one as they both give the same feel.
Idea #2
Be Ugly
Don't get confused with the title. It is not that ugly as it sounds.  However, the idea of taking some unique and different Christmas photos wearing ugly sweaters is something you might not have tried before. Bringing a perfect vintage 80's feel, the Christmas photoshoot idea revives your old family memories while making it a fun experience.
No matter how good are you at taking selfies, you cannot match the brilliance of professional photography provided by Localgraphers. Regardless of what you wear, the professional photographers know how to take quirky and interesting pictures, even in ugly sweaters.  All you need is to tell them what type of Christmas photoshoot you would like to have. The experienced photographer will add the perfect festive vibe to your Christmas photoshoot.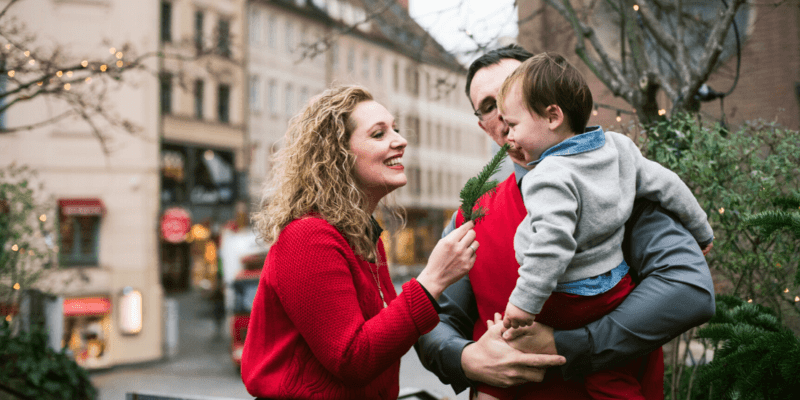 Idea #3
Christmas Pictures with Snow and Gold
White with gold is also a winning and classic combination. As for accessories, you can go for garlands and gold Christmas balls to execute the excellent outdoor Christmas picture ideas.
Snow and gold make a winning combination when it comes to doing Christmas photoshoot. The colors are classic and help you create a perfect ambiance of the festive season. The gold Christmas garlands and balls can create the beautiful outdoor Christmas pictures with your family. If you want some creative ideas, you can discuss it with Localgrapher. They will help you make an ideal backdrop with snow and gold.
Idea #4
Scandinavian Style
Try a unique Scandinavian style this Christmas with all-white them.  Coordinate the outfits of all in the same color. You can make it diluted with light blue, beige, and red.  Wear cozy sweaters, knitted in the same style. Try to have the same snowflakes or deer ornaments on the sweaters.  With this perfect tranquil ambiance, all you need is to snuggle or look into each others'eyes to make a classic Christmas photoshoot.
Idea #5
We are one!
There is no denying that Santa Caps, mitten, scarves, and boots are some essential attributes of a Christmas photoshoot. This photoshoot idea is all about showing how quirky and creative you can get with these Christmas essentials. Sit in a row wearing white T-shirts and Santa caps following the seniority family order. Wrap your hands around each other's neck, and you are done!  The Christmas photoshoot will give you the cutest family portrait.
Idea #6
Together We Can
It is Christmas, and you have a long list of to-do lists. From decorating sparkling trees to cooking and baking scrumptious pancakes, Christmas comes with several tasks. And this is where the idea of "together we can" originates.
This Christmas, turn all these busy moments into perfect family pictures. Let your Localgrapher capture the moments when you are decorating the Christmas tree with your loved one or baking something.  The candid poses will lock the real essence of the festival and your family's character.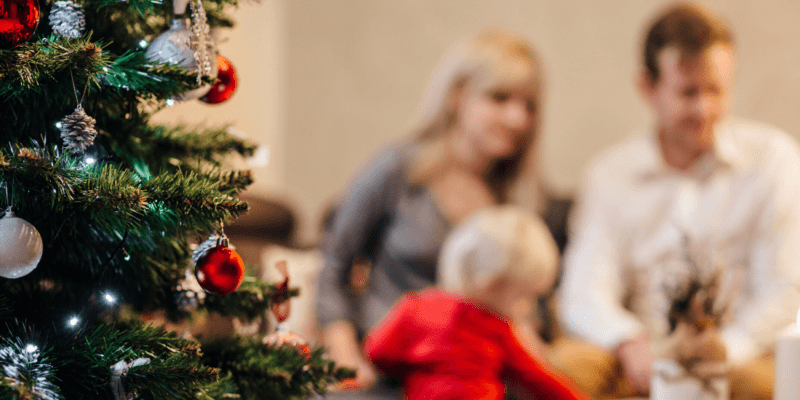 Idea #7
Fairy Lights and Us
No Christmas is complete without fairy lights, so why not making them your Christmas prop and creates some magical poses. With colorful fairy lights, you don't need to make staged poses. Hug each other, make a circle, wrap fairy lights around you, and be natural with your expressions. The glow and vibrancy of lights will create an enchanting feel in the pictures. This Christmas photoshoot, without a doubt, will make one of the best Christmas photoshoots, especially if you have a small family.
Overall, no matter how much time changes, the one thing that will never change is the Christmas family photoshoot norm. Christmas memories are precious and deserve to be preserved.  And when you are with your family, you must not let these precious moments flee. Whether your family comprises three members, or there is a huge joint family system you live in, Localgraphers are competent photographers who excel at capturing the perfect festive mood and evocative images.
Thus, the best way to seize the time forever is to try out these given unique Christmas photoshoot ideas by booking a Localgrapher to make everything more than perfect.
Buy memories, not things…
Limited time only!
SEE OUR GIFT CARDS
Great customer service and experience
Photoshoot in very short term
The most destinations on the market
Very positive customer feedback
1152
Photographers & Videographers
985
Destinations world-wide
100% Money Back Guarantee
We believe in our service and quality of our photos so much that we decided to offer a 100% money back satisfaction guarantee for your photo shoot. If you don't like your online gallery once we deliver it, you can contact us within 7 days and claim your money back. Find more details in our Terms.