29. 11. 2019
Christmas Photoshoot Ideas for Any Family Size
Remember your good old festival days when taking a Christmas photoshoot meant putting on matching sweaters, carelessly feathering hair, and going to a studio to take a professional Christmas photo?
Time has changed now, and so have family picture customs. Gone are the days when you and your family had to look straight into the camera and pose in a particular way to capture a classic family Christmas portrait. Now, it is all about having fun and enjoying the most awaited festival, and capturing candid poses. Okay…maybe there are still matching sweaters, but now it's for fun and not because you have to. The more you enjoy your Christmas photoshoot, the more it will make your family portraits memorable.
Christmas photoshoots are supposed to be joyful, just like the holiday, so you should not be dealing with the stress of taking your own pictures when you have better options. Simply put, all you need to do is to hire a professional photographer for capturing imaginative and captivating photos as well as distinguishing what makes the holiday season so merry and bright. When it comes to choosing perfect photography skills for your Christmas photo shoot, there is no better choice than Localgrapher.
Why You Should Do a Christmas Photoshoot with Your Family
Besides getting a family photo in for your holiday card (which we know is your main reason for getting the family together for a picture), you get to have the memories of your family during the holidays. Christmas is associated with cheer and happiness. To quote a famous holiday song, "it's the most wonderful time of the year", so you might as well embrace it.
Plus, the holidays are meant to be shared with your loved ones. A family Xmas is meant to be cherished for years down the road, and trust us, you're going to want to keep those Christmas photo memories as everyone grows up so you can reminisce about the good times.
Unique and Fun Christmas Photoshoot Ideas You Should Try This Year
As the awaiting holiday season is just around the corner, we have compiled a list of some creative and exciting Christmas photo ideas. Get ready for some unusual poses and bright backgrounds to make your Instagram photo ideas pop this Christmas.
Idea #1
Santa Baby
You might think that Christmas pictures with Santa are just for kids. But this is not the case. Making memories with Santa will not only allow you to relive your childhood memories, but also give you a chance to enjoy Christmas to its fullest with these classic Christmas photo ideas. So why not buy yourself a Santa suit and take some amazing and cute holiday photos while playing with your kids and giving them gifts. You can buy either an authentic-looking Santa outfit or a vintage one as they both give the same feel. Plus, adults sitting on Santa's lap always give a good chuckle!
Idea #2
Be Ugly
Don't get confused with the title; it is not that ugly as it sounds.  However, the idea of taking some unique and different Christmas photos while wearing ugly sweaters is something you might not have tried before, but something that'll bring a smile to your Christmas photo. Bringing a perfect vintage 80's feel, the Christmas photoshoot idea revives your old family memories while making it a fun experience. Nowadays, there are so many clever ugly sweaters that can fit your personality, making it an extra special family photoshoot.
No matter how good are you at taking selfies, you cannot match the brilliance of professional photography provided by Localgraphers. Regardless of what you wear, professional photographers know how to take quirky and interesting Christmas photos, even in ugly sweaters.  All you need is to tell them what type of Christmas photoshoot you would like to have. The experienced photographer will add the perfect festive vibe to your Christmas picture ideas.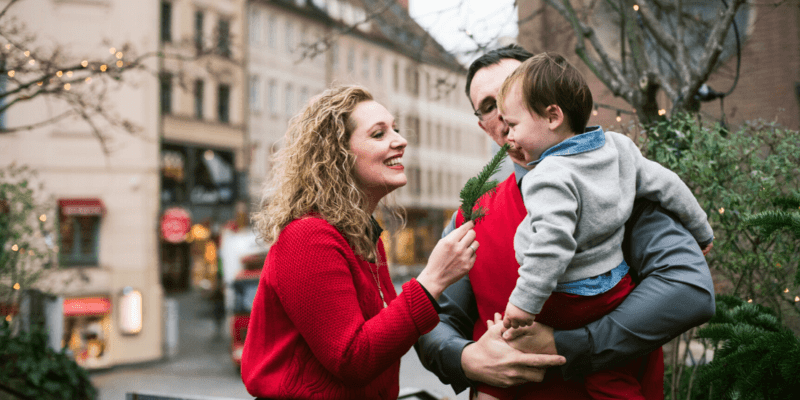 Idea #3
Christmas Pictures with Snow and Gold
White with gold is also a winning and classic combination that ties in the festivities of a family Christmas. As for accessories, you can go for garlands and gold Christmas balls to execute the excellent outdoor Christmas picture ideas. Your family can dress in white with accents of gold surrounding you, made for a beautifully elegant setting for your Christmas photoshoot.
Snow and gold make a winning pair when it comes to creating Christmas photo ideas. The colors are classic and help you create a perfect ambiance of the festive season. The gold Christmas garlands and balls can create beautiful outdoor Christmas pictures for your family photo. If you want some creative ideas, you can discuss them with Localgrapher, they will help you create an ideal backdrop with snow and gold for an iconic Christmas photoshoot.
Idea #4
Scandinavian Style
Try a unique Scandinavian style this Christmas with all-white theme. Not only is it white, but there's also a warmth and brightness to this style that transcends your typical modern design through the use of rustic elements, natural evergreens, and glamorous fur details. This will make for a very modern-looking pictures.  Coordinate the outfits of all in the same color. You can make it diluted with light blue, beige, and red.
Wear cozy sweaters, knitted in the same style. Try to have the same snowflakes or deer ornaments on the sweaters. You can also incorporate some Christmas lights to add extra brightness.  With this perfect tranquil ambiance, all you need is to snuggle or look into each other's eyes to make a classic Christmas family photo. Plus, snuggling together will keep you nice and warm for this family Christmas!
Idea #5
We are one!
There is no denying that Santa caps, mittens, scarves, and boots are some essential attributes of Christmas photo ideas. This photoshoot idea is all about showing how quirky and creative you can get with these Christmas essentials. Sit in a row wearing white T-shirts and Santa caps following the seniority family order (oldest to youngest). Wrap your hands around each other's neck, and you are done!  This family photo will give you the cutest family portrait. There are a bunch of other poses you can rock while taking these Christmas pictures, so be sure to ask your Localgrapher!
Idea #6
Together We Can
It is Christmas, and you have a long to-do list. From decorating sparkling trees to cooking and baking scrumptious pancakes and cookies, Christmas comes with several (typically fun) tasks…and this is where the idea of "together we can" originates for a Christmas photo.
This Christmas, turn all these busy moments into perfect family Christmas pictures. Let your Localgrapher capture the moments when you are decorating the Christmas tree with your loved one, or when you're baking something and getting flour everywhere.  You can also photograph the events of making gingerbread houses or dancing to Christmas music. The candid poses will lock the real essence of holiday photos and your family's character.
Plus, these moments are going to be the true memories you want to cherish forever, so capturing your family Christmas with these Christmas photo ideas will bring these memories to life for years to come.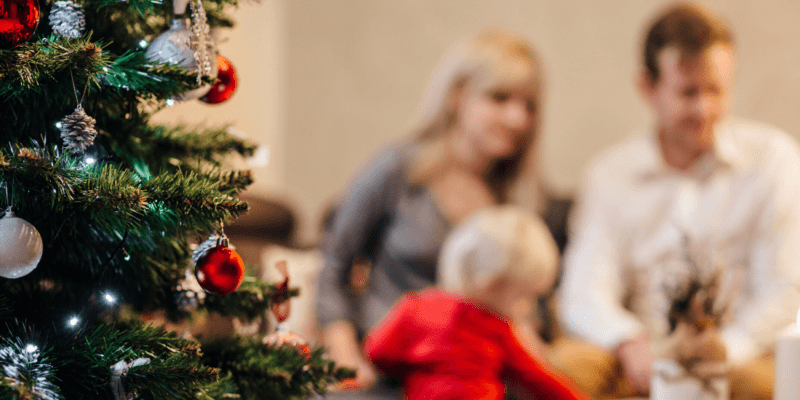 Idea #7
Fairy Lights and Us
No Christmas is complete without fairy lights, so why not make them one of your photo shoot props and create some magical poses. With colorful fairy lights, you don't need to make staged poses for your Christmas photo. Hug each other, make a circle, wrap fairy lights around you, and be natural with your expressions. The glow and vibrancy of lights will create an enchanting feel in the pictures.
If you're posing with a significant other, you can make fairy lights the background of your Christmas photoshoot. The blur of the lights in the background will create a romantic, warm feel. This Christmas photoshoot, without a doubt, will make one of the best photo ideas, especially if you have a small family or are doing a more intimate setting.
Idea #8
Family Vacation
Maybe not like National Lampoon's Christmas vacation, but this Christmas, if possible, try taking a little family getaway. Even if it's just for a long weekend, a first Christmas away can be a memorable one.
For some photo ideas, take your family skiing or snow tubing, and have a professional photographer capture those moments. Get the family cozy in a cabin, snuggling up by the fire, underneath blankets, and use the photos for a classic Christmas card. This can signify a classic winter getaway, and it can be tons of fun! This will be a family Christmas to remember, and it can be remembered through classic and funny Christmas photos.
How to Book a Private Photographer for your Christmas Photoshoot
There are a couple of things to do in order to establish getting your personal Christmas photographer for your family photoshoot. First, you must select your destination, and whether you want a photographer or even videographer, and proceed to fill out a short booking form. If you're worried about finding a Localgrapher in your location, have no fear! We have local photographers in over 900 locations around the world.
Next, our team will arrange all the details and connect you with the best Localgrapher match for your Christmas photo ideas. You'll then be able to plan out what it is you're looking for in these pictures, with your personal photographer and will be able to enjoy your awesome photo shoot in the best locations with the most fun ideas!
You also get to select the type of photo package based on your budget, time frame, and overal expectations. From there, you will get a certain amount of edited high-res photos and 2 years back up and 4 workday delivery. This will ensure you get to choose the perfect Christmas photo (or photos) for your keepsake.
Since the holiday season always tends to get a little busy, we recommend booking your family Christmas photoshoot in advance to secure a shoot date and not miss out on any opportunities!
Overall, no matter how much time changes, the one thing that will always remain evergreen (or in this case, winter-green), is the Christmas family photoshoot norm. Christmas memories are precious and deserve to be preserved, whether that be through a holiday card or family photo.
When you are with your family, you must not let these precious moments flee. It doesn't matter if your family consists of three members if it's you with your significant other and pet dog, or there is a huge joint family system you live in. Whatever it may be, Localgraphers are competent photographers who excel at capturing the perfect festive mood and evocative images, and you can trust in them they will give you the most magical Christmas gift of all – heart-warming Christmas family photos.
Thus, the best way to seize the time forever is to try out these given unique Christmas photoshoot ideas by booking a Localgrapher to make everything more than perfect.
Buy memories, not things…
Limited time only!
SEE OUR GIFT CARDS
Great customer service and experience
Photoshoot in very short term
The most destinations on the market
Very positive customer feedback
1199
Photographers & Videographers
1046
Destinations world-wide
100% Money Back Guarantee
We believe in our service and quality of our photos so much that we decided to offer a 100% money back satisfaction guarantee for your photo shoot. If you don't like your online gallery once we deliver it, you can contact us within 7 days and claim your money back. Find more details in our Terms.