17. 2. 2020
Your Heart Will Melt After You'll See These Couple Photoshoot Pictures
Valentine's Day may be over, but that doesn't mean the romance has to be. The world is full of exploration and excitement, and who better to share that with than a loved one? Traveling as a couple can be thrilling and entertaining. You always have your other half with you as you explore the hidden (and not so hidden) gems of the world. While you're adventuring, it would be a fun idea to hire a personal photographer to capture those exciting memories. A couple photoshoot is the best opportunity to make sure you remember all the venturing and positive emotion you'll be pouring into each city you visit.
Looking to make onlookers of your photos melt? Take a peek at some of our best couple photoshoot pictures from around the globe.
Shoot #1
Heart-full of Love
This photo shoot, taken in Ubud, Bali screams romance as the heart glows in the middle of the terraced rice paddies. This heart looks as if it is one with nature and makes for the perfect frame for a couple to stand in. The greens of the paddies in the background help make the heart and the couple pop in the foreground. The photographer, Ferry, also likes to snap a bunch of photos of the couples as singles, and then unite for a beautiful photo shoot. Ferry also likes to capture the natural beauty that surround them to really emphasize each photo. There is no better symbol of love than the heart, so it only makes sense to hold a couple photoshoot here.
Ubud is known as a center for traditional crafts and dance. It also has a surrounding rainforest, and its paddies are sprinkled with Hindu temples and shrines, making for one of Bali's most famous landscapes. There is much to explore in Ubud, Bali, including the intricately carved Goa Gajah ("Elephant Cave") and Gunung Kawi, with its rock-cut shrines. So when you're done being in the "heart" of Ubud, discover more on its outskirts together.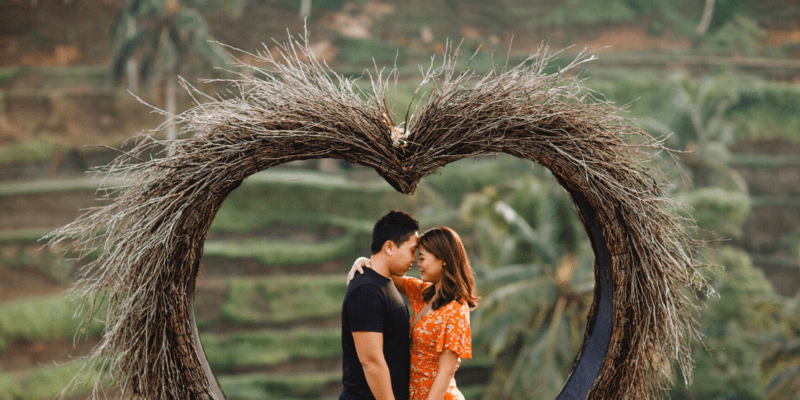 Photo: Ferry, Localgrapher in Bali 
Shoot #2
Can't Keep Your Hands off Each Other
An engagement photo shoot is the perfect excuse to wrap your arms around one another for practically a whole day. You are celebrating your new love (and excitingly showing off your bling).
Whether it be holding hands, arms around the neck or waist, or embracing in a hug, you're smothering one another with all the love. Photographer Francesco knew how to accentuate both the couple's love and the fiancé's ring at this couple photoshoot in Rome. He made sure to capture the looks of romance and excitement in the couple's eyes as they prepare for the next chapter in their lives.
Rome has so many sights to see, such as the Trevi Fountain and Colosseum. Italy is also one of the most romantic countries in the world. Let your love spark as you explore the city of Rome with all its wonder. Maybe even share a plate of spaghetti Lady and the Tramp style.
Photo: Francesco, Localgrapher in Rome
Shoot #3
Bright Colors, Bright Future Together
Beaches are always romantic. Get lost in a city full of blue water, soft sand, and perfect weather. Los Cabos, Mexico, is the ultimate getaway to relax with your sweetheart. Leave your footprints in the sand and feel like you're walking on water with your favorite person.
However, the beaches aren't the only thing to make Los Cabos shine. Bright colors illuminate this couple's photoshoot. Their photographer, Romina, accentuates these colors in all the couple's pictures. The duo's black and white ensemble helps make the colors stand out more. Just a pinch of pinks, blues, and orange from the sunsets can enhance the beauty of their love.
This city is known for not only its beaches, but its nightlife too. Things will get heated on your trip, and we're not just talking about the weather! There is no bad time to visit the beautiful city of Los Cabos. So choose any time of the year to vacation with your sweetheart.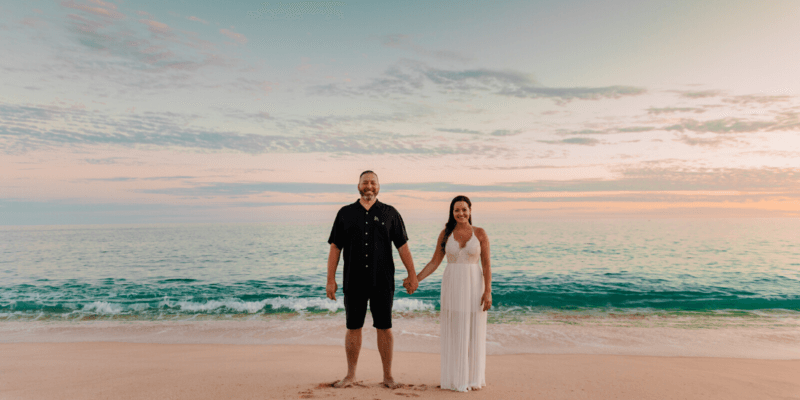 Photo: Romina, Localgrapher in Los Cabos
Shoot #4
Propose the Idea
If you're looking for a romantic place to pop the question, then hire your private photographer in Dubai. Photographer Petra captured the moments shortly after the question was popped. The heart flower arches focalize the couple kissing in the center, celebrating the big moment. The pinks, purples, and reds of the hearts help accentuate the coordinating pink outfits. The low angle Petra took on this photo shows the full range or arches that rest in the background as if it represents this couple's never-ending love.
Once you're done with the romantic proposal pictures and snap your couple photoshoot, celebrate in style in this modern city. The luxury shopping and ultramodern architecture set the tone. Wild nightlife can also be found here. Be sure to check out the Burj Khalifa, a mega tower that dominated the skyscraper-filled skyline. You'll be sure to never be bored with your sweetheart.
Photo: Petra, Localgrapher in Dubai
Shoot #5
Wall to Wall
In a place like Chefchaouen, Morocco, couples will be painting the town blue. The colored walls stand out with a bright blue painted on every nook and cranny. The floor, doors and doorways match the walls in color and in texture.
Localgrapher Oussama placed the couple across from each other. They are just smiling and looking at each other from across the way. It's as if they are taking each other in, soaking it up. The vacant alley lets the couple be alone together. Oussama's style is fashion-forward; hence the bold statements made in this couple photoshoot. He likes natural light, which is helpful in this outdoorsy, bright environment.
Morrocco is full of culture, filled with marketplaces of hand-made product. The Mediterranean Sea and Atlantic Ocean border the country, making for a nice escape for travelers. Plus, the city of Chefchaouen is known for its striking, blue-washed buildings with cobbled lanes, as shown in this couple photoshoot. So when you're done snapping cute photos, get lost together in the bright city full of culture. You'll be sure to get lost in the beauty.
Photo: Oussama, Localgrapher in Chefchaouen
Shoot #6
Ride of Your Lives
Your love is exciting, so why not play on that in your couple photoshoot? This photo taken in Cairo, Egypt, playfully displays a couple with a camel, surrounded by pyramids. Not only is this an overall spectacular and adventurous photo, but it also dives into the history of the location. Photographer Amir uses his natural photography style to capture the spontaneous and candid moments both the couple and animals can make. Plus, the natural scenery makes for a stunning background.
Cairo is made up of unique architecture and contains museums of ancient artifacts. Travelers can roam the pyramids and visit the Great Sphinx. Learn about the mummies and more on your archeological endeavors. However, if you and your sweetheart are planning to visit, try to stay away from their summer months, as their temperatures range in the mid-nineties.  You will bring your own heat as a dynamic duo.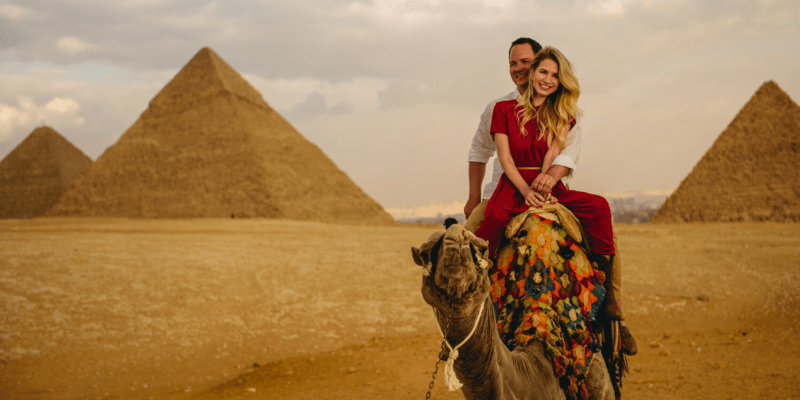 Photo: Amir, Localgrapher in Cairo
Shoot #7
Bundle of Joy
Sometimes your couple photo shoot gets a little bigger. Sometimes, it turns into a maternity photo shoot. These lovely two couples are celebrating with an extra member, their baby bumps!
You don't have to be just dating or newly engaged to call it your special moment. A maternity shoot captures a new and exciting chapter in your lives. This chapter is the one that will start a family. Another photo shoot has taken place in Dubai, this time with Localgrapher Nadia, accentuates the blooming heart arches. Very straight forward on the angle, the photos capture the magnificence of the colorful arches, guided with a walkway of sunflowers. The white outfits stand out in colorful backgrounds.
The theme here is high-spirits with a peaceful atmosphere. The way these couples are represented is how they feel about starting a family; bright-eyed, colorful, and joyful.
Photo: Nadia, Localgrapher in Dubai 
Shoot #8
Snowy Surprise
On occasion, couple photo shoots can be a complete surprise for someone. In this case, this photo op was meant to surprise the woman Brian planned on spending the rest of his life with. He hired a proposal photographer for a surprise proposal photo shoot. It starts off with just a casual snow day in Lake Louise, Canada; playing, laughing, enjoying each other's company.
Then, Brian poses on his knee as photographer Adi snaps the most candid reactions. All the raw emotion was caught, which makes for the perfect snapshots. Lucky for this couple, Adi's photography style includes on-location as natural as possible. He loves capturing genuine expressions, which is exactly what this photo shoot entails.
Lake Louise is the perfect romantic getaway for couples. Curl up inside by the fire while the snow falls outside. Or, enjoy each other's company outside playing in the snow. It's known for its turquoise, glacier-fed lake ringed by high peaks and overlooked by a stately chateau. There's also a skating rink on the frozen lake during winter. This is the perfect escape to get cozied up with each other and just enjoy each other's time.
Photo: Adi, Localgrapher in Lake Louise
Shoot #9
Alone Together
Landscapes create a beautiful background. However, it's rare you get the whole region to yourselves. The distinctive "fairy chimneys," or tall, cone-shaped rock formations in Cappadoccia, Turkey, surround the couple in their photo shoot.
Therefore, making them seem like the only two in the world. The beautiful, natural background goes on for miles in the distance, isolating the couple as they are wrapped in each other's arms. Local photographer Faith made sure to capture the beauty of everything. His photography style includes documentary, which includes environments both significant and relevant to history as well as everyday life.  This couple photoshoot is a natural and typical environmental scene in the city of Cappadocia.
Not only does Cappadocia contain these natural "fairy chimneys," it also contains other notable sites like Bronze Age homes carved into valley walls by cave dwellers. These historical artifacts make for interesting photo ops, and who better to snap these pics than a Localgrapher with an act for documentary photos?
Photo: Fatih, Localgrapher in Cappadocia
Shoot #10
City Gazing
Traveling with your significant other means exploring a new city. And what better way to capture all those new memories than with a personal photographer? Take this couple photoshoot, for instance. The couple is in Bangkok, Thailand, walking through the city, taking in the views. Photographer Jochoz follows the couple around on their adventures, snapping photos of the skyline, streets, and more private locations.
Each photo shows a beautiful piece of Bangkok. Jochoz's style is more romantic and emotional, using natural light to let the beauty speak for itself. This is why Thailand works so well because the outside world on a clear day speaks for itself. He captures the precious moments in these settings, making for the perfect keepsake memories.
While discovering top photo spots in Bangkok, couples can enjoy the vibrant street life, which will keep them entertained all vacation long. They can also enjoy activities on the Phraya River, see the Grand Palace, and visit the sacred Wat Phra Kaew Temple. There will never be a dull moment with each other in this city.
Photo: Jochoz, Localgrapher in Bangkok
Couples can enjoy romance no matter what country they are visiting together. It's what you make most out of the trip. Each city is unique and full of different activities and sights to see. Therefore, you'll need your other half by your side to explore with. Having your significant other to help you navigate through the world will be exquisite. It's just like how they're helping you navigate through life.
This magical experience of traveling to foreign places together should be captured for lasting memories for years to come. Make sure to hire a personal vacation photographer on your next exotic vacation. Whether it be for a surprise proposal, a maternity shoot, or just to share your love, there is a perfect photographer match for you.
Buy memories, not things…
Limited time only!
SEE OUR GIFT CARDS
Great customer service and experience
Photoshoot in very short term
The most destinations on the market
Very positive customer feedback
1105
Photographers & Videographers
989
Destinations world-wide
100% Money Back Guarantee
We believe in our service and quality of our photos so much that we decided to offer a 100% money back satisfaction guarantee for your photo shoot. If you don't like your online gallery once we deliver it, you can contact us within 7 days and claim your money back. Find more details in our Terms.