Capturing the unwavering bond between couples is, without a doubt, incredibly captivating. Not only does it make a lure for couples who are truly in love with each other, but also for professionals who are fond of couple photography. When your connection with your forever love is true, you do not need a stage. Your love automatically reflects in every action you do. And only couple photography can depict the feelings you hold for your partner.
We have the right professional gear to seize your pure emotions and unconditional love for each other. When it is about displaying your affection to your partner to affirm your bond, there is no better than capturing your special moments through meaningful photography.
Whether you started dating a month ago, have just exchanged rings, or have been married for ten years, couple photography helps you translate your relationship into photos. Don't worry if you couldn't make it to Venice for your romantic photoshoot. You can express your emotional closeness by shooting some classic couple poses with our expert couple photographers in your hometown.
Before we delve into the discussion to check out some original couple photography ideas for your everlasting relationship, let's understand how couple photography can make your relationship even more special. 
Why Couple Photography is the Right Way to Express Your Love 
You don't get an opportunity every day to tell your partner how much they mean to you. Going for couple photography, in this regard is all about stealing moments from your time-strapped jobs and making time together to celebrate love. 
Besides that, the idea of couple photography provides a perfect opportunity to capture some wonderful pictures and make memories together. It allows you to get closer to each other, to zone out, and, most importantly, put your cell phones away to enjoy each other's company. A couple photoshoot can document your relationship perfectly. You express and introduce yourself as a loving couple, which is an ideal way to give your relationship a meaning.
If you are one of the couples who have never tried couple photography before, it can be a perfect idea to discover what couple shots work the best for you. You get a chance to try some creative poses with a professional couple photographer who knows how to make you get rid of fake smiles and cheesy poses and immortalize your love in a natural way. 
Moreover, when you let us capture your love, whether it is a fuzzy feeling or your favorite activity with your partner, we make every moment a memorable keepsake. That is to say, couple selfies are becoming obsolete as they cannot let couples tell, share, and lock their love story. 
Our photographers, on the other hand, are full of unique ideas that can define your beautiful relationship. Unlike self-taken pictures, couple photography has a vision, feel, and a soul in it.
Original Couple Photography Ideas 
Now, let's check out some of the most original couple photography ideas that will give you two lovebirds adorable photos.
Idea #1
Hold my Hand Forever
The reason why this pose makes to the top on our list is the unparalleled charm and magic it exudes, which never goes out of fashion. Not all couples are quite comfortable with clicking intimate poses and that is what makes this shot a-pose-for-all-couples. Plus, it has a lot of room of creativity as well as the flexibility that helps you try a few basic poses to capture the spark of your love. 
For instance, start clicking with holding hands of each other and then change it a bit. Brush your partner's gorgeous locks or ask her to rest her head on your chest and let your Localgrapher captures the moment. The best part of beginning with this basic pose is that it is not setting specific, and you can create this setup for couple photography in your living room.
Photo: George, Local Photographer in Santorini
Idea #2
You, Me and Our Conversations
Of all couple photography purposes, the best one is it gives you a reason to spend time together. And this is when you can capture plenty of moments you spend together talking and listening to each other. Also, this is one way you can break the ice and overcome your hesitation and shyness. That means through this photography idea; you can turn your actions into some awe-inspiring poses. 
Dance together, bake pastries together or discuss something you love sharing with your partner, thus indulge in a conversation and forget that you are being captured. It will create the poses that have the most genuine expressions.
What about telling the funniest joke you read recently to your partner?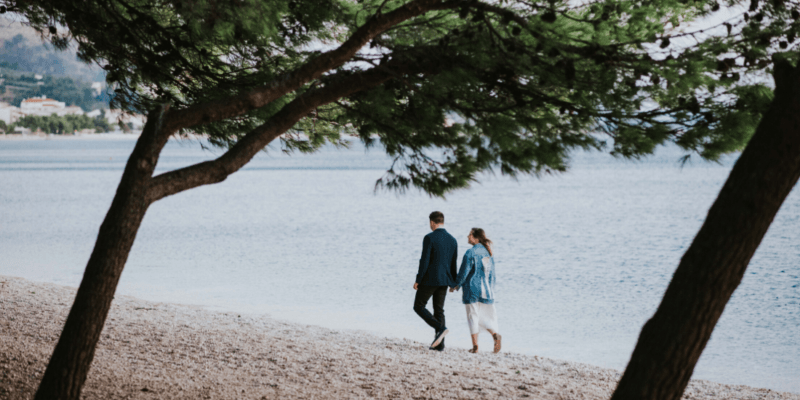 Photo: Luka, Local Photographer in Split
Idea #3
Be Mine Forever- Spell it Out
This another simple yet powerful idea you can add to the list of your creative couple photography poses. If you have just entered a relationship and looking for romantic ideas to surprise your partner, all you need is to play with scrabble letters and make a caption saying "Be Mine Forever" with them. 
Adorn the letters with some rose petals, sit behind the caption, look into each other's eyes, and allow your Localgrapher to seize the moment of your love. 
You can create an exquisite atmosphere for this pose by using the tools and cute props you have. Something as simple and adorable as piercing heart-shaped balloons will be perfect for giving a theme to the backdrop. Take pictures in front of them to make this pose even more memorable.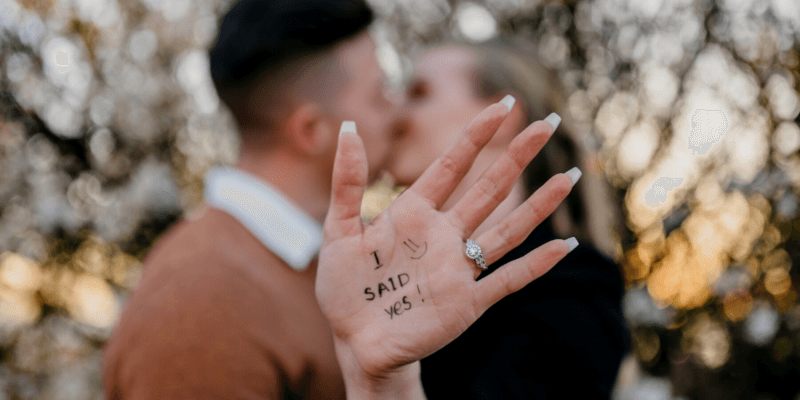 Photo: Irina, Local Photographer in Malmo
Idea #4
You Complete Me - A Heart Hand Pose
No matter what era you are living in, making a heart with hands makes one pose that never gets out of trend. Again it is one of the original couple photography ideas that work best for the couples who feel shy in front of the camera. 
Creating an image by creating a hand heart will not only allow couples to express their love for each other but also make them feel confident in front of the camera. A hand heart is an effective and simple gesture that showcases a feeling of affection and a desire to stay in a relationship forever.
If you are happened to be in a romantic destination such as Ubud, Dubai, Bali, or Paris, this pose allows you to frame the scenic backgrounds behind the hands perfectly.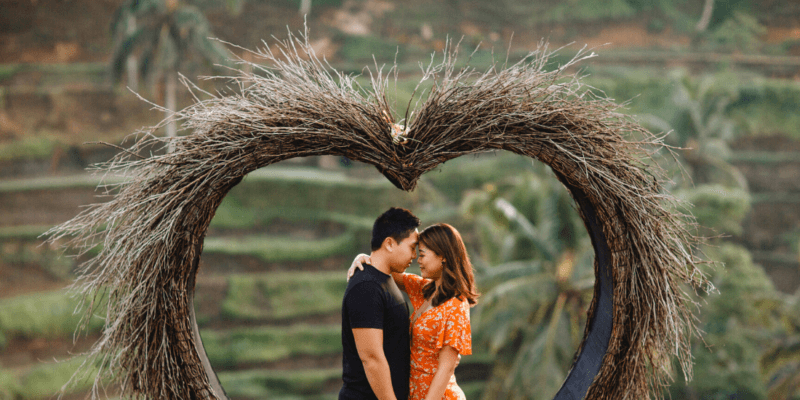 Photo: Ferry, Local Photographer in Ubud
Idea #5
Cage My Heart with a Ring
Planning a secret proposal for the love of your life? 
If yes, this might be the pose you have been looking for. It has everything from the true depiction of love to a soulful environment that will make your couple photo shoot memorable for your whole life. 
Adding the essence of pure love as well as your engagement day to your photo, it can be the best way to leave your partner in awe. So, cage your loved one's heart by using red roses and your engagement ring in the most romantic way. Go down on your knees and present your ring on the top of rose petals while your proposal photographer captures your sweet proposal.
It will not only make a beautiful photograph but also a wonderful way you can commemorate your special day as a couple.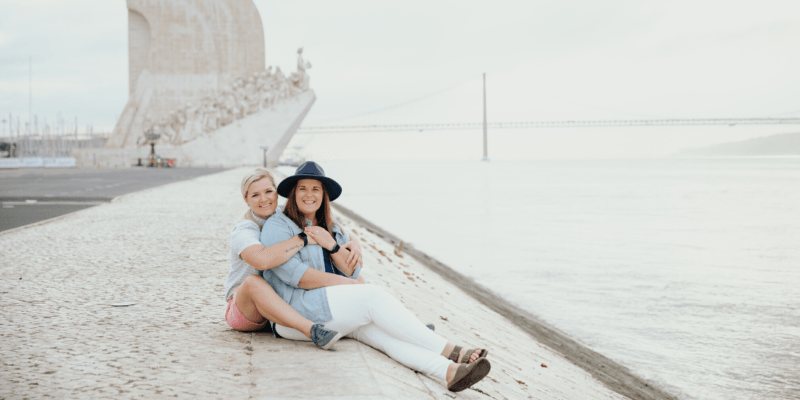 Photo: Daniela, Local Photographer in Lisbon
Idea #6
Let Us Tell the World We are in Love
Your couple photography can never go wrong with this idea. If you are not fond of using props in your photographs, there are many ways you can mark your love through pictures. 
All you need a serene beach or an open natural field where you can make hearts on the sand together. Feel the love you have for your partner and try to be into the moment. 
Clicking this picture during sunrise or sunset will add a crimson glow to your faces as well as your photos. You can try the same pose with leaves, branches, or flowers to create a symbol of your love.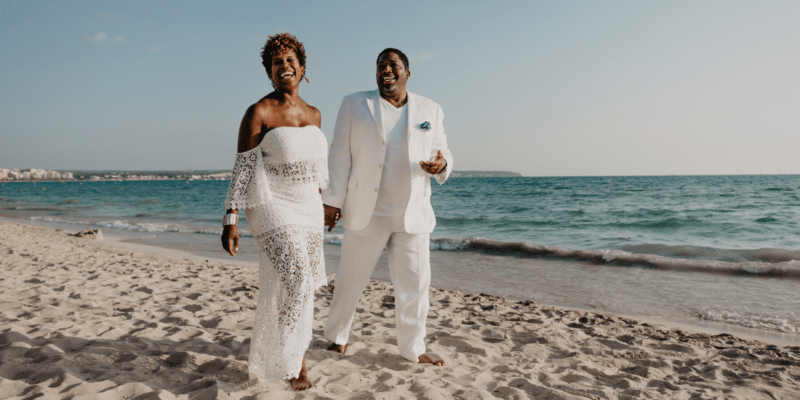 Photo: Michal & Malwina, Local Photographers in Mallorca
Idea #7
Lock Your Love through a Kiss
There is no denying that it is one of the cutest poses you must try if you are not afraid to express your love in public. Whether you choose a park with full people jogging around or a market full of shopping enthusiasts to click this picture, it will definitely break your Instagram.
You need to stand in the middle of the crowd, hold your partner with one hand and a bunch of balloons with the other hand. Kiss your loved one passionately while your couple photographer locks this bold expression of love in his/her camera.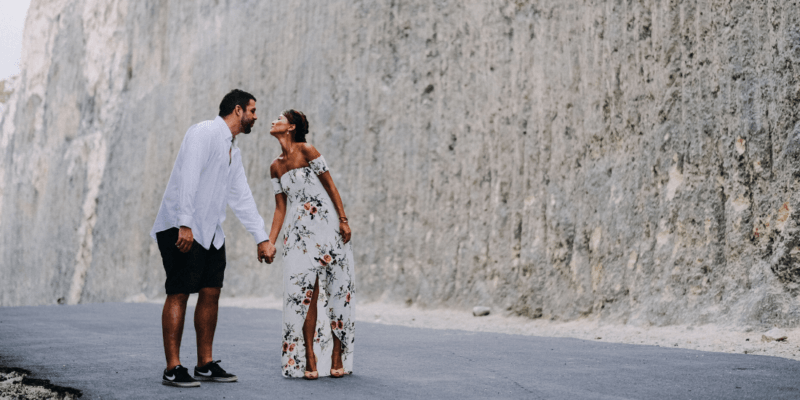 Photo: Toyoda, Local Photographer in Bali
Idea #8
We are Inseparable
It is one of the couple photography ideas all couples must try no matter how long they have been in a relationship or how old they are. The pose has a unique charm that is contiguous and can make people fall in love with your love story. 
To click this picture-perfect, you and your partner need to look into each other's eyes closely by touching their foreheads. Show your big smile to depict the ecstasy and happiness of being together. Hold a beautiful rose to symbolize your love and affection. 
It is worth noting that only a professional photographer is the right choice if you want to get the desired outcome of your couple photography. Our Localgraphers, in this respect, specialize in capturing a couple's poses and making their loving moments etched in their minds. They work with an aim to capture the chemistry, compatibility two people share.
Photo: Phillipe, Local Photographer in Amsterdam
Idea #9
Mark My Love
Want to try something fun this year?  Then add this couple photography idea to the bucket. 
It is the cutest way to show the world that the other person is all yours, and you will never give up on him. It is a close-up pose in which you have to kiss on the cheek of your partner in a way that it leaves a sharp lip-mark. Hold your partner's face with chin and pose as if you want to show it to everyone. Your personal photographer will capture a photo, focusing on the lip mark. 
No caption, no expressions, nothing, the lip mark is enough to narrate the power of your love.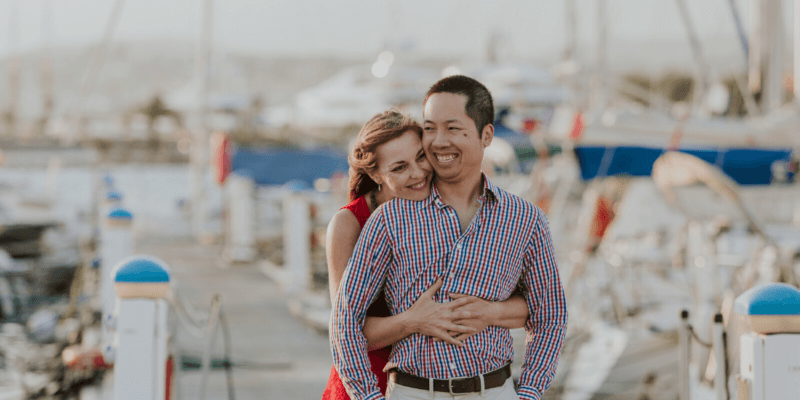 Photo: Costi, Local Photographer in Cannes 
Idea #10
Never Let Me Go
This couple photography idea has become a trend that is nesting in 2020. It is simply because couples believe in more candid and natural-themed photo shoots such as cooking a meal together or watching their favorite movie together.
"Never let me go", in this regard, makes one of the poses that perfectly portray the warmth of love and commitment any couple dreams to have. 
A black color blanket all you are going to need to create this madly-in-love pose. Lie upside down on your bed and cover yourselves in the blanket from head to toe and enjoy the moments in each other's company while your couple photographer frames the coziness of your relationship.
Photo: Tom, Local Photographer in Mendoza 
Idea #11
Made for Each Other
You might not find anything extraordinary in this pose but it does make an interesting shot. If you are one of those couples who like wearing matching outfits or share the same taste in dressing, you can incorporate this idea into your couple photoshoot. 
Know that you might have to spend time deciding what you both will wear or you need to discuss clothing in advance with your couple photographer. The pose allows you to take advantage of small details such as jewelry,  shoes, hairstyle, and outfits as you can hone in on all these elements. This is one pose in which you can capture your personal aesthetics and vibes as a couple.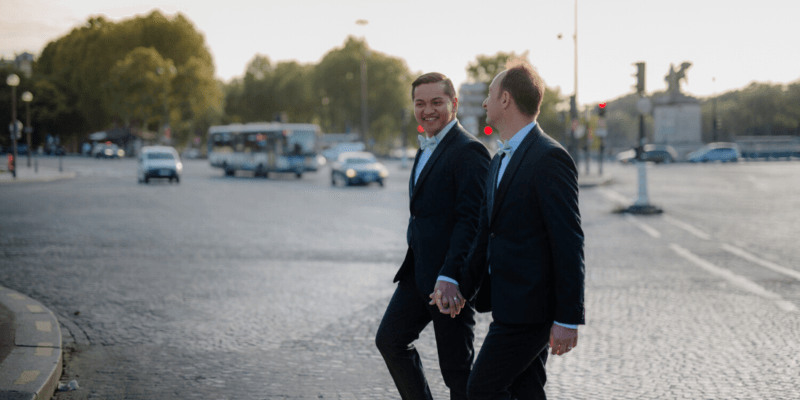 Photo: Alain, Local Photographer in Paris 
Idea #12
Whisper Your Love in My Ear
This is a fun -themed pose that our photographers use to click some candid poses of the couples. Depending on the personalities of the couples, they ask couples to say things they like to share with each other. It can be anything from the humorous to romantic thought that can make your partner laugh. You can add a backdrop full of balloons or a floral wall to bring a romantic feel to this couple's photoshoot idea.
Photo: Agnieszka, Local Photographer in Dubai 
Idea #13
You Make Me Forget Everything –An almost-kiss Pose
When it comes to photographing couples, photographers do not always need to tell them how to pose or act. They are so much into the moments that each gesture they make becomes a romantic pose itself. 
Whether they hug, hold hands, look into each other's eyes, walk hand in hand, kiss or pause before a kiss, every pose expresses love. Often, the instant moment before a couple kisses is better than the real kiss itself. 
You can deliberately take a pause for a few seconds before and after kissing your partner to let your Localgrapher steal the moment. This couple's photography idea will take your couple photoshoot to the next level.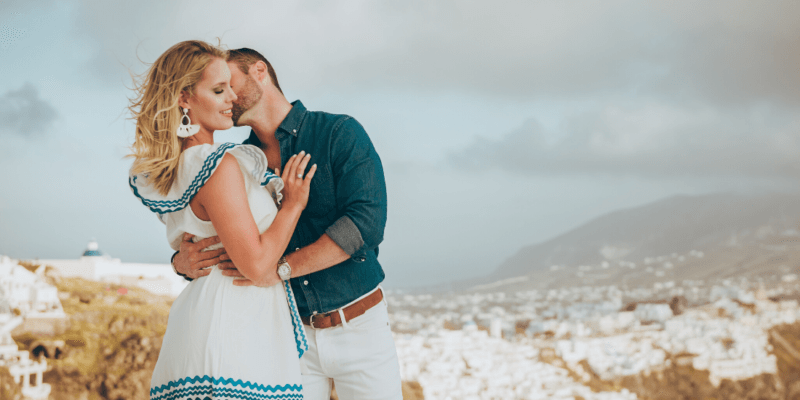 Photo: Thanos, Local Photographer in Santorini 
Idea #14
Want to Play with You My Entire Life
Couple photography is not confined to capturing the romantic and intimate poses only. The photography niche goes beyond formal portraits and staged sessions. That means when you book our experienced couple photography experts; they set up a lifestyle shoot in which you can document your "togetherness "in an everyday, ordinary routine. 
One way our photographers love capturing couples is when they are in a playful mood, such as during the pillow fight. You can use red color pillows to express the romantic theme or wear matching outfits to bring coherence in the pictures. Our vacation photographers take photos when you are into a normal pattern and rhythm while playing with pillows and enjoying the moment to its fullest.
Photo: Emily, Local Photographer in London
Idea #15
You and I Make the Perfect "WE"- Magic of Backlit Silhouettes
Although this couple photography idea is on the last position on our list, it is one of the impactful poses you can try with your partner.
Depicting the unwavering bond of love, the pose can make your Instagram followers go awe. Golden hour silhouettes are great to accentuate and exaggerate the bonding and connection between two people. And this is what makes this idea different and unique from others.
If you are at romantic destinations like Rome or Bali, you may take advantage of a backlit silhouette. A wide-angled pose in which you are carrying your partner (who has a bouquet of red roses in her hand) during the golden hour, will make an ideal and dramatic pose.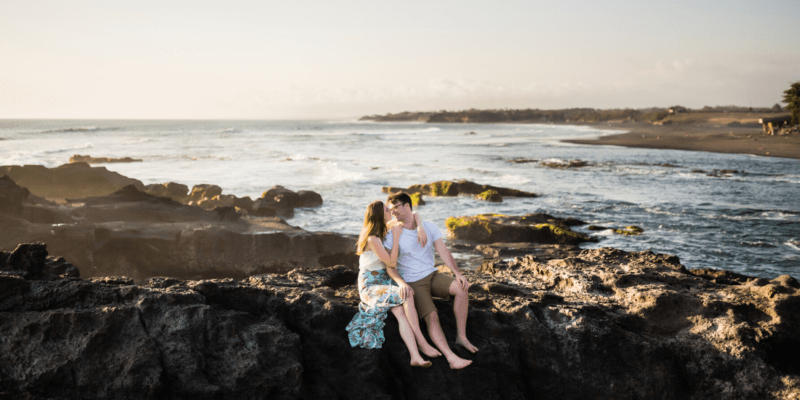 Photo: Guppi, Local Photographer in Ubud
To crown it all, this whole month has a love vibe in it, which makes it the perfect time to express your feelings and celebrate your relationship with your loved one. And our local photographers have the right expertise to make your special day even more special with our extraordinary photography skills.