Choose Your Photographer in Vancouver
Localgrapher is the largest vacation photo company and the only global video company in the world! Choose from over a 1000 hand picked local professionals and make your perfect memories last forever!
Often booked
Photographer
Special Arrangement Hero
This Localgrapher goes beyond standard requests! Ask for something special.
This is What You'll Get with Every Booking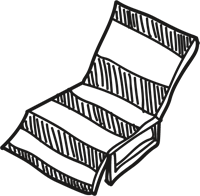 Individual Approach
Handpicked Local Professional
Special Requests Option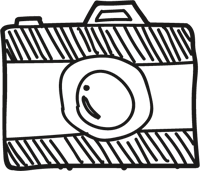 Top Shoot Spot Recommendations
100% Money Back Satisfaction Guarantee
Private Session
Often booked
Photographer
Photo Tour Guide
Explore the best photo spots and learn how to make the most out of your smartphone or camera snapshots.
Photographer
Videographer
Photo Tour Guide
Explore the best photo spots and learn how to make the most out of your smartphone or camera snapshots.
Photographer
Photo Tour Guide
Explore the best photo spots and learn how to make the most out of your smartphone or camera snapshots.
100% Money Back Guarantee
We believe in our service and quality of our photos so much that we decided to offer a 100% money back satisfaction guarantee for your photo shoot. If you don't like your online gallery once we deliver it, you can contact us within 7 days and claim your money back. Find more details in our Terms.
Make the Most out of Your Vancouver Shoot
Tip #1
The Best Time of Year to Visit Vancouver, Canada
Did you know that Vancouver, Canada was voted as one of the top 5 cities in the world as a place to live, plus living standards? You're about to find out why.
Major sites like Capilano Suspension Bridge, the Museum of Vancouver for those rainy days, and the stunning parks around the city will fill up your days as you hike, bike, or relax around Vancouver's nature. You'll also be pleased to know that Vancouver has a vibrant art scene spanning across the ages from the youth to the seniors, so if you're a huge fan of art you will not be disappointed with the artists' studios, galleries and museums open for visitors throughout the year.
Here are some of the most important places and events to check out during your trip to Vancouver! Then you can decide on the best season to hire a private photographer to capture your vacation in one of British Columbia's most fascinating cities!
Tip #2
Visiting Vancouver in Spring
Though there are a fair amount of rainy days, if you love spring flowers, you'll love Vancouver this time of year. Depending on your preferences, you can visit the rose garden, watch the cherry blossoms, tulips or rhododendrons! You can even go garden hopping and then decide where the best location for an engagement photoshoot is in Vancouver. Though just beware, in April, you may find too many cherry blossoms in bloom to narrow it down to just one great location.
Did we mention whale watching? Yes to whale watching, because you will most likely catch a lot more wildlife than just whales this time of year. So, if you're planning on a spring proposal in Vancouver, we say bring your proposal photographer along for the trip out to sea and capture one of the most meaningful moments of your lives. 
If there's no rain in the forecast, head to one of the many farmer's markets around the city and go for a hike to get a view of the city in bloom. If the trees alone don't blow you away, certainly the wildlife will. And besides all of the festivals for each flower in bloom this spring, you can also catch the Spot Prawn Festival to taste the best flavors British Columbia has to offer. If you haven't already filled up on all the famous restaurants around town, spend an evening at the night market which has over 100 food vendors to perk your palate.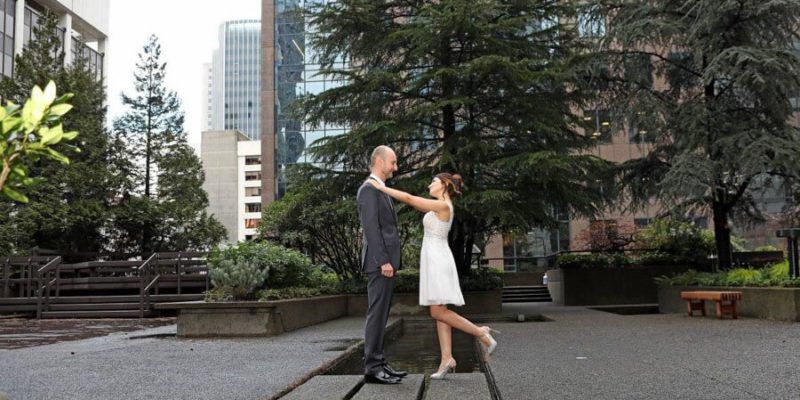 Tip #3
Visiting Vancouver in Summer
There's nothing like visiting Vancouver in the summer. It's not that we're biased, it's just that the air is so unbelievably fresh and the temperatures are just right, that you can spend long days (and we mean very long daylight hours) exploring the outdoors. How long you take your breaks is purely up to you!
First things first, we recommend you rent a bicycle and explore the stunning grounds all around the city. A great place to start is the seawall, which is the world's longest path along the sea. The seawall is in Stanley Park, where you will not only find breathtaking nature, but you will very likely stumble upon the vast art scene in Vancouver. You will certainly want to spend the entire day there, so make sure to stop by one of the incredible farmer's markets with locally sourced produce and make a romantic picnic near Lion's Gate Bridge, the sea, or the lake inside the park.
In the evening head to Granville Island for the best restaurants in town, but if you're looking for a great place to drink up the local craft in Vancouver, you may want to hop over to Gastown. Gastown is seriously picturesque, especially considering that it is the oldest part of Vancouver. So, if you make it here before sunset, bring along a local photographer from Vancouver, Canada to catch some local charm in the background of your photoshoot. Unless, of course, you prefer to catch a sunset photoshoot at the Vancouver lookout. You certainly won't be the only one! 
For you festival seekers out there, you'll be happy to know that in the summer you can catch the International Jazz Festival, the Vancouver Folk Music Festival, Vancouver Pride Parade, Celebration of Lights International Festival, and on July first you can celebrate Canada Day with street parades, parties and much more! And let's not forget about all those beaches, like Kits Beach and English Bay Beach.
Naturally, you should absolutely go on a hike, maybe try out kayaking, check out the Classical music in the park or watch an outdoor movie (with a picnic of course!) There are too many unbelievable moments in a Vancouver summer to name them all, but we're certain you will want to hire a professional photographer to capture you among the thrills!
Tip #4
Visiting Vancouver in Autumn
So, the summer's over and you've decided to travel to Vancouver before winter hits? We're about to show you why that was a great decision!
Besides catching the incredible Fall foliage all over town (and out) there are plenty of events to keep both the locals and tourists entertained all autumn long. The best locations to take in all those vibrant colors enriching the city are the parks of course. You can spread out your trip by spending some hours in Stanley Park, Queen Elizabeth Park, Van Dusen Gardens and of course, Grouse Mountain for the big hike. Bring along a personal photographer from Vancouver to capture you among the stunning colors. And if you're traveling with family, we highly recommend hiring a family photographer and heading to any of the Vancouver parks mentioned above. 
If you happen to be in Vancouver close to Halloween, then you'll have to go to the Pacific National Exhibition (PNE) for Fright Nights, where you can hop from one haunted house to the next. Then try and find a ride that isn't haunted. While we're here, or more accurately, while you're there, you may also want to check out Stanley Park Ghost Train for some unique Vancouver experiences. If the museums and galleries weren't enough for you, catch this year's Eastside Culture Crawl to have an insider's peek into the Vancouver art scene.
And finally, if a part of your agenda was scoping out the food scene with the best chefs in Vancouver, you'll certainly want to find out what's going on this year at EAT! Vancouver food festival.
Tip #5
Visiting Vancouver in Winter
Well, there's no denying it, winter doesn't arrive without gusto in Vancouver. On the bright side, the city has found ways to embrace winter, so much so that some locals will tell you that winter is even their favorite season!
If you love skiing and snowboarding you've come to the right place. Hit the trails with your partner, solo, or with your family and enjoy your vacation in nature. We recommend a photoshoot before you hit the slopes because you will certainly be tired by the end of your active day in the snow. On the other hand, we happen to know a few professional photographers who would be happy to gear up and catch your moves down the mountain, though the more affordable photographers in Vancouver may prefer to capture you while you choose less extreme activities like, ice skating in Grouse Mountain. 
Then, of course, you'll have to sip on hot apple cider and check out all of the artisanal Christmas markets to shop for gifts for you and your family. And, let's not underestimate Vancouver, just because it's winter doesn't mean we should stop partying. There are several festivals going on in Vancouver, the Winter Solstice Lantern Festival, the Winterruption Festival, the Whistler Pride and Ski Festival, and the Chinese New Year Parade. If you haven't asked your photographer to send you your best photos from your skiing photoshoot for your Instagram, you will want some of those photos from the world's largest outdoor light maze by the Enchant Christmas Maze and Market. And believe it or not, to bring on the New Year the locals jump into the ice-cold waters for the traditional Polar Bear Swim! Find out the prices for the best photographers in Vancouver HERE!
Other Destinations in British Columbia
1199
Photographers & Videographers
1046
Destinations world-wide
Photo Occasions People in Vancouver Love