Choose Your Videographer in Berlin
Localgrapher is the largest vacation photo company and the only global video company in the world! Choose from over a 1000 hand picked local professionals and make your perfect memories last forever!
This is What You'll Get with Every Booking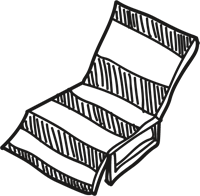 Individual Approach
Handpicked Local Professional
Special Requests Option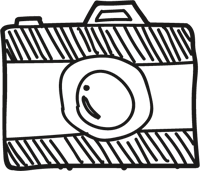 Top Shoot Spot Recommendations
100% Money Back Satisfaction Guarantee
Private Session
100% Money Back Guarantee
We believe in our service and quality of our photos so much that we decided to offer a 100% money back satisfaction guarantee for your photo shoot. If you don't like your online gallery once we deliver it, you can contact us within 7 days and claim your money back. Find more details in our Terms.
Make the Most out of Your Berlin Shoot
Tip #2
The Best Time of Year to Visit Berlin, Germany
Berlin, like many other major cities in the world, has its peak tourist seasons and there's certainly a reason for that. The best and most popular time to visit Berlin is during the Summer season. During the Summer season, the daylight hours are extremely long and end with truly picturesque sunsets that can be seen from various parts of the city. Those are the moments you will want your personal photographer in Berlin to capture.
The city is one of the greenest cities across Europe with its numerous parks and tree-lined streets. There are also several lakes scattered all around the city to break the summer heat and enjoy the day. You and your family can hire a Berlin-based family photographer and have your photograph taken while enjoying the beach at Wannsee and swimming in the shallow waters, or while lounging in one of the lounge chairs while sipping an afternoon beverage in Monbijou Park.
Christmas season is the next best time to visit Berlin. The city is bedecked with lively world-famous Christmas markets, warm traditional mulled wine and notorious light shows illuminating some of the most historic streets and monuments.
If you like to visit a city when the lines are shorter and the crowds are thinner, Autumn and well into the throes of Winter are the ideal times for you to visit Berlin. Certainly, each season has something very special to offer its guests in terms of photography and otherwise too.
Proposal photoshoot by Victoria, Localgrapher in Berlin
Tip #3
Visiting Berlin in Autumn
On a good year, the Autumn hits Berlin later than in other Northern European cities, sometimes the Summer stretches all the way to late October. If this is the case and you are someone who likes to travel and explore some of Berlin's major historical sites without a major crowd, then Autumn is the time to travel.
1.) Photo at Checkpoint Charlie is a Must!
You can arrive at Checkpoint Charlie in the evenings and have your picture taken by a professional photographer in Berlin with the soldiers without a cluster of people waiting their turn on each side of the street. Checkpoint Charlie in the nighttime hours is, without a doubt, the best time to visit this site.
2.) Paparazzi Photo Shoot while You Shop
The shops from the famous shopping street, Friedrichstrasse, light up the street, illuminating the background of your photograph. And because most of the shops are closed there will be close to no traffic running through the background of your image.
Solo photoshoot by Virginia, Localgrapher in Berlin
3.) Autumn Colors Look Fantastic in Photographs
You can book a tour through Teufelsberg Spy Tower after spending the day wandering around Grunewald forest. From the top of the hill, you can look out onto the forest's autumn leaves and have magnificent pictures taken of you and your loved one. The best photographers in Berlin always like to take some shoots in this place.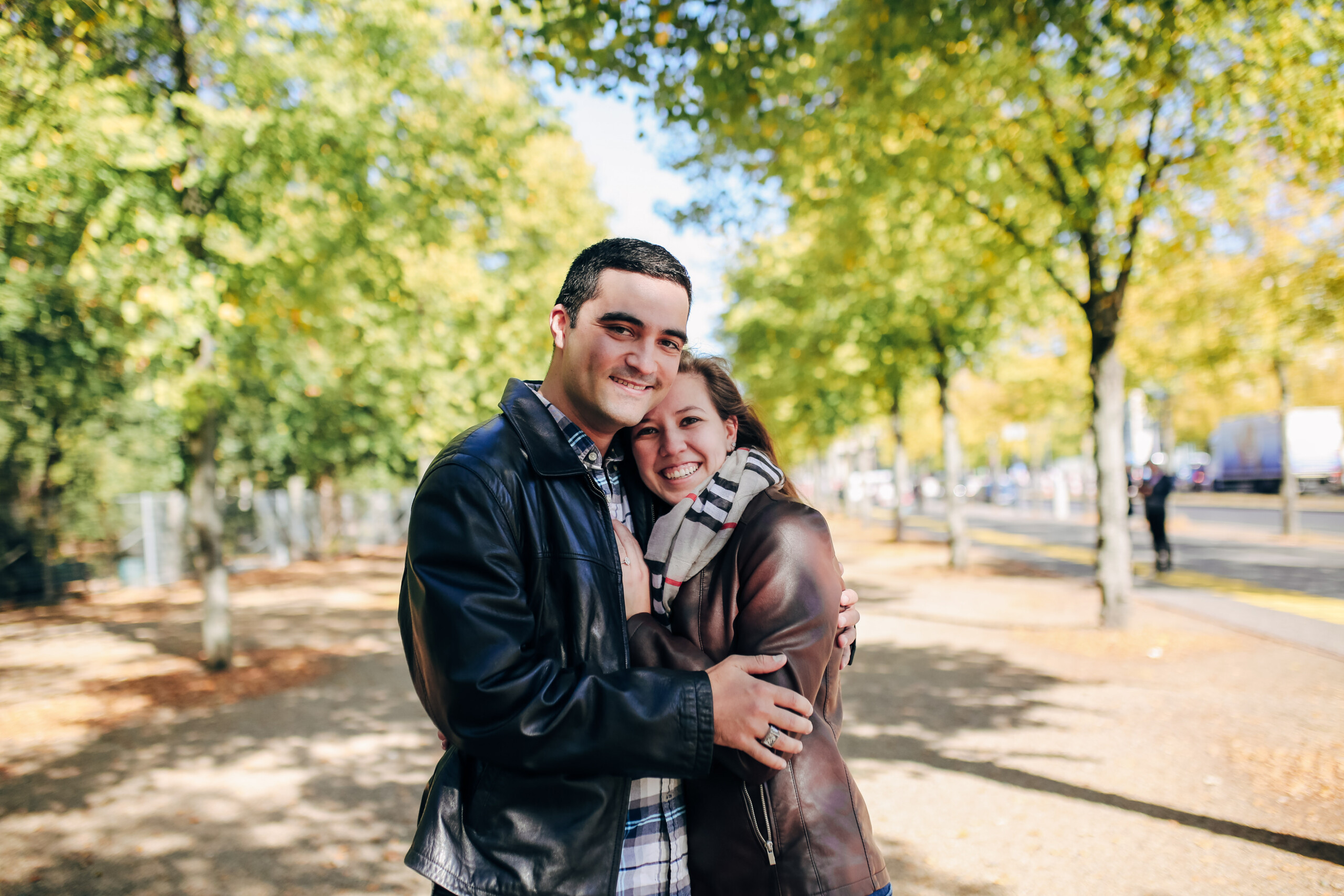 Proposal photoshoot by Elena, Localgrapher in Berlin
4.) Go for a Hip Street Art Photoshoot
Teufelsberg Spy Tower is covered in Berlin's famous graffiti and street art, which adds an artistic touch to your cultural photo experience.
Bachelorette photoshoot by Cristina, Localgrapher in Berlin
5.) Romantic Photo Session at the Famous Park
If you plan on staying in the borough of Mitte to catch all of the impressive sites, you can also have a walk through the wilderness of Tiergarten Park, which will be less crowded, and perhaps more romantic with the changing leaves and cool breeze rushing through the autumn park.
6.) Sunset Photos Like No Others
Additionally, in Autumn, you will have the privilege of visiting the glass dome above the Reichstag during the colorful sunset hours. The temperatures will be cooler during the evening hours making it a great opportunity to wear your new Fall sweaters up on the roof of the Reichstag, or while sitting cozily outside an exquisite restaurant along the Spree. If you want to hire a Berlin-based engagement photographer or proposal photographer, this is a place to be.
Proposal photoshoot by Cristina, Localgrapher in Berlin
Tip #4
Visiting Berlin in Winter
Many tourists fly to Berlin in the winter to explore the abundant indoor and outdoor Christmas markets all around the city.
1.) Photoshoot at World Class Christmas Markets
The most famous outdoor market may arguably be Gendarmenmarkt, set on the most beautiful square in Berlin. Gendarmenmarkt makes for a romantic photo all year around, but has an even more spectacular ambiance in the Winter months. Wintertraum am Alexa is another famous market many couples and families enjoy during the long evening hours. Many are particularly attracted to the brightly lit Ferris wheel, however, there are several other amusement park attractions for the whole family to enjoy. Don't miss a cotton candy photo opportunity with your private photographer in Berlin in this Christmas market.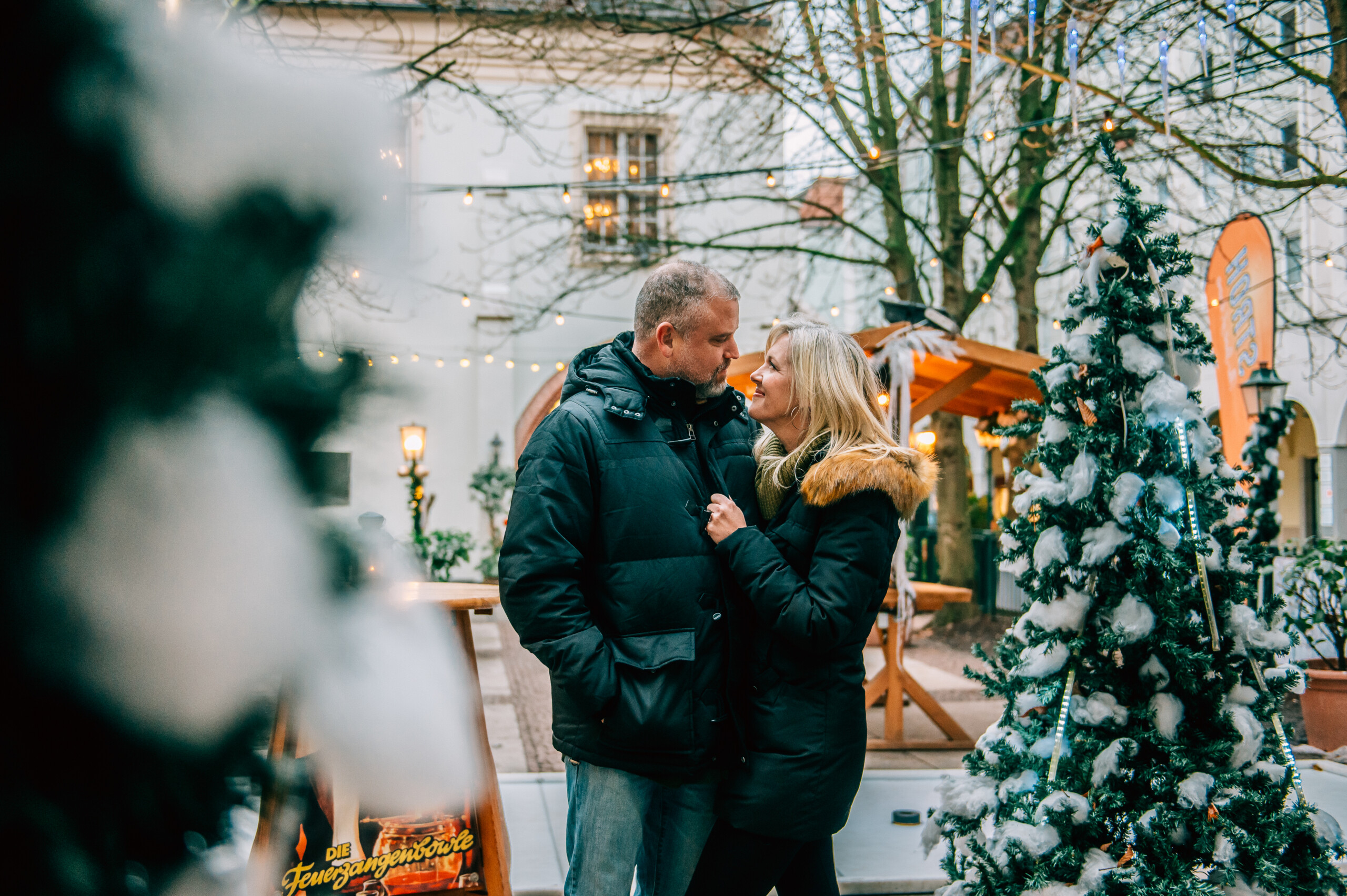 Couple's photoshoot by Cristina, Localgrapher in Berlin
2.) Let Your Photographer Take You to Lit up Iconic Sites
Unter den Linden, which leads up to Brandenburg Gate, is lit up with a magnificent light show all winter long. Many have their photographs taken under Brandenburg Gate during the Christmas season with the lights of Unter den Linden colorfully illuminating the background. Every photographer in Berlin, Germany, knows this spot.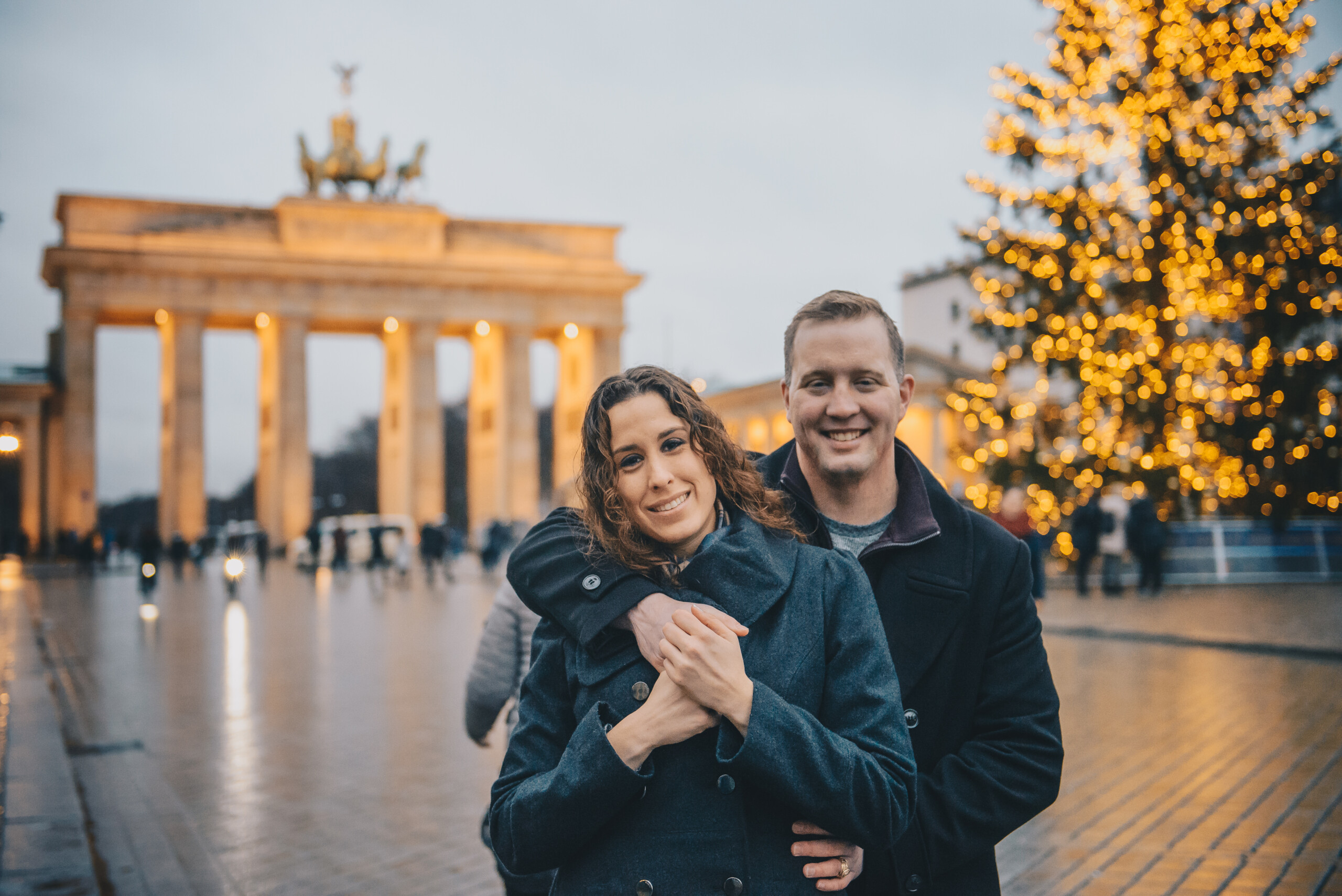 Proposal photoshoot by Cristina, Localgrapher in Berlin
3.) Winter Fairyland You Need for Your Instagram
Another spectacular location in Berlin during the Christmas season is the magical Botanical Garden which turns into a winter fairyland with its incredible light installations all around the garden. It's truly a romantic experience that needs to be recorded and included in the Berlin album.
4.) Local Photographer for Your New Years Celebration
While New Years in Berlin may not be for everyone, it certainly makes for a grand party, especially if you are safe on a rooftop somewhere where you can enjoy the fireworks that go off without a moment of silence in between. The fireworks begin a few nights before New Years', however, once New Years' arrives, it certainly arrives with a bang.
5.) Chilli but Romantic Photo Session
Besides for the days surrounding New Years, Berlin experiences a more quiet and relaxed winter. You can visit the theatre inside Monbijou Park, enjoy their firepit while waiting for the next show to start, or have a romantic stroll along the Spree. In the snowy seasons, there are also several famous locations to take the family ice skating, or maybe it's a romantic evening for just the two of you right in the center of Alexanderplatz around the magnificent Neptune fountain. Better hold off on the Mulled Wine until after you've tested out the rink!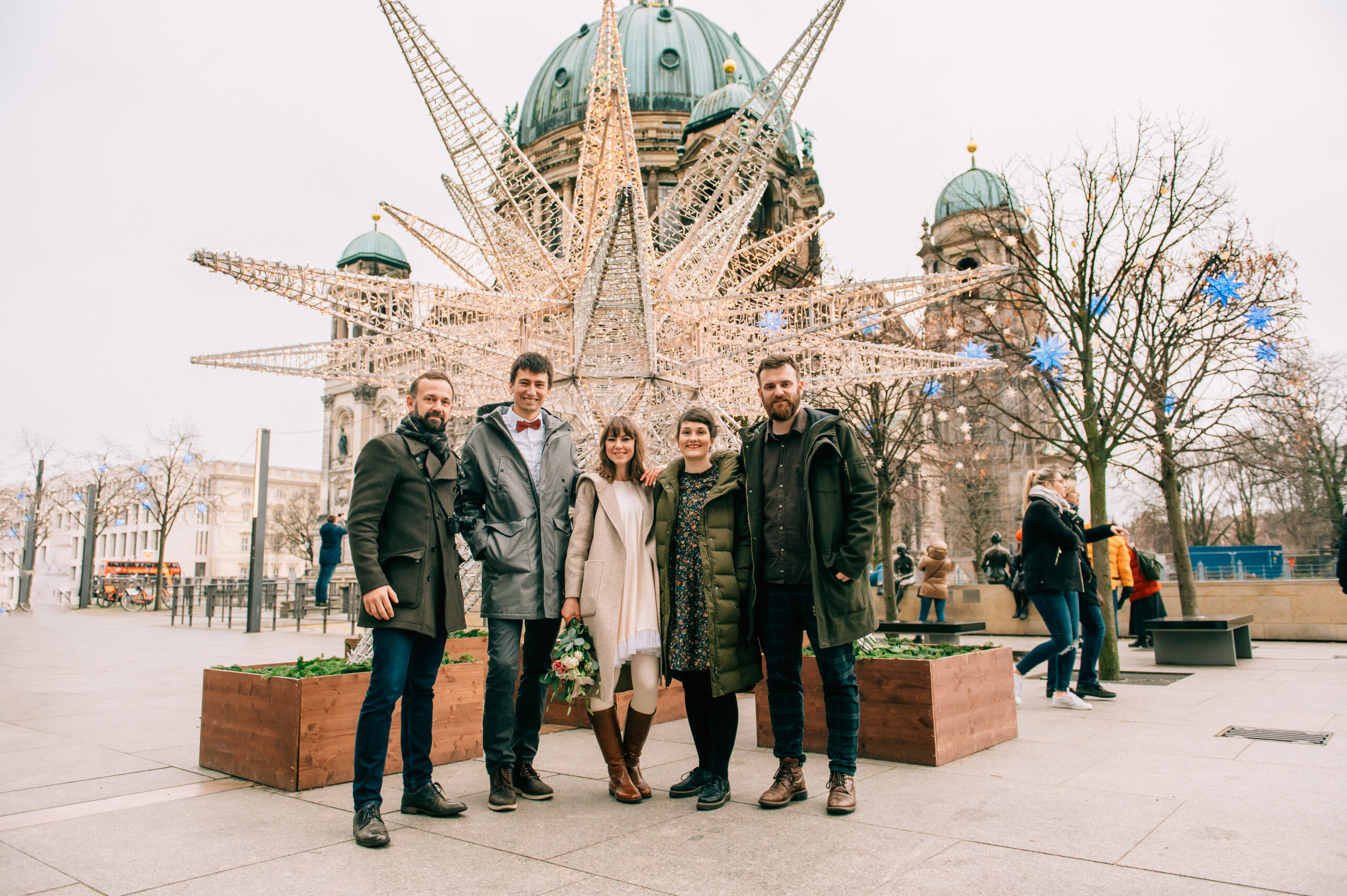 Wedding photoshoot by Cristina, Localgrapher in Berlin
Tip #5
Visiting Berlin in Spring
Visiting Berlin in spring is a delightful experience that allows travelers to witness the city's vibrant transformation as it emerges from the grip of winter. As the temperatures start to rise, Berlin's numerous parks and green spaces burst into life with colorful blossoms, creating a picturesque backdrop for exploration.
1.) Photographing during Cherry Blossom Season
If you're set on visiting Berlin in the spring better come during the Cherry Blossom season, which only lasts for about two weeks. How did these Cherry Blossoms make their way to Berlin? Well, after the reunification Japan sent a whole batch of Cherry Blossoms to celebrate this memorable moment. There's nothing like having your portrait taken in the center of a Cherry Blossom street. Hire a photographer in Berlin this spring and see for yourself.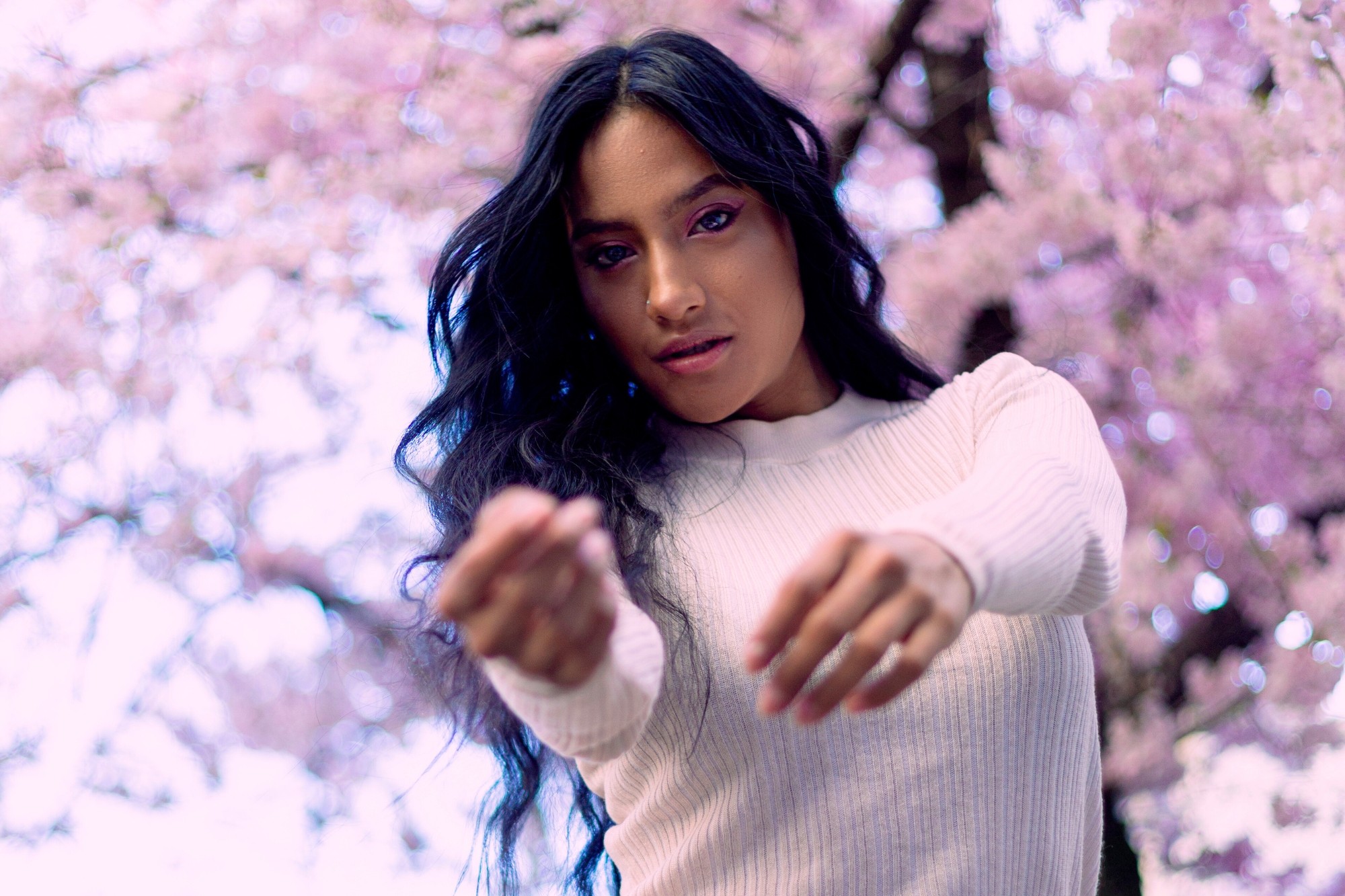 2.) Street Party Photo Shoot for Visitors of All Ages
Spring can start as early as Mid April or as late as June. But, one celebratory day that shouldn't be missed is the first of May, International Workers' Day. In the past, May 1st was a very violent day where Berliners were famous for fighting with cops and breaking down storefronts, however, in recent years the violence has subsided, but the parties have not.
Many young couples can experience street parties and festivals all around the Kreuzberg area. There are also many peaceful protests and marches through the city that usually end at Brandenburg Gate. As soon as the demonstration is over the party quickly takes its place. Expect to find live music all around the city, outdoor dance floors and many open bars welcoming its visitors. Having your photo taken among the outdoor party scene is a moment you can only capture in a city like Berlin. And as a plus, your Berlin photographer will take the best pictures for your Instagram.
This may not be the best holiday to celebrate with the entire family, especially if there are young kids involved, but it certainly makes for a fun and romantic experience for young and older couples alike.
Tip #6
Visiting Berlin in Summer
As we mentioned earlier, Berlin Summer is the most popular time to visit Berlin. While the other seasons take on a more serene and peaceful ambiance, the summers in Berlin tend to be an unforgettable experience. The sunny long days offer its visitors the perfect opportunity to capture their experience all around the city in magnificent picturesque lighting.
1.) Your Family and the Best Sites in the Same Picture
Most of Berlin's iconic sites are centrally located, and if you're feeling active, can be reached by foot or by bicycle found all around the city. You can treat yourself to a romantic boat ride along the Spree, have your family's picture taken in the impressive Tiergarten zoo, and enjoy a day relaxing in Tiergarten or Monbijou park. If you're in Berlin for several evenings you can hire one of many affordable photographers in Berlin, hop to different sunset locations all around the city and choose your favorite portrait at the very end of your trip.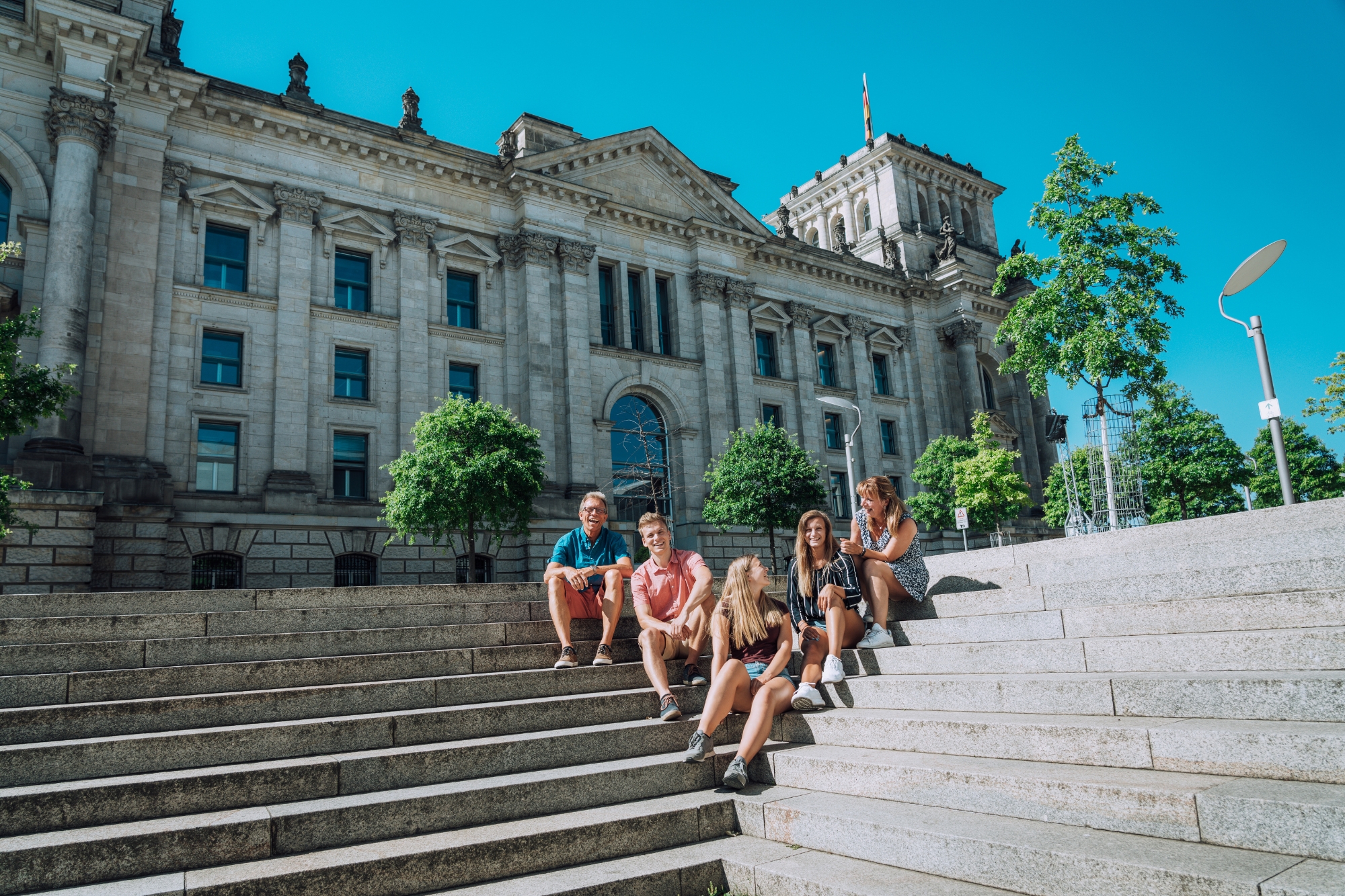 2.) The Perfect Engagement Photoshoot
With the romantic neoclassical architecture found on Museum Island, the Spree running all throughout the city with its various romantic bridges, all of the outdoor cafes and beer gardens, plus Brandenburg Gate at sunset, you can't really leave without an abundance of fantastic photos to choose from your perfect Berlin photoshoot. Many couples get engaged, married, or celebrate anniversaries in this vibrant city that has more than a few romantic backdrops to offer. Ready for a trip? Check out the price for booking a Berlin-based photographer HERE.
Proposal photoshoot by Cristina, Localgrapher in Berlin
Other Destinations in Germany
1228
Photographers & Videographers
1077
Destinations world-wide
Photo Occasions People in Berlin Love