Choose Your Videographer in Santorini
Localgrapher is the largest vacation photo company and the only global video company in the world! Choose from over a 1000 hand picked local professionals and make your perfect memories last forever!
This is What You'll Get with Every Booking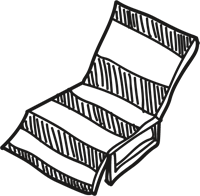 Individual Approach
Handpicked Local Professional
Special Requests Option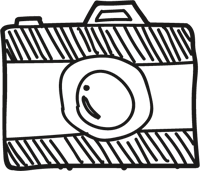 Top Shoot Spot Recommendations
100% Money Back Satisfaction Guarantee
Private Session
100% Money Back Guarantee
We believe in our service and quality of our photos so much that we decided to offer a 100% money back satisfaction guarantee for your photo shoot. If you don't like your online gallery once we deliver it, you can contact us within 7 days and claim your money back. Find more details in our Terms.
Make the Most out of Your Santorini Shoot
Tip #2
The Best Time of Year to Visit Santorini, Greece
With travel, no other thing gives you quite the experience than the perfect destination. Santorini is one such haven. Not only is it a top tourist destination in the world, but also the best among all of the Greek islands. One quick dip on the island and you are in love. Soon it will be all about Santorini and its marvels. Its uniqueness alone gets you deeply fond of it.
Not only does its climate work out perfectly, so do its people; nice and of good temperament, leaving you yearning for your next visit to this gem. The weather is filled with perfect summers, nice and bright sunny days, and winds so cool they'll leave you refreshed and rejuvenated. Santorini has the perfect combination of characteristics that make it stand out as a global favorite and deservedly as such.
Its abundance of attractions, friendly locals, picturesque views, and amazing nightlife makes it quite the beauty you can't keep your eyes off from. The splendid sunset alone will fill you with awe untold making fall in love in an instant. A visit to Santorini is worth capturing every moment. As such it is ideal that you get to check the price for booking a Santorini-based photographer. Dive deep in Santorini's charm and brace yourself for a vacation like none other!
Tip #3
Visiting Santorini through Late April to Early November
This is the perfect time to pay Santorini a visit. The weather is undeniably ideal; warm with little to no rain. In as much as Santorini's spectacular awe can be experienced all year round, this period right here gives you the best combination of consistent clear skies and great weather to top it all.
Between June and September, the weather gets to its warmest levels. It's during these times when a beach vacay with your lover would work out best. The water is perfect for swimming and the weather even better to capture some fashionable photos.
Tip #4
 Visiting Santorini through Late November to early April
This period marks Santorini's winter weather. If you're the kind of person that doesn't do well with great crowds, then this period of the year will perfectly suit you in all manner of ways. The sky alternates between cloudy and clear and there are days when Santorini can experience some serious downpour. With temperatures ranging between 14 to 16 degrees Celsius, it can be quite chilly to some but this should not deter you.
From taking a walk, sightseeing, exploring Santorini's great wonders to indulging in some perfect photo shoot sessions with a professional photographer from Santorini, Greece a visit here during this time will leave you feeling like you have the caldera to yourself.
Tip #5
Why Santorini is Such a Magnetic Gem
Santorini is undoubtedly Greek's grandest island and a top global travel destination and there are thousands of reasons why this is justifiably so.
In addition to its near-perfect climate, its people's temperament; nice and easy-going, warms up to anyone who visits and they cannot help but yearn to come back to this little heaven-on-earth. Santorini's real essence lies in its people, their culture and taste. The locals here are always more than willing to relish their hospitality to anyone they interact with which really is a satisfying experience. Hire a private photographer in Santorini to capture perfect shots of you alongside your newly-made friends to remind you of the good times back in time.
It is a natural wonder of the world thanks to the famous volcanic eruption that took place thousands of years ago, forming the island and giving its shape and geomorphology. The scenic views, unique volcanic pictures, breathtaking caldera, and lunar landscapes are all a result of this eruption. Everything in Santorini appears to fit in in perfect harmony.
The island's architecture is comprised of blue domes, paved paths, candy-colored houses and white sands all of which blend in with the island's surroundings forming a view so spectacular! While down here, treat yourself and your loved one to a stay in a top-notch hotel by the caldera cliffs and get your senses aroused by the Jacuzzi and infinity pool facilities.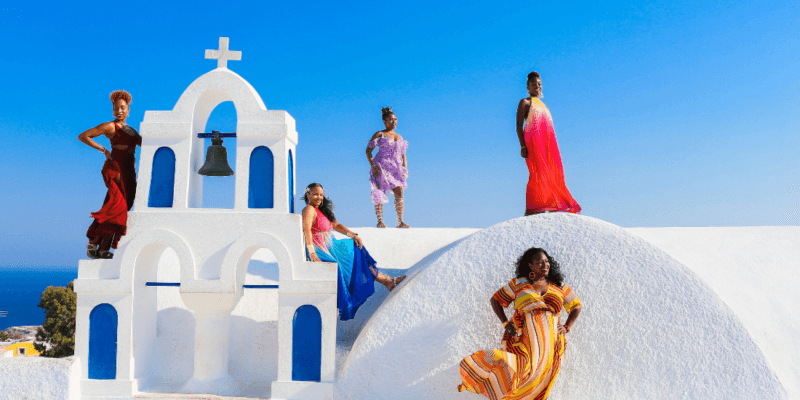 Tip #6
Places to Go and Things to do in Santorini, Greece
Santorini does not fall short of activities you can immerse yourself into to spice up your trip from hiking, horse riding by the beach, an array of water sports, volcano trips to sailing tours. If you're big on fun and partying, Santorini's nightlife, especially in Fira, will unquestionably meet and surpass your expectations.
Santorini is archeologically-endowed with a variety of archeological sites and museums to portray its rich history and culture. The island's dishes are quite versatile and delicious in equal measure. This is as a result of the fertile land which came to existence after the volcanic eruption. Santorini prides in huge vineyards and exquisite wine varieties. This makes it renowned for its top-notch wine-making. There's something for everyone here. Being a tremendous natural beauty, get lost in this gem's romantic aura with your fiancé and have your engagement/proposal photographer in Santorini capture every moment of pure love and bliss.
Photo Shoot Session at Caldera
Approximately 3600 years ago, there was a volcanic eruption that occurred creating the beauty we see and experience today. The crater that remained afterwards is the caldera. It is 12 by 7 kilometers in measurement. Two islets with gas emissions and hot springs emerge in its heart and you can go on an excursion to the caldera by boat and get to bathe in the hot springs. Better yet, affordable and the best of photographers in Santorini will be at your disposal to help you document every moment as it takes place. 
Family Trip to The Beach at Perissa
Meet Santorini's most popular and best-known beaches. Located between the villages of Perivolos and Perissa lies the beach stretching in pure and sheer majesty for over six kilometers and carpeted by fine black volcanic sand. The tamarisk trees backing it are a nice add-on to the beach's scenery. There's a string of seafood tavernas as well as cafes overlooking it for a taste of Santorini's sea cuisines. If you happen to be enjoying some great times with your family, our family photographer in Santorini will be pleased to capture some great pics to post on Instagram. 
Let Your Personal Photographer take you to Fira
Patched on the cliffs some 300 meters above the caldera, is Santorini's capital; Fira. This beauty-full town is made up of winding lanes, whitewashed cubic houses, blue-domed churches, and little squares. From the port of Skala which is below the town, you can get to the town of Fira by simply taking a walk or riding a mule-for-hire up the 587 steps.
Alternatively, you can take the cable-car route. Fira primarily thrives on tourism and most of its buildings are either restaurants, cafes, souvenir shops or jewelry stores. Tag a personal photographer in Santorini along and you can be certain that they'll make your vacay worth the while by capturing some fun family photos together.
Top Photo Spots inSantorini
Other Destinations in Greece
1199
Photographers & Videographers
1046
Destinations world-wide
Photo Occasions People in Santorini Love